Handmade! 
The finest all natural ingredients!  No talc, powdered starches, clays, bismuth oxychloride, parabans or nano sized particles (looking all this up on the internet…….).  100% gluten free and Purely You never tests on animals.
That's what got my attention.  I DO NOT like to play around with my FACE.  And yet as a reviewer, I am constantly putting new product on my skin.  Sometimes good, sometimes not so good.  However, I felt safe with Purely You because of the ingredients.
My lips bloomed with Purely Blushing Lips.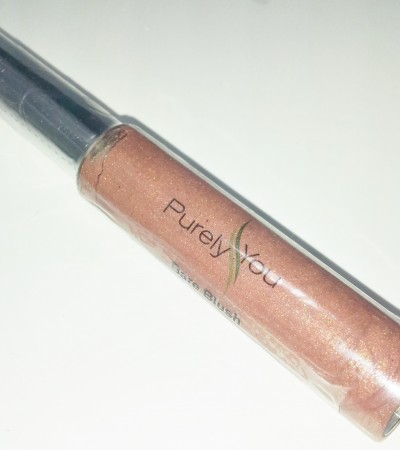 Not to light, not too red, this is a lovely lip gloss.  For my eyes – Bare, a charcoal grey that lit my eyes up lightly.  The Purely Mauve Blush and Purely Bronze bronzer were also light, but put enough color on my cheeks and cheekbones that I loved the look without the heaviness of regular makeup.
For my skin foundation

I chose Cool Fair as I am ivory skinned in complexion but I love a little pink tint so that I don't look like Snow White (I like the Dwarves though, they are coming along nicely as butlers and cooks).
If you are a mineral makeup person like me, this is an excellent product.  I am getting too old to wear a foundation that looks oily or heavy on my skin, and I don't like ANYTHING on my skin.  My compromise has been mineral makeup.  I really liked the sample colors I received and I can get more creative with mineral.  I can try different tones for daylight and nighttime.  Although I don't go out on the town like Broad Z, I do go out occasionally and the lighting is totally different.
I give a high five to Purely You Minerals. 
I have tried other mineral makeups and have usually thrown them out for different reasons.  I have very sensitive skin and I'm not much of a girly girl; I never wore any makeup until I was in my 40's and even now I don't wear it a lot.  The ease of application and the colors of Purely You have changed my mind!  I plan on a little Girl Time with Z in the future so she can show me how to apply mascara (honestly, I never learned and eyeliner is torture for me – I get it all over the place.)  But back to the topic – this is a makeup that will not mask your face, but enhance it!
Purely You Minerals are available for purchase on their website.
Review by Broad "A" – Ava
Overall: 4.5
We received product for this review.. All opinions are our own.