A New Vision of Hair Care – Herbalosophy Beauty In Balance Hair Products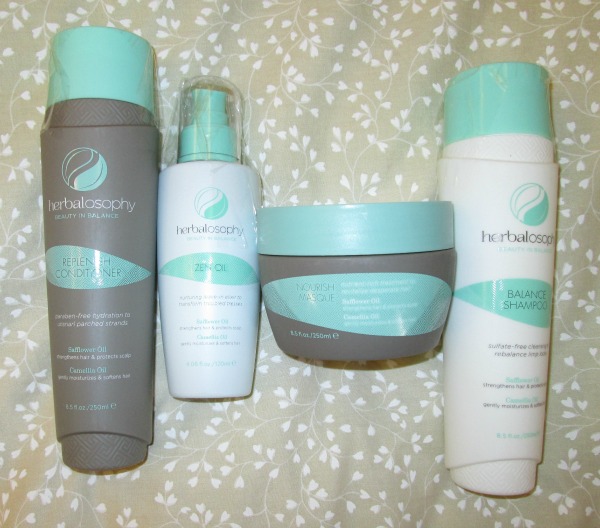 "What makes Herbalosophy different? We use the power of nature to tame the damages to hair caused by heat, chemicals, and the environment.  Our motto is "beauty in balance."  We bring damaged hair back to balance using herbs and proteins that hydrate, strengthen and nourish.
Herbalosophy products have NO:
Sulfates
Parabens
Phosphates
Propylene Glycol
Phthalates
Methylisothiazolinone
Mineral Oil
Artificial Coloring
 With Natural Ingredients including:
Safflower Oil
Camellia Oil
Hydrologyzed Vegetable Proteins
Murumuru (Brazilian nut loaded with moisturizers)
Aloe Vera
Kelp"
I was sent The Nurture Series line to use and review by Herbalosophy. The products included Replenish Conditioner, Nourish Masque, Zen Oil and Balance Shampoo for assisting damaged and normal hair.

My Observations:
I have fine, chemically damaged, very dry hair.  I cannot use products like Pureology because they leave a heaviness that creates flat hair for me.  Also, Pureology and other shampoos and conditions of high line salons leave a slight film on my hair.  Herbalosophy did not leave this feel of heaviness and oiliness in my hair and I used all of their products. They rinsed out well and left my hair very healthy looking and shiny. They felt good going on and smelled delicious.
There is a series of this product for curly hair, as well.  The curl series is for defrizzing, and utilizes kelp and murumuru.
Herbalosophy is a salon product.
The Herbalosophy website allows you to enter your zip code and then comes up with a line as to where you can purchase their products.  When I entered my zip code, there were no salons available and a website came up where I could purchase everything that I had tried (http://www.beautycarechoices.com/herbalosophy).  The prices are reasonable for the assumed quality of this hair care product: Nurture Shampoo, $18.99, Replenish Conditioner $20.99, Zen Oil $32.99, Nourish Masque $28.99.  The only down side I can see is that I like to see a product, smell it and try it on my hair first.  Most of the good hair care products do not offer that of course, unless you have access to a salon and have your hairdresser try it on your hair.  Since I was able to sample the products first, I would not hesitate to buy them online.
As with any product, your hair needs define your choices.  I like natural botanical products and Herbalosophy fit the bill for me.
Learn more and