BEENIGMA
What's Up with the Bees and Botox?
DOES IT WORK?
Beenigma is an all in one face cream from New Zealand that contains bee venom, manuka honey, and shea butter.  It retails at $129.99 for 1.7 fluid ounces.  It is being pronounced as "better than botox" for your skin across the internet.  I have never used botox and did not notice any "deplumping" on my skin from using the product although I really like the feel of Beenigma and liked it as a facial cream.
For me, I liked the feel of the cream and used it morning and evening.  It did not seem to make a marked difference in my skin but I have only used it for one month and I would say a 6 month trial would be more indicative of any change.  I really like the lotion on my face and neck.
INGREDIENTS:
Water, glyceryl stearate SE, cetyl alcohol, stearyl alcohol, stearic acid, butyropermum parkii (shea) butter, glycerine, ceteareth-20, decyl oleate, dimethicone, triethanolamine, propylene glycol, diazolidinyl urea, manuka honey, sweet almond oil, bee venom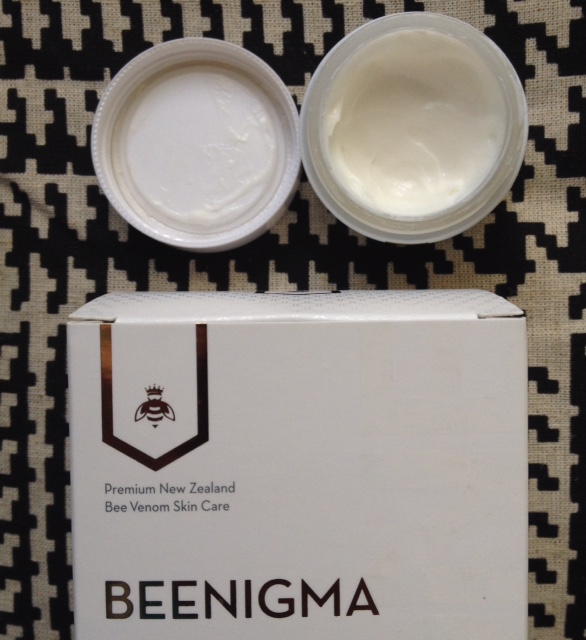 Clinical Trial Results
Actual Results Measured By the 'Modified Fitzpatrick Wrinkle Scale (MFWS)':
Beenigma

reduced the depth of wrinkles on the face 34% after 30 days.

Beenigma

reduced the depth of wrinkles around the eyes 52% after 30 days.
Official Results from the Consumer Questionnaire:
95.24% reported their skin appears more youthful
90.48% reported the appearance of my fine lines and wrinkles is reduced.
90.48% reported their skin appears rejuvenated
85.71% reported their skin seems lifted
85.71% reported their skin complexion is more even
85.71% reported their skin does feels smoother
85.71% reported the appearance of their skin has improved
REVIEWS:
Many individuals liked; a few dermatologic sites were neutral
WORTH TRYING?
It depends.  If you are allergic to bees NO.  If you can afford $130.00 perhaps.  This is an individual decision.  I liked the cream on my face and I like almond oil and shea butter as ingredients.  Is bee venom the new botox?  Not in my ONE MONTH experience.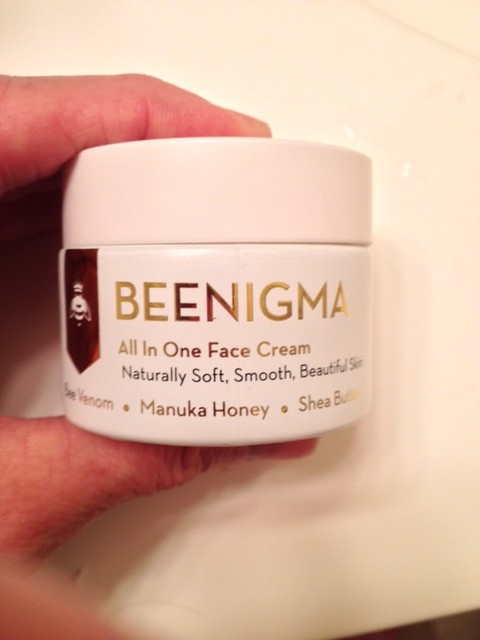 WHAT DOES THE WEBSITE SAY?
I went to the website looking for a list of ingredients (they are on the box), as it would be great to know in advance if there's anything in the product that I can't use. Other than the bee venom, manuka honey and shea butter, no other ingredients were listed (see full list of ingredients above).  Beenigma offers a 60 day money back guarantee.
From the Beenigma website:
"Skin reacts to the Bee Venom found in Beenigma® as if it's been lightly stung, triggering an increase in our body's production of wrinkle-smoothing collagen and elastin to lift, plump and tighten the skin. The result is an anti-aging and rejuvenating effect that makes your skin more radiant and youthful by reducing the appearance of fine lines and wrinkles. Bee Venom has the ability to work within the epidermis and dermal levels of the skin to deeply nourish. It is comprised of 21 naturally occurring components such as replenishing proteins, peptides, amino acids, and key enzymes.

Beenigma® contains the highest concentration of Bee Venom that is perfectly balanced to produce effective results without causing any inflammation. The best part is that the more you use it, the better it works as Beenigma® is a cumulative formula."
The Review Broads gives this a MAYBE and a PERHAPS 3.5 do your research and you might really like Beenigma!
Ratings are based on a 5-star scale
Overall: 3.5
Review by Broad "A" 
We received a product to facilitate our review. All opinions are our own
Details