I participated in an Influencer Activation on behalf of Influence Central for
LANEIGE
. I received product samples to facilitate my review as well as a promotional item to thank me for my participation.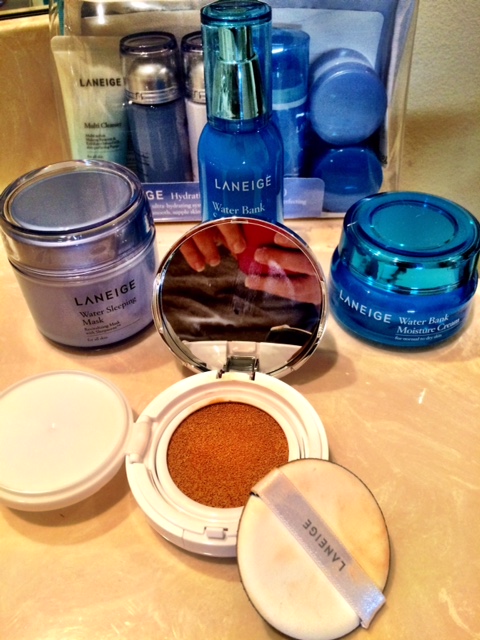 Sometime's I wonder if I'm a skin care addict. Oh, don't get me wrong…I've been known to go to sleep with my makeup on (the worse offense there is), but the older I get…the more miracles I'm looking for. It's time to get practical. If you're like me, you have dropping hundreds of dollars on products, especially when it's a roll of the dice.
Which is why
I checked out the new LANEIGE skincare product lines that's available at Target. YES – TARGET!! There's no need to go schlepping to the mall and getting credit card shock at the end of the month since LANEIGE makes skincare easy by streamlining your daily (and evening) routine.
HYDRATION
How many times have you heard skincare companies go on and on about hydration? My mom used to say "water on the inside, water on the outside." Yet, many of the products that I've tried actually contain DRYING ingredients. No LANEIGE! Their water science complex helps with all sorts of major skincare concerns, including:
age prevention
hydration
brightening
complexion perfection
sun protection
All by incorporating their patented Advanced Water Science™ Technology. Your skin with stay plumped up and resilient, all at a Target price point.
HINT: Mother's Day is Coming
What better way to show mom how much you care, than by getting her a LUXURIOUS skin care regimen by LANEIGE (even better…buy YOURSELF a Mother's Day gift of LANEIGE). I'm at Target at LEAST once a week. I go to pick up my prescriptions, get the few odds and ends that I need for dinner and grab a t-shirt, scarf, or what-have-you. Now, I can also grab this dermatologist tested solution for my UNIQUE skin care needs.
MY TIME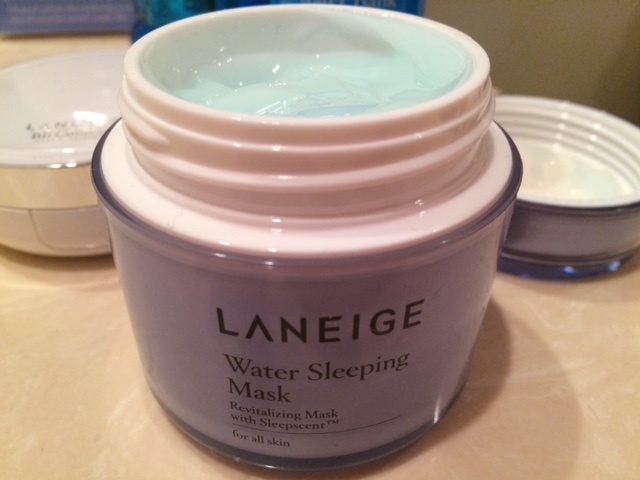 One of the things that I love about this particular line is that it's a bit different from the rest. It's quick and easy to use, but there is ONE step that is so different than what I've done before, that I almost want to cheat and do it MORE OFTEN. It's the Water Sleeping Mask. YES, SLEEPING. You put the mask on before bed and it works its magic while you're getting your ZZZZ's. I find I wake up with tighter more radiant looking skin, and I didn't have to fuss.
ROUTINE
Cleanse
Serum – our skin takes on a LOT of stress and this serum helps to hydrate & protect against sun, pollution & yes, that day to day stress for 24 hrs.
Moisturize – using the Water Bank Moisture Cream with Hydro Ionized Mineral Water and Biogen Technology, giving me 24 hrs of moisture
Mask – twice a week I sleep with that Water Sleeping Mask I described above, then rinse it off in the morning
BB Cushion – An all in one foundation, sun block and primer (told you this was easy)
TRAVEL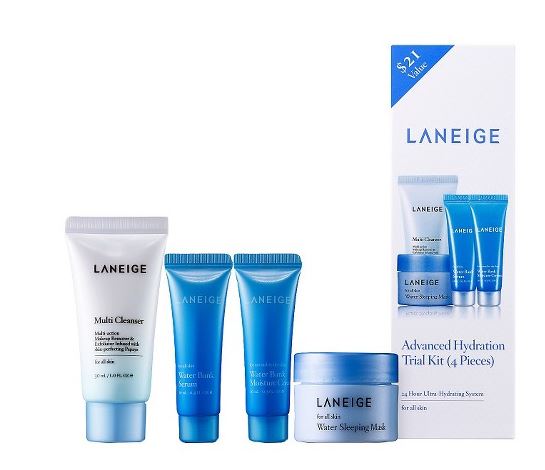 I tuck the Hydration Trial Kit features six LANEIGE products in my carry-on (all less than 3 oz, so I don't have to worry about TSA). They offer a soup to nuts skin care routine while I'm traveling – from deep-cleaning to intensive revitalization with exclusive skin-perfecting Mineral Water. The kit includes the LANEIGE Multi Cleanser, Power Essential Toner, Balancing Emulsion, Water Bank Serum, Water Bank Moisture Cream, and Water Sleeping Mask….everything I need when I'm away from home
RIGHT NOW
Get a $5 gift card with a purchase of LANEIGE Water Bank Moisture Cream, Water Bank Serum or BB Cushion (Light, Medium or Medium Dark shades) at participating Target stores between April 19 and May 2.
Get a free LANEIGE Hydration Trial Kit with any LANEIGE purchase of $35 or more on Target.com between April 19 and May 2.
DETAILS