Bates Motel
Before diving into this series I was very hesitant about watching it due to its spin on the classic Psycho.I was born after Alfred Hitchcock's "Psycho" hit the theaters, so I missed all the hype and promotional gimmicks, such as "No one will be admitted to the theater after the film has begun" and "Don't give away the ending" and the dramatic and traumatic trailers. When I saw the film for the first time, I had no idea that Janet Leigh was a huge star and how it was a Hollywood no-no to kill off the major star during the first reel. However, I did know the big revelation at the end before I saw the picture so I realized going into this TV show knowing nothing about it might be a good idea!
Did I like it? Lets see…
This program is a modern re-imagining and prequel to the movie Psycho. This story begins with the earlier years of a teenage Norman Bates and his mother Norma who live in an old house overlooking the adjoining motel, which they are renovating. The house and hotel both come with secrets of their own, as does the new town which the Bates' now call home.
This show is completely DIFFERENT while still remaining loyal to the essential aspects of Psycho. The key to this series is the "unusual" relationship between the infamous Norman Bates (Freddie Highmore) and his mother Norma (Vera Farmiga). The acting really makes this show work.
Farmiga and Highmore have great mother-son interaction and are convincing in their roles. Highmore captures the elements of Norman Bates that Anthony Perkins brought to life on screen in 1960: uncomfortable, amiable, slightly foolish, and innocent. Farmiga is astonishing to see as Norma, an uncontrollable woman with crazy mood swings. One minute, she's encouraging towards Norman…the next; she's nagging him about something! The acting here is perfect!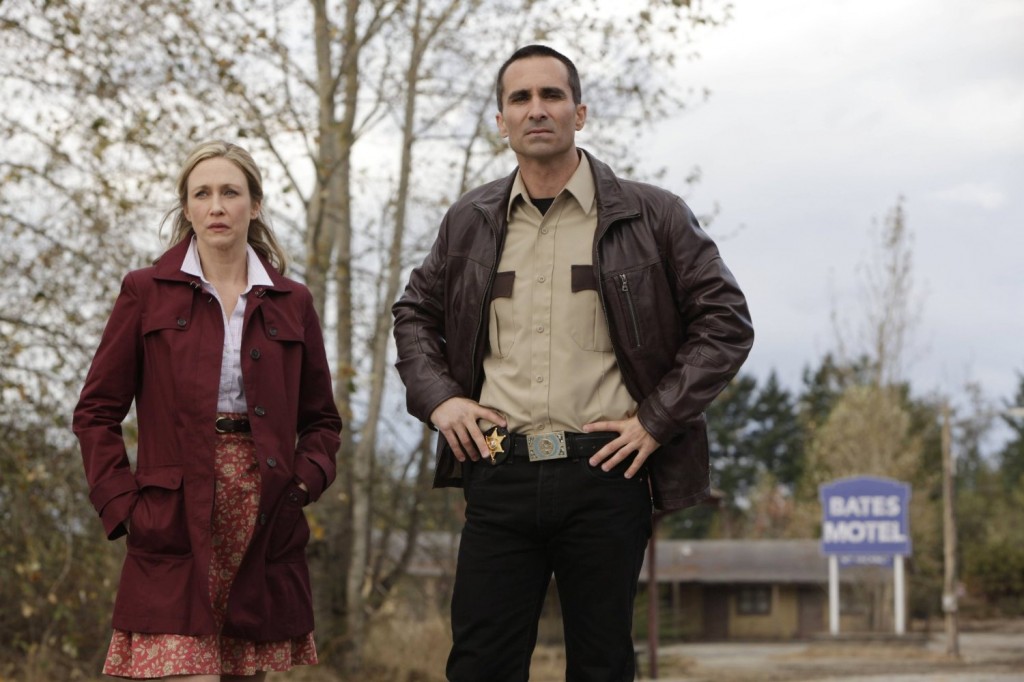 Thanks to Universal the Blu-Ray quality is amazing.
The picture and sound are excellent however there are not the amount of specials that I have come to expect from a TV program.
This show really DOES get better with each episode, the first couple of episodes I thought were pretty good but by the end of episode 4 I was addicted and they keep getting better. The acting gets you through the first few episodes and the story takes off from there.
Ratings are based on a 5-star scale
Overall: 4 Asians Handcuffed in Basements out of 5
Review by Bro "B" – Ben
We received a copy of this blu-ray for our review. All opinions are our own
Bates Motel: Season One [Blu-ray]
 is available on Amazon.com.