This post was sponsored by Ulta as part of a Blog Blast Activation for Influence Central. I received complimentary products to facilitate my review.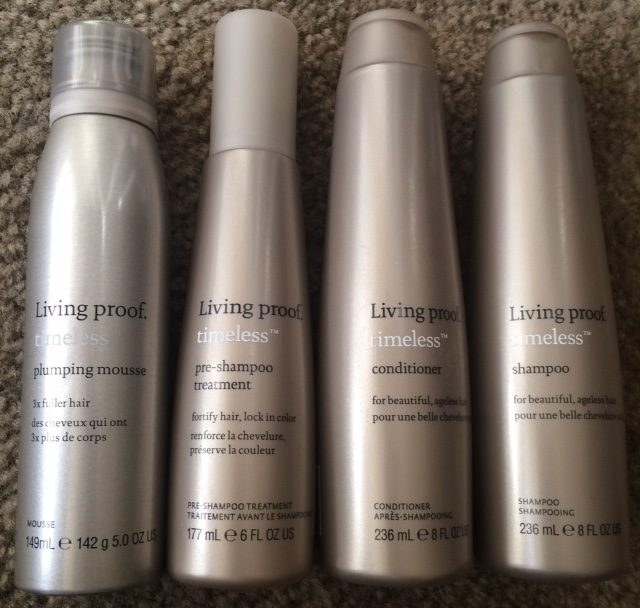 I'm heading to Ulta Beauty…
because I have an IN!  I just heard about the Living Proof Timeless Collection of hair products available ONLY at Ulta Beauty.  I can't get it anywhere else and I have heard so much about this collection of great hair products. 
ONLY THE FACTS, MA'AM:
I have frizzy hair (don't tell anyone).  It is certainly hard to admit, but only last week, I overheard someone call me "that frizzy haired lady."  I ran for my antidepressant, swallowed it fast, and hooked into my computer to go to Ulta Beauty, my favorite site for EVERYTHING required to make me pretty and ageless (including unfrizzy hair!).  I admit, I color my hair every four weeks, and although my hairdresser only uses the BEST products, my hair has split ends and the frizzies.  And it loses color quickly.  I could chalk it up to aging, but I don't.  And after I tried The Living Proof Timeless Collection, consisting of Living Proof Timeless Pre-Shampoo that fortifies and locks in color, Living Proof Timeless Shampoo, for ageless, gorgeous hair, Living Proof Timeless Conditioner (which is light enough not to coat the hair and thrives on giving a fabulous SHINE to the hair), and last but not least, Living Proof Timeless Pumping Mousse I knew that I was safe.
SHE WHOM SHALL NOT BE NAMED…
(i.e, THAT WOMAN who referred to me as frizzy) will never call me that again! Now, normally, I don't use mousse as I have fine, thin hair.  But Timeless has done the impossible: this mousse plumps without drying or damaging my hair, and it is as light as a cloud.  THANK YOU Ulta Beauty for partnering with my hair essentials:  the Living Proof Timeless Collection FOUND ONLY AT ULTA BEAUTY!!
AND I CAN GET IT WHERE….?
Living Proof is ONLY to be gotten at Ulta Beauty
AND I PROMISE….
Well I can't promise that you will be a Review Broad, but your hair will shine like stars from above! And from Ulta, free shipping on $50.00 worth of products.
AND A SNICKLE OF FACT…
And did you know…Jennifer Anniston is co-owner of Living Proof?
For more information Visit: