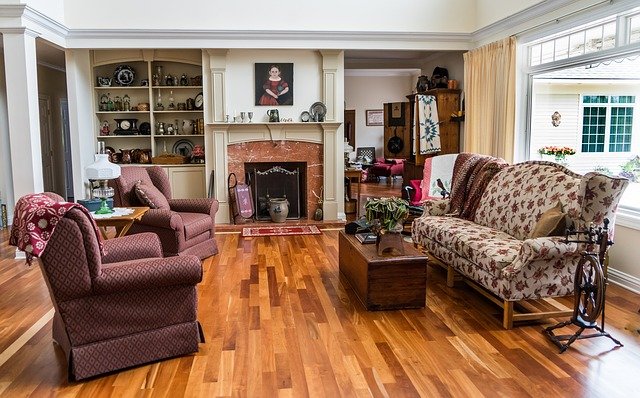 Hardwood floors are prone to problems with every passing season. During winter, they're exposed to ice, snow, and salt while spring and fall bring rain, dirt and leaves respectively. Summer doesn't spare the floors either as the season adds chlorine and saltwater. As if that's not enough, wood floors have to endure high traffic, inevitable spills, and several mishaps.
 This explains why you should have a regular maintenance routine to maintain the shine of the wood's surface. Knowing what to do when cleaning wood floors makes maintenance of the polished look easier. It also gives you value for the investment you made when you bought your house.
Regular Cleaning Routine
Make it a habit to regularly mop your floor or sweep it, depending on the amount of traffic. For a cleaner job, dust the floors with a mop treated with a dusting agent. This will make it easier to collect dirt, dust, and pet hair that so easily scratch the surface.
 The best mop to use for hardwood floors is one with a microfiber head. The material has a unique design to trap grime and dust quickly. Ensure you follow the recommended manufacturer's instructions for use with wood floor polish or dusting sprays. 
 Regular vacuuming is also recommendable. A weekly or bi-weekly schedule with a floor brush will do your wood floor some good. Don't rely on a vacuum with a beater bar attachment for vacuuming. It can scratch the floor's surface and tamper with the finish, giving additional work to restore the floor.
Mopping Your Wood Floor the Right Way
With routine and preventive cleaning, a deep clean of your wood floor shouldn't be an uphill task. Schedule a deep cleaning to target oil, dirt, and grime that builds up over time. Sometimes weekly dusting isn't good enough to remove them.
 It's best to schedule deep cleaning during the spring or just before the winter season. Use a wood mop and wood floor cleaning agent. Dip the mob and saturate it in the diluted agent. Wring out most of the water so that the mop feels only slightly damp.
 Use it to clean the floor, while ensuring you don't let water stand there. After cleaning the whole floor, use a rinsed mop dampened in clean water to rinse the floor.
 Wipe off excess liquid as dampness can destroy wood surfaces. If the weather is humid, use the air-conditioner to dry up the floor. Depending on the look and condition, you may want to refinish the floor to restore the look.
General Maintenance Tips
You can prolong the life of your wood floor depending on how you take care of it. As such, ensure that you:
Clean spills immediately

Use furniture pads on your furniture's legs to prevent scratches

Sweep the floor daily

Avoid using vinegar and soap-based cleaners

Vacuum weekly or biweekly

Polish quarterly

Refinish once every decade
 When it comes to refinishing your floor, ensure you hire a professional for the job.
Take Away
Wood floors are beautiful, but maintaining that shine takes a bit of work. As such, ensure you sweep or lightly mop the floor daily to remove dirt and debris that can cause scratches. Take all other preventive and maintenance measures to protect your floor's surface and to maintain its shine.