The Review Broads are ambassadors for Netflix #Stream Team and receive product as a result. All opinions are strictly our own.
Yes, Netflix has the finger on the pulse of JUST what we want when it comes to programming, and while our household is made up of adults, we don't want to discriminate by only touting our own favorite shows. Yesterday, I took a little time to check out Netflix's newest show All Hail King Julien, and I LOVED it. I immediately called my niece and told her to pull out her iPad and cuddle on the couch with her son (the youngest in our family), because I KNEW that he'd be head over heels with this crazy party animal.
I had missed the whole Madagascar thing when it first happened, and I'm not too old to appreciate a good great kids show when I see one.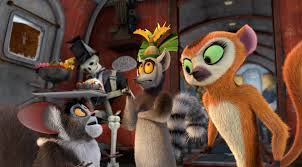 So, gather the kids and check out Netflix's collaboration with DreamWorks as you enjoy a totally original, totally hilarious and totally insane new series, starring Danny Jacobs, Henry Winkler, Andy Richter. Follow this crazy lemur and his loyal sidekicks Maurice and Mort plus a whole new cast of colorful animals, as they dance their way through adventures that the entire family will find fun.
The first 5 episodes are already available for some marathon watching. If you want MORE Madagascar craziness check out.
 Merry Madagascar
To subscribe to Netflix visit: