Your kitchen can lose space without you even realizing it. Indeed, it's easy to pack it out with food, tools, crockery, and cutlery, and even just random items you don't have room for anyone else. And that's something we want to fix! Because even if you're on a budget, you can make your kitchen a more useful place to be. 
After all, there are hundreds of ways to add a little bit extra storage to the heart of your home, and some are incredibly cost-effective! But if you just want some ideas about the different ways you can create more space within your kitchen, here's a list of inspiration that you might find useful.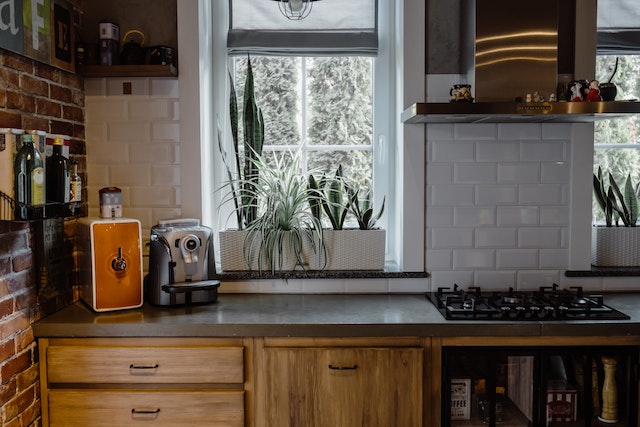 Use More Hooks and Shelves
Hanging things off gets them off of surfaces, and even the floor, and that means you've got so much more room to work with. It's often said that you should store vertically rather than horizontally, and this is the best way to make use of that principle. 
So place hooks under each cabinet, place them on walls, and don't be afraid to put up some shelving in spare spaces. If there's a bit above your sink where there's no cabinet, this could be prime real estate for some! 
Hang Deeper Cabinets
Deeper cabinets mean you can fit more things in there, and you also have the chance to mount shelves you can pull in and out. Not only does this give the cabinet more dimension, but it creates space within space with a bit of clever thinking! 
So get in touch with a local kitchen cabinet installation company and get yourself some new cupboards. It may be the most costly renovation on this list, but it's also the best storage solution we've come across! 
Use Folding Furniture
Folding furniture isn't all that common in the kitchen, but if you've got a table and chairs in there, it's time to replace them with these versions. Because if you can fold something away, you can instantly grant yourself more space to work with. 
You move a huge obstacle out of the way during the day, have space to sit down for dinner, and then fold it away again to improve kitchen traffic. Slot the chairs in the spaces between the cupboards if need be, and you can even attach the table to the wall to use it as a bracket. 
Unpack Bulky Items
You're going to have some bulky kitchen items to store away, and that just won't do! So unpack them all into smaller jars and boxes. A set of saucepans can be put into a sorting tray in a cupboard very easily. A big bag of sugar can be poured into a mason jar and then clipped shut and pushed to the back of a counter. All in all, you just need to compact certain things down. 
Storage in the kitchen fills up fast. Add a bit more to the room with tips like these.