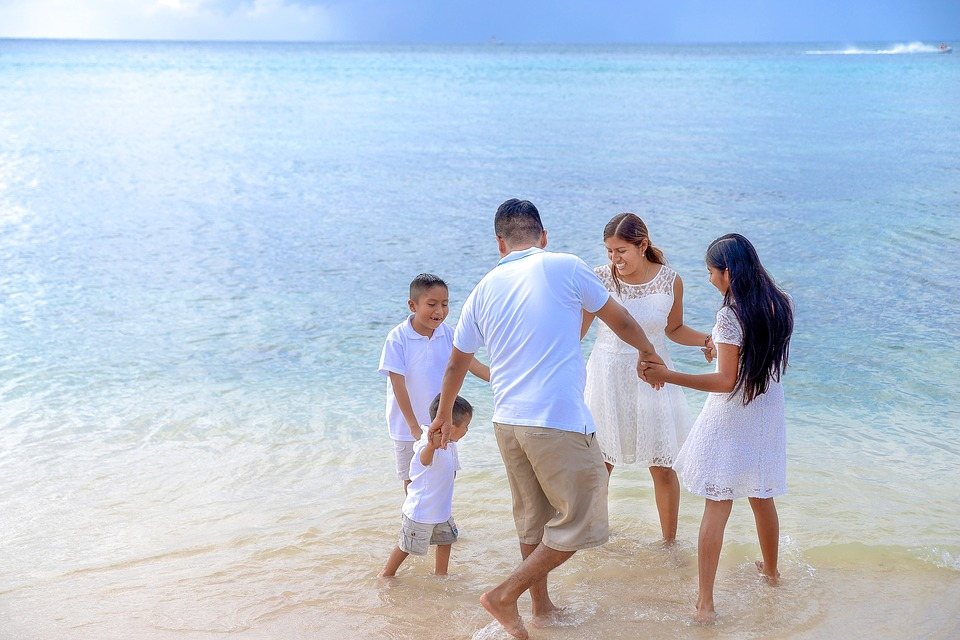 Get this: Humans are projected to board a record breaking 39 million flights in 2018. Air travel has never more affordable or accessible, so pack your suitcases and create some new memories to cherish with your family this holiday.
Whether you are looking for an event-filled five night stay at a themed resort or some quiet reflecting time communing with nature, the world is growing smaller and easier to traverse every year. You can now tailor and customize your vacation to best fit exactly what you want. There thousands upon thousands of interesting and spectacular destinations around the globe that are eagerly awaiting you, but here are six vacation ideas that should be at the very top of your vision board.
1. New Orleans, Louisiana
New Orleans has one of the richest cultural histories in the world. As a former colony of the French and Spanish, strong European influences can be seen, heard, and felt in the Big Easy today. Stroll through the historic French Quarter with a refreshing mint julep in hand (no open container laws), and pop into one of over a hundred music clubs around the city to hear authentic Cajun zydeco, blues and jazz.
Drive just an hour south and enter the historic and delicate Louisiana wetlands. Take a guided tour of this unrivaled ecosystem and arrive at preserved colonial plantations hidden away in the marsh. For you history buffs The World War Two Museum in the heart of downtown NOLA has received international acclaim and praise. The New Orleans Museum of Art and the Ogden Museum of Southern Art will introduce you to centuries of undiscovered masterpieces from around the gulf south.
After the sun sets, drop off your little ones and return to the French Quarter for a night of bar hopping along Bourbon street or join a famous haunted history tour! New Orleans has tons of exciting attractions. Just be sure to eat some crawfish and a po'boy before leaving!
2. Vancouver
Sure, Vancouver might not be the first place that comes to mind when you think exotic family adventure, but there is a lot more to it than meets the eye. Vancouver is a great destination for families looking for an incredible stay at an incredible value. Hotels are reasonably priced, even in busy areas like downtown, and there are almost endless family friendly activities to explore during your stay here. Definitely check out Granville Island, a former industrial district that has transformed into a bohemian pedestrian hotspot. You will find no shortage of interesting boutiques and curious cafes here. Vancouver is a cycle friendly city, so a bike tour is a great way to see all that the city has to offer. Unfortunately, bikes still don't float, so to partake in the some breathtaking whale watching, hop on one of the many trusted and informative whale watching tours that leave from Granville Island. You will wish you had more time to enjoy the excellent dining, shopping, hiking and more that Vancouver has to offer. Pro tip: Check on sites like Expedia for Abbotsford flights, and fly into the nearby suburban airport for far cheaper.
3. Anchorage, Alaska
Whether you are visiting in the mild, green summer or the gorgeous, snowy winter, Anchorage is a great place to explore with your family. You can walk along gargantuan glaciers or see imposing kodiak bears up close in the wild. Want to get a feel of townie culture? Celebrate the summer solstice in downtown Anchorage every summer with a massive outdoor festival.
Another great time to visit Anchorage is during the world-famous Iditarod sled dog race. Hold cute fluffy husky puppies and ride a sled with the whole family! Camping and hiking around Anchorage is a peaceful and joyful experience. Ask locals for the best places to set up camp. For a more historical perspective, stop by the Alaskan Heritage Museum on your way out of town.
4. Hollywood, California
The glitz! The glamor! Your family will love the chance to spend time in Hollywood, surrounded by movie magic on all sides. Get in the spirit by starting at the Hollywood Museum and exploring over 10,000 artifacts and memorabilia items from the inception of Hollywood to present day. Marvel at the iconic Hollywood sign and use it as a backdrop to take a few pictures of the kids for christmas cards!
Are you a family of pop culture buffs? Jump on an open air celebrity home tour and see the beautiful houses of all your favorite stars. Make sure to dine at Musso and Frank's on Hollywood Boulevard, an established restaurant that stars and silver screen A-listers have frequented for decades. Hollywood offers the best shopping, cultural tours, fine dining, and more!
5.Jackson Hole, Wyoming
Wyoming is a truly special region of the United States. Huge swaths of forest-blanketed mountain ranges are untouched and prime for hiking. Get ready to share vistas and mountain top views with your loved ones that will bring you to tears. Enjoy a little rustic living or choose pampering and luxury all the way at Jackson Hole's many lodges and hotels, ranging from cute bed and breakfast joints to full on mountain spa retreats.
Jackson Hole provides quick access to the historic and world famous Yellowstone National Park, so hit the trails and immerse yourself in nature. You can go white water rafting in the morning and take a Jackson Hole wildlife safari in the afternoon. Jackson Hole will make for the vacation memories of a lifetime.
6. Sosua, Dominican Republic
Sosua is an ideal destination if you and the fam are looking to soak up some sun and relax on the beach. The Dominican Republic is an incredibly welcoming country with has a vibrant culture that you will notice immediately. Sosua is an ideal location if you want to spend time with our distant primate relatives at Monkey Jungle, or hit the surf and do some world-class snorkeling and diving at reefs just off shore.
Fishing Charters are also a popular activity for Sosua visitors, so get ready to eat the freshest catch of all- yours! There are a ton of great hotel and resort options available, many that offer all-inclusive packages. Check out Sosua for yourself!
Was this article helpful and informative? Leave us a comment with your thoughts in the section below.