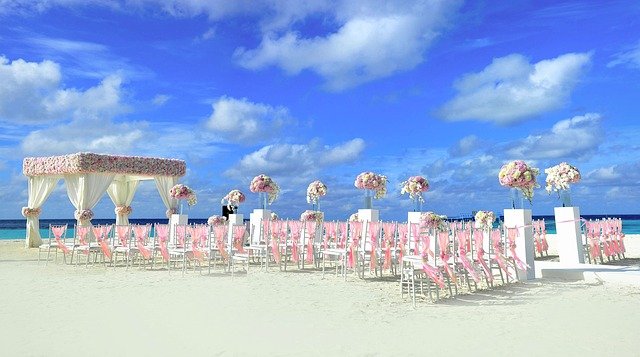 Is there anything more romantic than a destination wedding? Looking into your partner's eyes and professing your undying love for one another is always a beautiful moment, but with the backdrop of a sparkling blue ocean or remote mountain wilderness, it becomes something even more. The location is a huge part of your big day, so why feel restricted to the town you live in when you could choose almost anywhere in the world?
A destination wedding is a monumental occasion for any couple. But it does come with logistical challenges. The usual wedding tasks are now augmented with flight plans, overseas phone calls, and international language barriers. But if you can make it happen, it will be a day that no one present will ever forget.
Here are five tips to help you plan the perfect destination wedding.
Pick the perfect location
When it comes to picking your wedding location, the world really is your oyster. You can choose any country you wish, and any venue you like. Consult with your partner about what you want from your wedding and what location would be most meaningful to you. Do you want to get married in a church or outdoors? Do you want a sunny beach location or a more remote wilderness feel? Pink Sands Beach in the Bahamas is a popular destination, while for beautiful mountain scenery, there is no better Smoky Mountain wedding venue than Laurel Ridge.
Give plenty of warning
One of the biggest hurdles to planning the perfect destination wedding is convincing all your guests to come. Your immediate family and closest friends might be more than willing to fly halfway around the world to watch you tie the knot, but casual acquaintances and work colleagues might not be so thrilled. If you want to maximize the crowd for your wedding, it's a good idea to let your guests know well in advance. They need to have plenty of time to make plans as well as decide whether they can afford the trip.
Make things easy for your guests
One thing that might put off your guests is the logistical hurdle of booking accommodation and planning their travel to the wedding. Make their lives easier by giving them travel advice and accommodation tips to remove as much stress as possible from the process. This way, they can enjoy the event without having to worry too much about the logistics.
Hire a professional
If all the logistical challenges are putting you off, it may be a good idea to hire an expert. A professional destination wedding planner can handle all the frustrating technical details, leaving you to focus on the things you really care about.
Don't check in your dress
The last thing you want is to arrive in your destination country and find out your dress never made it onto the plane. This would be a complete disaster and potentially ruin your big day. Look after your dress at all costs, even if it means carrying it on the plane with you.