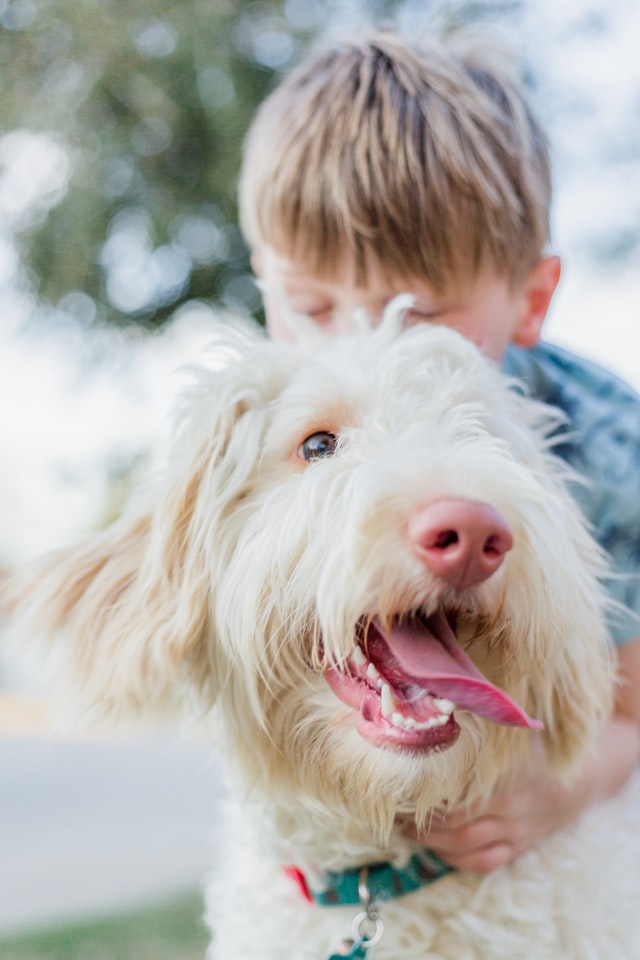 Taking care of our dental hygiene is a big part of our everyday. Most of us visit the dentist every six months for our checkups and ensure that we are brushing (and flossing) the recommended times a day. However, while we're taking care of ourselves, we may be forgetting that our pets' teeth might need the same level of attention that ours need. 
In fact, our pet dogs are affected by some of the same dental issues that we have, with over 78% of dogs experiencing dental problems. According to the College of Veterinary Medicine, bad breath is one of the main indicators of dental problems with your pet. However, other signs could present themselves, such as excessive drooling, eating on one side of their mouth, or blood on their chew toy. It is important that you're aware of these signs and how to prevent them from happening. So, here are five dental issues that could affect your dog. 
Plaque and Tartar build-up
Plaque appears when food mixes with saliva and bacteria. If left unchecked, it could build up and harden, becoming tartar. Over time, this begins to erode the gums and could cause tooth loss and decay. It could also lead to further problems such as gingivitis, making the gums inflamed because of the plaque, leaving teeth exposed. Gingivitis can also cause the teeth to bleed on contact, and if left untreated, could turn to periodontitis which is when the tissue around the tooth becomes damaged, reaching down to the ligaments and bone. 
To prevent plaque and tartar from progressing into gingivitis and periodontitis, it is important to keep the teeth clear of plaque. You can do this by brushing your dog's teeth daily with a dog toothbrush and dog-safe toothpaste. You can also speak with your local vet if you have questions or notice any bleeding or bad breath.  
Misaligned Teeth
Another issue that some dogs face is the misalignment of their teeth. Like humans born with an overbite, an underbite, dogs often face the same issue. This could begin when they are puppies. Puppies are born with an overbite, and as they grow it begins to develop, some teeth can become stuck behind the upper teeth, which could stop the lower jaw from developing. The reverse could also happen, where the lower jaw begins to develop too quickly, resulting in a dog underbite. You may also discover that your dog may have other misalignment issues while they are puppies. 
If you notice this when your puppy is young, the vet could fix this issue, who may suggest, depending on the jaw, that several teeth be extracted, which will allow teeth to grow.  
Tooth Decay 
One of the rarest dental issues for dogs, tooth decay, happens in 10 percent of canines. However, it is something that can still happen. One of the most common reasons for tooth decay in dogs is periodontitis. Cavities can also cause tooth decay, and this appears when there is a build-up of bacteria in the dog's mouth, producing acid. The acid will slowly eat away at your dog's teeth removing calcium in the enamel. Once this is gone, the tooth begins to decay, and small holes called cavities will appear. 
Although it this rarely seen in dogs, it is important to keep up with your dog's dental hygiene by brushing their teeth every day. However, if you find holes, you will need to take your pet to the vet, where they will need fillings the same treatment used for humans. 
Dental Issues Caused by Trauma
An unfortunate incident could also lead to dental issues with your dog. Whether it's a fall, running into something while playing, biting on something hard, fighting, or other accidents could cause a fracture of teeth and trauma to the jaw. Previous dental issues could make your dog's jaw and teeth more susceptible to extensive injury if they encounter further trauma, such as a fractured jaw. It could also result in the loss of teeth. 
 You will need the aid of a veterinarian to fix any fractures to the jaw and teeth. Depending on the severity of the trauma, they will be able to use restoration techniques in order to fix the structure of the tooth. If the damage is limited to the tissue, your vet can also take care of this. If the fractures have impacted bone, causing the injury to be more serious, action will be taken to help with these injuries. Again, these actions will depend on your vet. 
Other problems that could cause Dental issues 
There are a variety of other problems that could cause dental issues for your pet. From problems that develop as they grow from puppies to adults to disorders, many things can affect your dog's teeth. Some of these depend on your dog's breed; for instance, some breeds are known to experience teeth staying under the gumline and not growing in when they should. If not extracted, they could cause issues with the jaw as your pet continues to grow into adulthood.  
You can spot this condition if you notice your pet is missing teeth as they grow. Once you see this, you'll have to take them to your local vet. You should also visit your vet if you notice your pet resists you touching their mouth or notice their teeth changing color, as this could indicate further issues. 
Bottom Line
It is very important to keep up with your pet's dental health as much as you would for yourself. Fortunately, there are many items that you can buy that can help you keep on top of your canine's oral hygiene, ensuring their teeth are healthy and strong. If you have any questions or worries about your dog's teeth, it also helps to get in touch with your local vet, who may be able to give you the guidance and support you need, whether it's treatments, information, or valuable advice that can help to prevent any dental issues before they get become worse. They can help give you the best course of action to keep your companion happy and healthy.