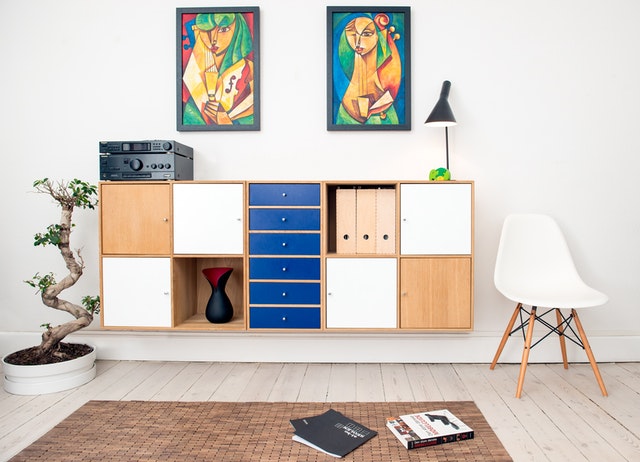 When we decorate our homes, we give ourselves the chance to get creative, learn about new styles, and best of all, design a space that we enjoy spending time in. Whether you're a bit of an interior design whizz or have no idea where to begin, these apps can help you to give your home a good spruce up.
      1 . Magic Plan
If you're planning a home renovation or interior design project, Magicplan can help you to store all the measurements of your home, within the app. The application allows you to create a floor plan using the camera of your smartphone. All you have to do is scan the room, and the app builds the floor plan for you. Once you've created the floor plan, you can use the other app features, including virtual floors, cost estimation and 3D models. Using Magicplan, you can measure ceiling heights, conduct surveys, get automatic stats and more.
Havenly
With the Havenly app, you can upload a picture of the room you want to decorate, match with a designer and have a chat about your ideas for the room. Whether you're dreaming of exquisite rugs,  minimal styles, bifold doors or exposed brickwork, an interior designer can give you all the advice you need. We often have big ideas for our rooms, yet aren't always sure how to achieve them. Other times, we are just stuck for interior inspiration. It's during these moments that the wisdom of a professional can really help.
Craftgawker
Craftgawker is a creative app where users can get ideas and tips on craft projects. The application includes a curated selection of DIY projects, including step-by-step guides on how to complete each one. Users, as well as craft experts, can submit their projects; however, submissions are vetted to ensure that the highest quality offerings. If you love DIY and making your own home decor items, then you'll undoubtedly love craft gawker.
Planner 5D
Planner 5D allows users to build realistic 3D or 2D renderings of the rooms in their home. Using Planner 5D, you can get an idea of potential furniture changes and layout ideas before you apply these changes for real. The app includes a friendly drag and drop interface for 3D and 2D modes and an item catalog where users can digitally create their dream home. There's a nifty 'Snapshot' feature where users can access realistic images and achieve the right lighting. When using Planner 5D, you can sign in with Facebook or Google, to work on your projects on your desktop, or mobile device.
iHandy Carpenter
The iHandy Carpenter is a must-have for any home improvement project. Using the application, you can access leveling tools including plumb bobs and bubble level bars. These can help you ensure that your surfaces, walls, and photos are well-aligned. The iHandy Carpenter also offers a ruler and protractor so you can ensure that your projects are precise, every time. 
     6 . Palette Cam
Palette Cam is a wonderful tool for artists, designers, and home interior projects. You can use the app to build color palettes, drawing on the inspiration around you. Using your saved pics or camera, you can create these unique color palettes. For those who aren't sure where to begin, check out the inspiration page for a few ideas. Once you've designed something lovely, you can even share these on social media or by email and text.
SmartPlant
Sprucing up your home is as much about your garden space as indoors. With the SmartPlant app, you can access plenty of advice and tips to help you with your gardening. SmartPlant provides users with plant care reminders, plant care guides, plant identification info. You can identify plant diseases and pests, and learn how to deal with these. There's a nifty feature where you can scan labels to upload new plants. The app even lets you chat to a plant expert when you have a plant related issue. Using SmartPlant, you can find the ideal plants for the different spaces in your home. Here you'll learn about which plants thrive in certain conditions, and gain a better understanding of where to place your plants.
Pinterest 
Pinterest is simply the best place for creative ideas; here, you can browse beautiful photographs of finished creative projects, whether fashion-related, interior design, craft and much more. Pin photographs to save and share with friends, or upload pics of your own creative endeavors. When you're looking to find out what's trending in the world of interior design, Pinterest has got all the inspiration you could want.
Recyclart
Those who love a bit of upcycling will be super impressed with Recyclart. Here you can find so many ideas for upcycling projects, and make yourself some lovely items to decorate your home with. Whether it's making vases out of old bottles, or bunting out of old clothes, Recyclart has plenty of simple (and complex) projects to try. The great thing about Recyclart is that you'll get so many ideas about decorating your home sustainably. For some inexpensive interior design concepts, Recyclart can help you out.
Design Home 
Okay, now this one is just for fun (it's a design game), however, it's a great way to get your creative juices flowing and throw a few ideas around. Using this game, you get to become an interior designer, creating your dream home virtually. With the application, you can practice daily design challenges, and learn about the new trending decor styles. Design home is part of a creative community, so you can share your concepts with others and vote on the rooms that you love best. 
There are many other apps out there that can help you to give your home a nice revamp. The more that you learn about interior design, the more you'll begin to enjoy your home projects. Remember to set yourself a budget before you get stuck in; a budget is helpful to prioritize your spending on the right items.