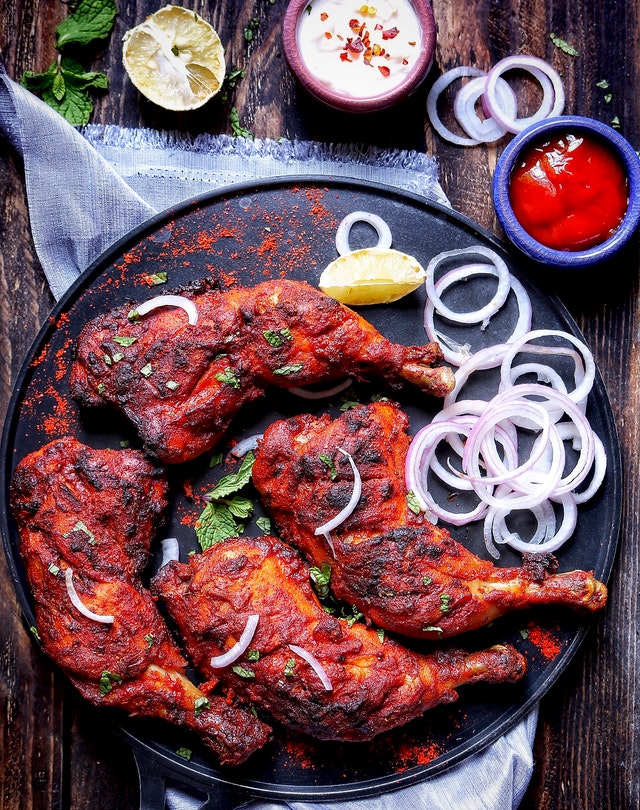 Grilled chicken goes well with so many different sauces. Whether you're cooking on a barbecue or in the oven, consider trying some of these sauces and marinades next time you prepare some grilled chicken. 
BBQ
BBQ sauce is the staple sauce to choose when grilling chicken on a barbecue. There are so many different recipes when it comes to BBQ sauce. Most will contain tomato and brown sugar (which gives it that signature sweet taste), usually combined with ingredients like vinegar, onion powder, mustard, and black pepper. If you want to give your BBQ sauce a kick, add in some chilies. Check out this BBQ sauce recipe if you're looking for something basic. 
Jerk
Jerk sauce is a Caribbean favorite that is often applied as a marinade. It has a spicy kick thanks to the presence of Scotch bonnet peppers. Other common ingredients in this sauce include soy sauce, brown sugar, cinnamon, garlic, and onions. Jerk grilled chicken is often served with rice or mac and cheese. Many different Caribbean islands have their own take on jerk sauce. Check out this jerk sauce recipe if you're looking for something easy to create at home. 
Teriyaki
Teriyaki is a popular Japanese sauce used to flavor various grilled meats including chicken. This sauce has a sticky consistency and tangy taste. It's made using ingredients such as rice wine vinegar, soy sauce, brown sugar, garlic, onion, and ginger. You can check out this recipe for grilled teriyaki chicken in order to get a good idea of the measurements of each ingredient. In most cases, teriyaki chicken is served with rice or a vegetable stir fry. However, you can serve it with practically any side.
Sweet chili
Sweet chili sauce is used on grilled chicken in various countries throughout Asia ranging from Thailand to Afghanistan. The core ingredients of sweet chili sauce are chili peppers, rice wine vinegar, and honey (the honey gives it its sweet taste). Garlic and fish sauce are sometimes added as well to give this sauce some extra depth. Sweet chili grilled chicken goes great with rice or noodles if you're looking to create a South Asian style dish.
Satay
This nutty sauce originates from Indonesia and is easy to make at home. Traditionally it was made from only two ingredients: coconut milk and peanut butter. Nowadays, many sauces also contain brown sugar and soy sauce to give it extra sweetness and umami. Grilled satay chicken is great for cooking on skewers, although can be grilled in strips or on the bone. It is traditionally served with rice or noodles. 
Honey garlic
Another sweet and tangy sauce that goes well with grilled chicken is honey garlic sauce. This can be made using solely honey and garlic, although as with satay you can add some soy to the mix (this gives it more of a teriyaki flavor). Honey garlic is very versatile – you can serve it with all kinds of sides ranging from rice to mashed potato.