Yes, it is possible to make your outdoor space, whether large or small, into one of the best spots in your home. The best part is that all these ideas are budget-friendly hence easily executable. Majorly, your creativity might be the limiting factor to turn that dull area into a relaxing retreat.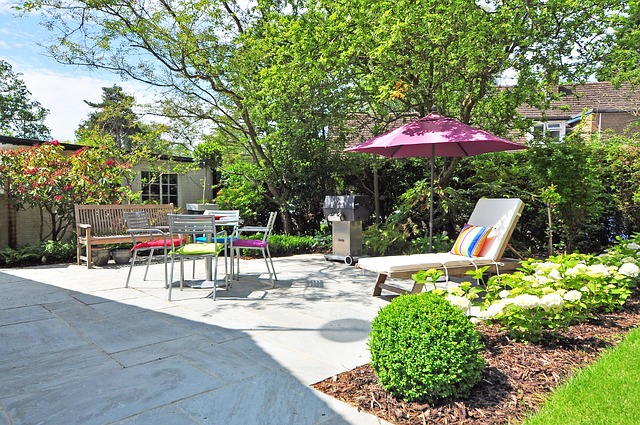 To kickstart your renovation, here are five creative ways to beautify your outdoors:
At times all you need to do to bring your outdoor area to life is rehabilitating your old furniture and accentuating them with a tablecloth and pillows. Depending on the season or theme, you can change the covers to spark the intended mood. Have your loved ones dine together in the open area while appreciating nature.
Such an enabling environment can also be suitable for reading and meditating. Additionally, feel free to set up a foldable umbrella if it gets too hot outside.
A green wall in your outdoors will feel like an art gallery. Using small hooks or zip ties, attach your planters to the slats to create your hanging plants. You can also showcase your plants on a tiered display.
To do this, convert your wooden ladder into a space-saving stand by adding shelves to hold your planters. Do not forget to include your favorite plants, flowers, or herbs to purify your air and emit the much-needed fragrance.
Your outdoor space is incomplete without lighting, whether sheltered or unsheltered. You can use lighting to give aesthetic pleasure and create that ultimate oasis. One way to do this is to have lanterns hang from the trees or placed on a table. However, you may want to know how to get rid of spotted lanternflies to prevent them from damaging nearby trees and ruining your beautiful scenery.
Another creative way to use your outdoor space is by setting up a custom fire pit. This crucial place can accommodate your family and friends during parties, storytelling, and reading sessions to strengthen your bonds. Surrounding the fire pit should be the built-in benches.
It is difficult for anyone to turn down a shady hamming that is strung between trees. Hammocks get popular during summer as they make it possible for you to enjoy fresh air and serenity while relaxing. In case you feel like you don't have a good spot for a hammock, find a specialist or articles on magical ways that can suit your space.
Conclusion
Every area in your home needs to feel like one. Find ways to express your creativity while converting your outdoor space into a comfy relaxing haven. After a tiresome week, you need a place to cool down and unwind before starting another week with redeemed energy.
Remember to redo the layout and designs during other seasons as you deem fit. This is because each season of the year has different demands that you need to meet. There are no rules or limits to the number of areas that you can tweak to create a functional outdoor space. Such small but meaningful moves can make you and your loved ones appreciate your home even more.