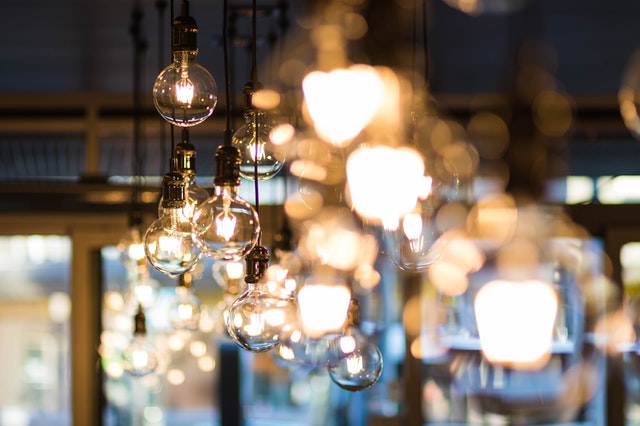 Lighting makes a massive difference to any home. In this post, we are going to look at different lighting solutions per each room. 
KITCHEN 
There are a variety of things you need to think about when choosing kitchen lights. Whether you are looking for a pendant light for your dining/eating area or spotlights for your glassware cupboards, you need to take numerous factors into consideration to make sure you get the best of your lighting. 
Functionality is not only important, but aesthetics must be considered too. Vintage kitchens may incorporate more traditional or retro designs, whilst contemporary kitchens often call for downlights or minimalist spotlights. The likes of Murano chandeliers can add a luxurious touch to any opulent and elegant style of kitchen. 
Online there is an extensive and diverse selection of lighting options that will look great in your kitchen, including a variety of finishes, such as bronze, satin chrome and gold. Why not add a splash of vibrancy to your kitchen by hanging a colourful pendant over a counter, sink or island?
LIVING ROOM
The lighting solution you choose for your living room can have a huge impact on the overall finished feel and ambience. This is a room where you are likely to relax and unwind on the evenings, and entertain family and friends from time to time, which is why you need to consider the style, type and amount of lighting with a lot of care. 
If you have a small room you may wish to go for a series of spotlights whilst an opulent chandelier can add a touch of glamour to a large space. If your living room has a low ceiling you may want to reduce the intrusion into the space with a flush or semi-flush fixture.
From quirky and colourful pendants to ornamental table lamps, there is something for all tastes and requirements. You can choose from an abundance of finishes as well, such as gold, red, chocolate, brushed brass, satin steel, bronze, ivory and much, much more. 
BEDROOM
The bedroom is the area of the home where people spend most of their time, even if they are asleep, and this makes your choice of lighting really important because you will want to create a space that is pleasant, comfortable and relaxing. 
If you go for anything that is too bright you are going to find it impossible to switch off when the time comes to sleep, as the transition from light to dark will be severe. You also want to make sure the light you select fits in with the décor of your room, adding personality and style. 
One option to consider is to buy accent lights to enhance the atmosphere and draw attention to a certain area of your room, such as a painting. If there is a part of your bedroom you want to show off, this is a good trend to make the most of.
So there you have it: lighting solutions to consider for three main rooms in your home.