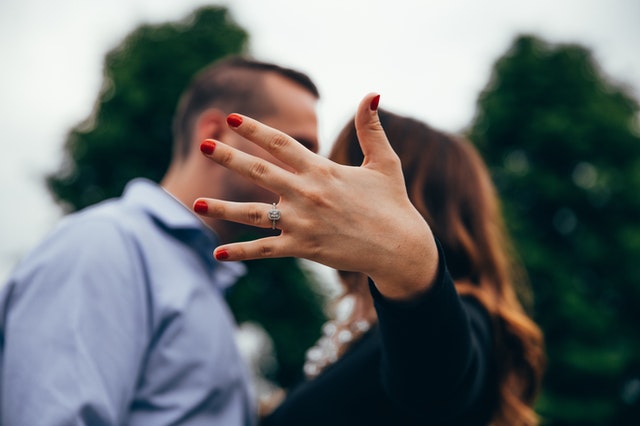 Ring shopping can be very exciting. The love of your life just asked for your hand in marriage, totally sweeping you away. Engagement rings can mean something unique, like the bond you both share. That is why you want to make sure you know how to pick the right engagement ring. There are a few things to keep in mind while you blissfully go ring window shopping either by yourself or with your significant other. Here are some things to keep in mind when you are searching for the perfect engagement ring.
Shape
The shape of the cut will more than likely determine the cost of your ring. Each have a different price per carat. For example, the most expensive cuts are round. On the other hand, pear and marquise are less expensive comparatively. The bottom line is if you care more about the size it is possible for you to get more carats at a better deal when you go for non-traditional shapes to the round cut. Make sure you do research on the different ring cuts and keep them in mind when you go out to ring shopping. Take a picture of them. Screenshot them for reference if you have to.
Metal
Picking your metal band is just as important as picking the right shape. There are a few to choose from, depending on your personal style and lifestyle. They are yellow gold, white gold, silver, platinum or rose gold. The latter just recently appeared on the scene a few years ago, standing out as a contemporary alternative. Keep in mind that metals can also determine the cost of a ring. Platinum is comparatively the most expensive metal It is easy to get platinum and silver confused, but they are totally different in price. This is because platinum has more density and is rarer.
Carats
It is helpful to have a specific carat size in mind as carat size also determines the cost of your engagement ring. If the size is important to you, but you are working with a shorter budget, you can adjust things like color and clarity to better match your budget without having to compromise on the size of the ring. Another way to save a ton is if you pick an uncommon carat size. Instead of going for a 1-carat diamond, you can choose one that is .93 carats. The price of a diamond will drop significantly when they do not weigh the most desired weights. Above all, you want to make sure that you try rings on in-person because you may have a size in mind, but that could change the minute you try it on your finger.
Know Your Measurements
It is recommended that you get both of your ring fingers accurately measured. An ill-fitted ring is the quickest way to be disappointed no matter the ring size, style or shape. You want to be sure that the ring will fit comfortably around your finger, not cutting off your blood circulation or constantly falling off your finger. Head to your local jewelry store and get sized, and you will be on your way to getting the perfect engagement ring.