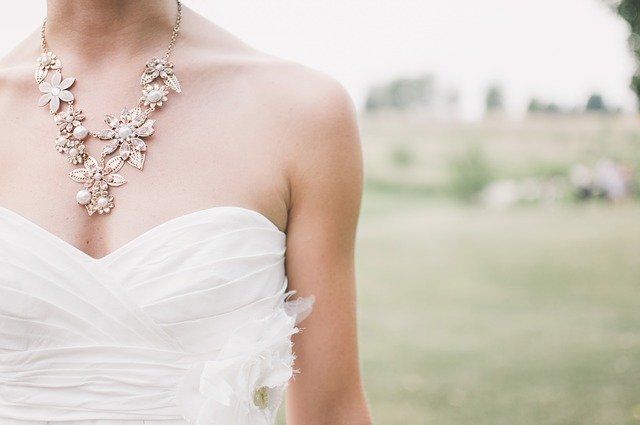 Sadly there are a lot of people who struggle to style their outfits and so when it comes to your wedding or special event, things can be even trickier. Perhaps it is a celtic wedding and you want to look amazing.  Perhaps you don't dress up too much as you don't know how to wear jewelry or know what suits them. Perhaps you opt for black bags because you don't know what other colors to use. If you've received a lovely piece of jewelry for Christmas or a birthday then maybe you have abandoned somewhere in the depths of your draws and vowed to never wear it. Or a bright yellow bag that you just don't know how to style? There is always a way to wear and style yourself and it doesn't have to look tacky, you can keep it subtle and still fabulous. 
The first thing to identify is what suits you. Pick a metal that compliments your skin tone and colors that look good on you. Silver goes nicely with any skin tone but compliments a paler skin more. With gold, it looks lovely on either but will nicely enhance your tan if you're lucky enough to have one! Rose gold has been a hot topic for a few years now and it's still on-trend. If you always opt for plain clothes then perhaps you need to look at accessorizing better which will take away from any bland styles. Why not try a patterned belt or even a colored belt. Belts seem to be really in fashion at the moment, with everyone lusting over the Gucci belts and it can really take your look to the next level. 
Chunky necklaces often can make a statement for a night and dainty necklaces can be worn all the time. There are always places to find your perfect style; you should look at Rachel and Victoria Jewelry with their huge range of jewels for many occasions.
What types of jewelry look best?
Chokers and shorter necklaces give a nice structure to people who are a little shorter and of course, necklaces really do bring a little bit of style to a plain outfit. This applies to handbags and shoes, perhaps look at styles you wouldn't usually wear. With spring around the corner, there are always plenty of sandals that are patterned, and even a nice pair of shiny loafers will really bring an outfit to life, especially in the workplace. Trainers are still really in fashion and if this isn't your usual style, then try something that looks more of a pump, so you don't feel too sporty or out of your comfort zone. Black trainers can look really nice and stylish. Keep playing around with pieces. Don't forget this season it's all about headpieces and hair accessories, as they are always a big hit on the runways, for AW20 they are set to blow up again! Try a headband, this can really make an outfit look stylish, especially if you have your hair up, a headband can add an extra element.