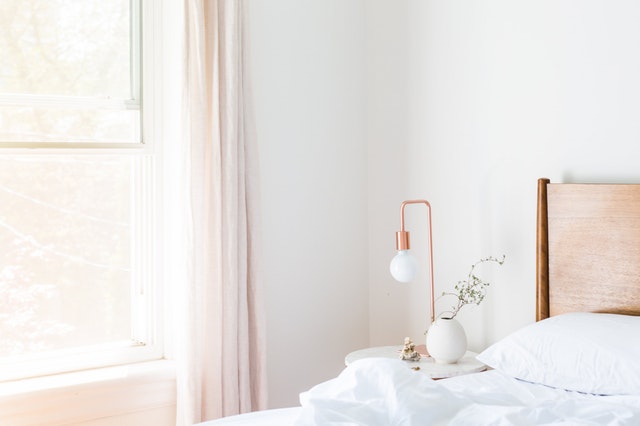 A small room can feel cozy and beautiful with the right interior design. Smaller spaces don't have to mean cramped and undesirable; it's just all about what you make of the space. A huge living room or bedroom is, of course, preferable, but many of us don't have the spaces we dream of. Never fear, there are plenty of easy things you can do to make your small room feel bigger.
1. Try mirrors 
Rule number one of making a small space feel bigger is to use mirrors. Generally, it's best to go for bigger; a large mirror which extends the length of your sofa or bed, for instance. Beyond this, ensure that you make the best of natural light in your rooms. You can do this easily by keeping windows clear and choosing sheer curtains. Using natural light not only helps a room feel more spacious but also saves on your energy bills.
Consider your decorations
When you are decorating a small space, lots of ornaments can mean that the space feels cluttered. It's best to choose one large piece of artwork, be it a painting or photograph. For your plants choose just one that's medium-sized and strategically placed. With smaller rooms, it's best to keep things simple so that you don't overwhelm the space. Try using apps such as Saatchi Art, to get an idea of what a piece of art would look like on your wall.
Low furniture 
Using beds, chairs, or sofas, which are low-scale, helps to make a room feel spacious. If you can find low scale items which also have storage, all the better! It's also a good idea to shop for ceiling fans for small spaces; you won't want any objects to dwarf the room. With a perfectly chosen fan and furniture, your room will feel airy and open.
Declutter 
It's key to get rid of all your old clutter to help a small room feel larger. Go through everything in the room and put all that you don't use to one side. Consider selling these items, taking them to charity stores, or even for upcycling projects. Once you've rid your room of clutter, everything will be much more orderly and neat. High shelves can also be useful to create the illusion of space.
Consider your colors
Last up, lighter colors will help a room appear bigger, so go for white, cream, beige or pastel shades. This year, light shades of green are particularly on-trend. When you are painting your room, try using eco-paint for an option that's more earth-kind and also healthier.
For more ideas on simple interior design, check out podcasts such as 'Affordable Interior Design' or 'Decorating Tips & Tricks.' We all run out of ideas and solutions sometimes, yet with these podcasts, you'll be sure to get motivated again in no time! From home renovations to on-trend styles, these shows have got you covered.
Finally, remember to create a budget before you start shopping around.