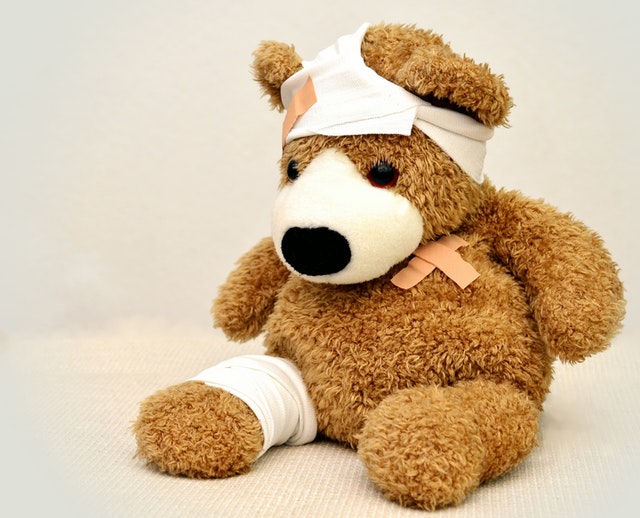 It's enough that you have to prevent the major mishaps in life, but who wants to think of everyday injuries? Yes, you can injure yourself just living your life and minding your own business. Some of them are funny or embarrassing to think of, but some can be serious if not treated. You should have a small, portable first aid kit ready to treat those issues.
Here are five common injuries that come up when you're out there living life.
Cuts or Abrasions
Cuts and scrapes fall under abrasions. They can come from something as little but painful as a paper cut to a scrape from a fall. Though they may look harmless, it can go downhill if it gets infected. This will happen when you're healthy but not if you have certain conditions like diabetes that inhibits healing or if you've cut yourself on a dirty surface.
What you need in your first aid kit for cuts and abrasions:
Triple antibiotic ointment is the heavy hitter that will take care of healing fast.
Hydrogen peroxide is a better choice than alcohol which can cause unnecessary pain and burns to the skin and the affected area.
Antibacterial Band-Aids that are fabric and waterproof or one pack of each are the best to have. Why? Because you won't know how serious the injury is nor what condition you'll be in. For example, you could run, sweat and fall sustaining a scrape. There could be a lot of blood or sweat. You'll want something that sticks with moisture.
Liquid stitches is a liquid bandage that is applied to the wound and dries clear. It protects from infection.
Burns
The most common burn accident is in the kitchen while cooking. The least thought about is a steam burn. Burns don't always have to be via a naked flame. Steam can come from a tea kettle or a boiling pot. Here's a tip: always lift a lid off a pot away from you and your face.
What you need in your first aid kit for burns:
Burn cream is a thing. But the first thing you should do is hold the injured area under cold running water. Then you can use the next item along with rotating the burn cream.
There are cold packs that you don't need a freezer for. They activate by smacking them on a surface or kneading them. There are many kinds. Each company is different. They also make hot packs the same way. Follow first aid instructions on the rotation for different burns. Anything over first degree burns, see a physician.
You can use gauze bandages to keep the burned area clean and free of infection.
Bug Bites and Worse 
Yeah, this is the one that comes upon you without you even being prepared for it. Bug bites, like mosquito bites, can be a real annoyance. But when a bee flies into your face that wasn't expecting you to be in their B-line so to speak, it can be a real trauma.
What you need in your first aid kit for bug bites and stings:
You may actually develop new allergies as life goes on so in case you are allergic to a bee, you may want to keep an Epipen. This is an Epinephrine in a dosed shot that you give yourself to stop anaphylaxis. This could conceivably save your life. You also should have the typical stuff like calamine lotion for mosquito bites or any anti-itch cream.
Sunburn
It's a real buzzkill when you're so chilled at the beach or poolside and fall asleep only to awaken in pain. If you only have redness and soreness without dizziness and nausea, which is sunstroke, then just have the following in your kit.
What you need in your first aid kit for sunburn:
Aloe vera anti-sunburn cream. Many companies make them. Use the cold compresses that are contact or friction activated.
Minor Sprains and Strains
You can treat minor sprains and strains yourself. However, the best suggestion is to go to a physician anyway to make sure you don't misdiagnose that. You'll want to stop the swelling and demobilize the ankle or wrist.
What you need in your first aid kit for minor sprains and strains:
Ace bandages or a sprain sock will be necessary. Any of these will do. The sprain sock will be a sock made to step into. An Ace bandage will unravel easily sometimes.
Cold packs will help a sprain or strain. As in the other instances, the friction activated ones are best.
The other items that are standard you should have to make a more complete first aid kit are:
Tweezers
Breathing barrier for CPR
Alcohol wipes for sterilizing instruments
Pain relievers, non-aspirin anti-inflammatory
Gloves that do not contain latex in case of allergy
Oral thermometer
Blanket for shock
Hand Sanitizer
It is smart to be ready for any emergency. If you don't have a first aid kit, now is the time to get one ready and be prepared for those life events that always seem to happen at the worst times.