I cook hot…not like high temp hot but like chapped lips hot.  My go to high heat dish is my pulled pork or carnitas.  I like it so hot that my pulled pork sandwich must be served with a very cooling slaw on top to balance the burn (I promise ill share the recipe on here one day).  However, we were sent a ton of hot sauces and due to issues with time I had to adapt to chicken wings because I like to make the hot sauce part of the base of the stock for cooking.  So first my wing recipe with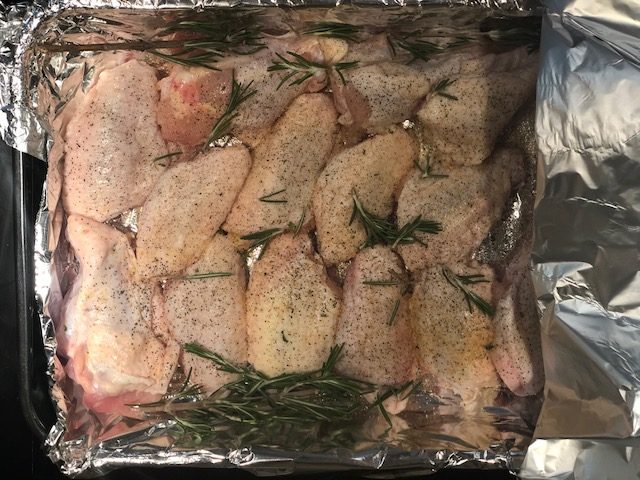 Ben's Roasted WINGS:
Put some non-stick down in a baking dish – pick your poison doesn't matter
Chuck as many wings as you can in that bad ass
Season the wings with:

Salt
Black Pepper
Onion Powder
Garlic Powder
Smoked Paprika
A Sprinkle of Cheyne Pepper
A few sprigs of thyme

Add a little water to the bottom of the pan
Cover the pan tightly with tinfoil
Cook until finished – flip half way (eyeball it)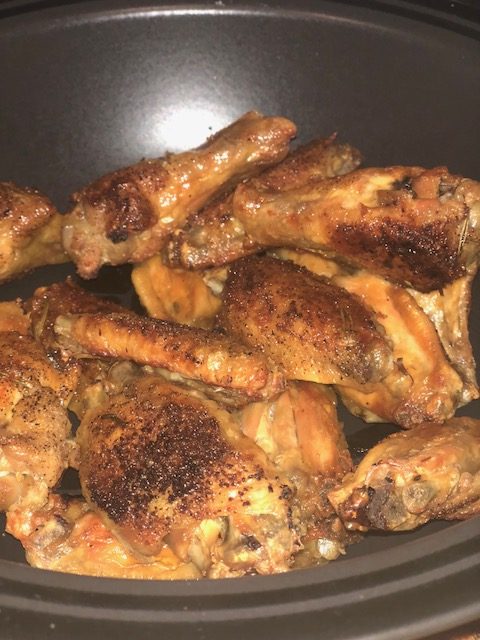 Now, this is just a base naked wing now it is time to sauce!!!!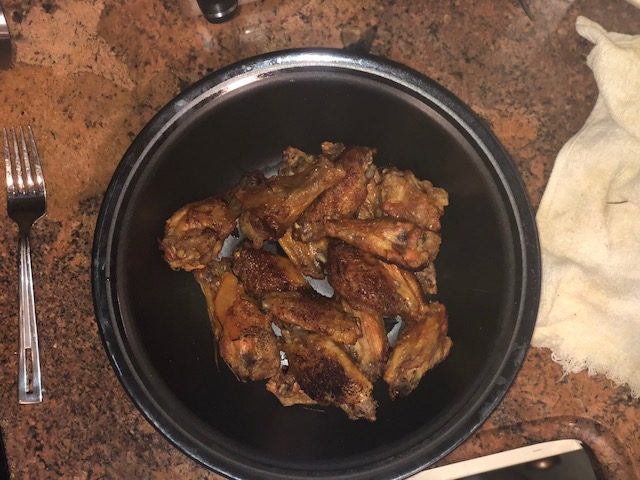 First up Moore's sent me over 4 sauces from low to high heat:
Moore's Spicy Mustard Hot sauce: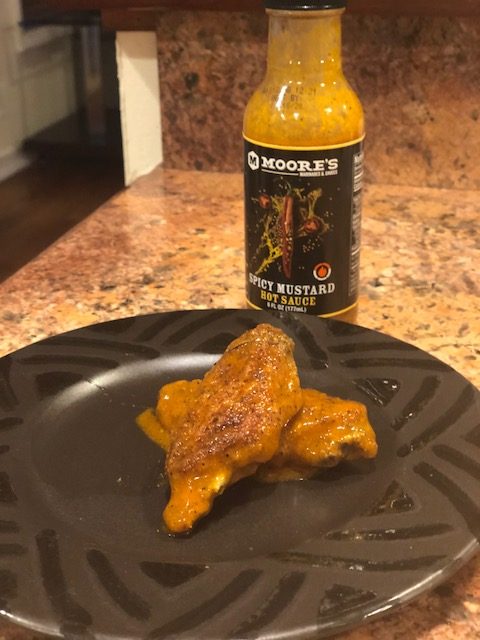 This stuff right here is my jam I would put this on all kinds of things.  This had the best all over flavor of all the sauces I ate today.  It is the lowest heat of everything I tried but without question the most robust flavor.
Update:  In the past week I've found myself putting this on everything!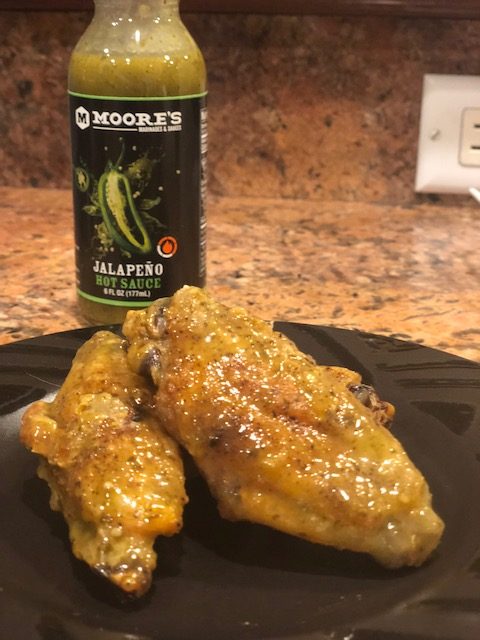 Moore's Jalapeno Host Sauce
Actually some solid spice here!  Very good, a nice little lasting heat but not overwhelming.  I would not use this sauce everyday but I would use it from time to time.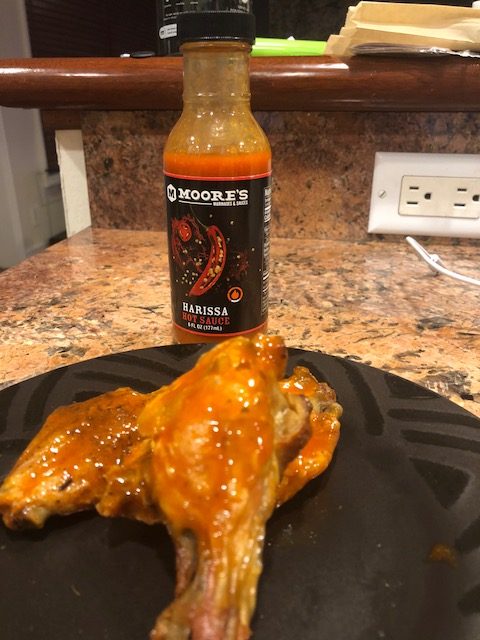 Moore's Harissa Hot Sauce
This is the closest to a traditional super-hot wing sauce.  Love it.  I'll use this sauce to make wings for myself whenever.  This is the exact sauce I would use if I had friends over for football and they wanted hot wings.  Not mild wings not medium wings but HOT WINGS!!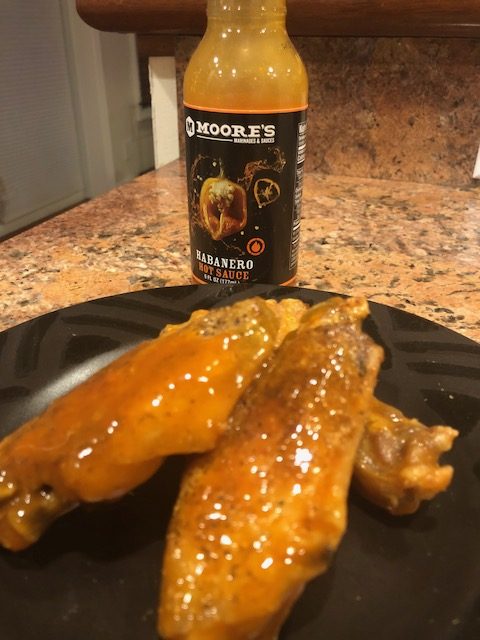 Moore's Habanero Hot Sauce
I was expecting to have to put on the rubber gloves and Chap Stick for this one but actually not the case.  This is a very solid long lasting heat but not like a super concentrated pepper feel.  It was hot and the heat lasted a couple minutes but it did not make me reach for the milk or put a tear to my eyes.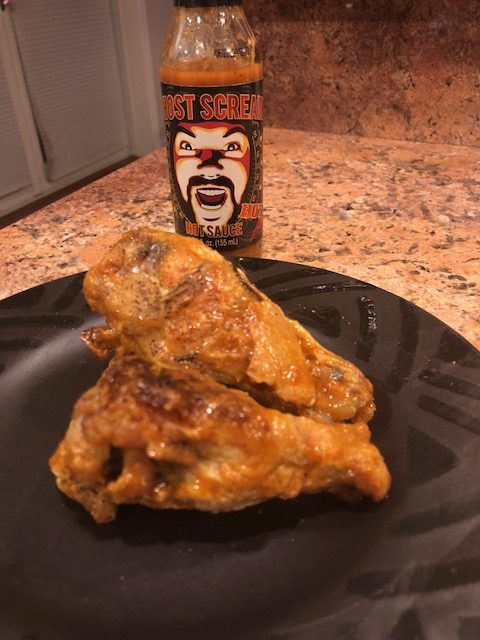 Ghost Scream: Ghost Pepper Hot Sauce
This is a legit everyday hot sauce.  What was so surprising here was the "tang."  Simply a toasty and tangy sauce to put on anything! On wings it was spectacular.  Later in my night (sorry no pictures) I put it on some sushi and it was amazing.
BTW the bottle is already gone.


Get $1.00 off a bottle of any Moore's Marinades or Sauces >> $1.00 OFF
Moore's Marinades and Sauces are available at Walmart, Publix, Kroger, Target and

more LOCATIONS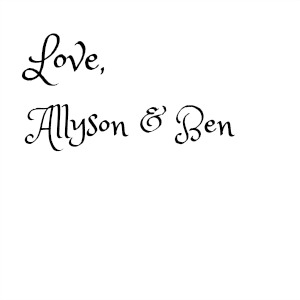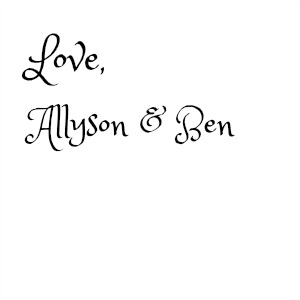 Please follow and like us: