Like magic:  The Fabulous Sungale Digital Kitchen Entertainment from Netchef We We received an NC820 to review for this post.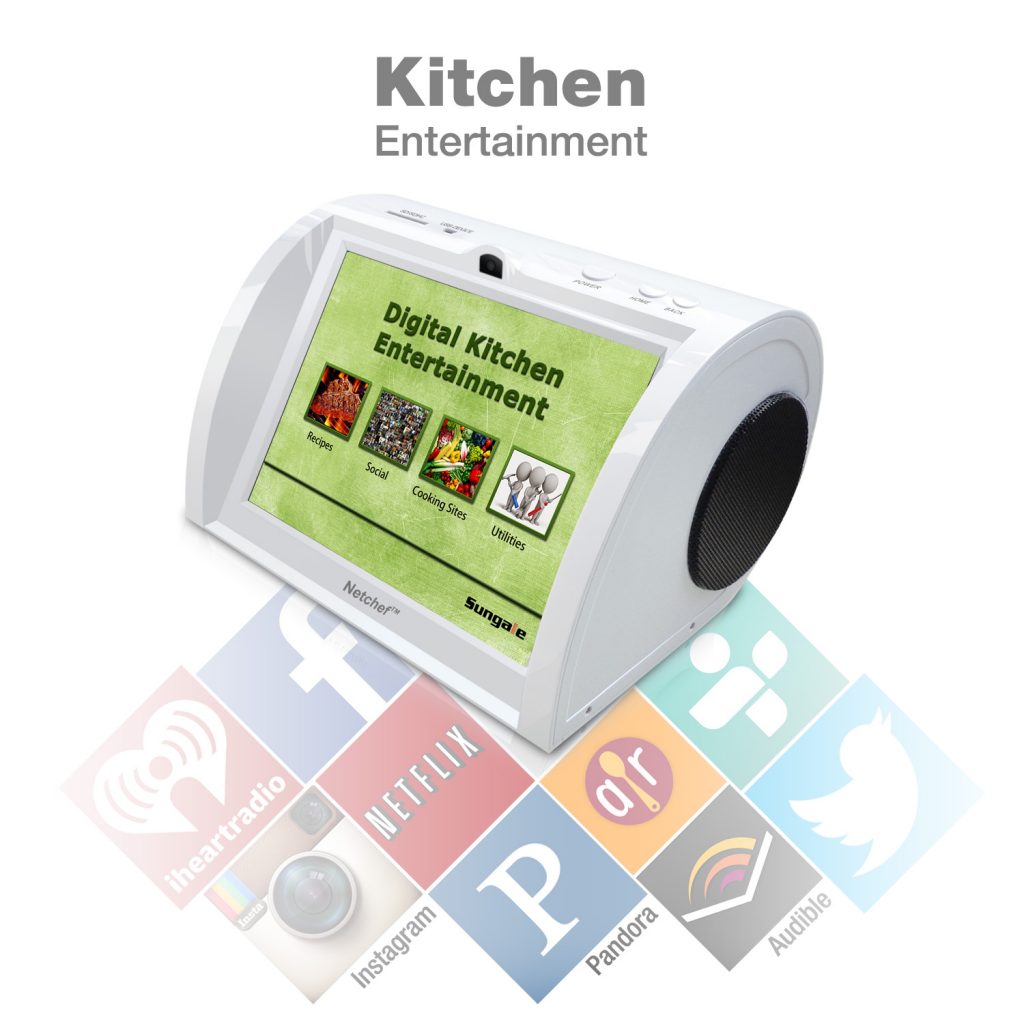 It does everything instantly for the cook and entertains as well:  Better than a good Novel!!
I know, I know, you think it's too early for Christmas Shopping AND this is the Perfect Gift for The One Who Loves to Cook as well as offering other options that a baby boomer like me loves – like hopping by recipe search, Cloud photo album, Kitchen entertainment and music – the Netchef G3 has it all!
I was overwhelmed with the "coolness" of this product – it's an entertainment center built into this year's most wanted kitchen appliance – and one of the best items I have had to check out in recent years! If you've ever tried to juggle your tablet while you cook this unit is for you.  I'm forever running back and forth to my tablet with my recipe because frankly I can't see it as I'm working at the stove. Now I simply glance at the perfectly positioned screen and VOILA, the kitchen magic happens with less stress.
It's not just the thousands (more like hundreds of thousands) of recipes that you can access, but
It's A True Smart Home Kitchen Product for Connected Home
Search For Recipes
The Netchef  has pre-installed the most popular recipe and cooking websites, there are thousands and thousands of recipes. There are so many, that I can create a different masterpiece every night of the week, with no repeats for…YEARS!
Photo & Recipe Album
Sungale is top of the line with its photo frame tech, including the option of using your own SD or SDHC card, and this has been integrated seamlessly into the Netchef that we tested.  Higher end models will allow you to send pics and real time pictures to the Netchef from anywhere (just snap on your phone and send them).  Grandma can see a continuous stream of pictures from her grandchildren, and cook at the same time! Wait…I'm a grandma…I need to have my kiddos start sending me pictures on their SD cards so I can see their smiling faces even when they are back home.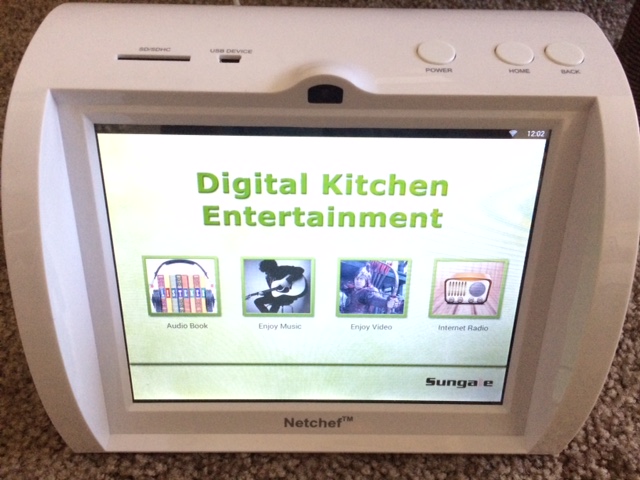 Kitchen Entertainment
You can mount the NetChef wherever you need it and it will play audio and stream video from the internet with great sound and endless internet choices. For someone like me who only has a TV in the living room, it means that I can stream a movie in bed or even at the table while I'm enjoying that great dinner I just made.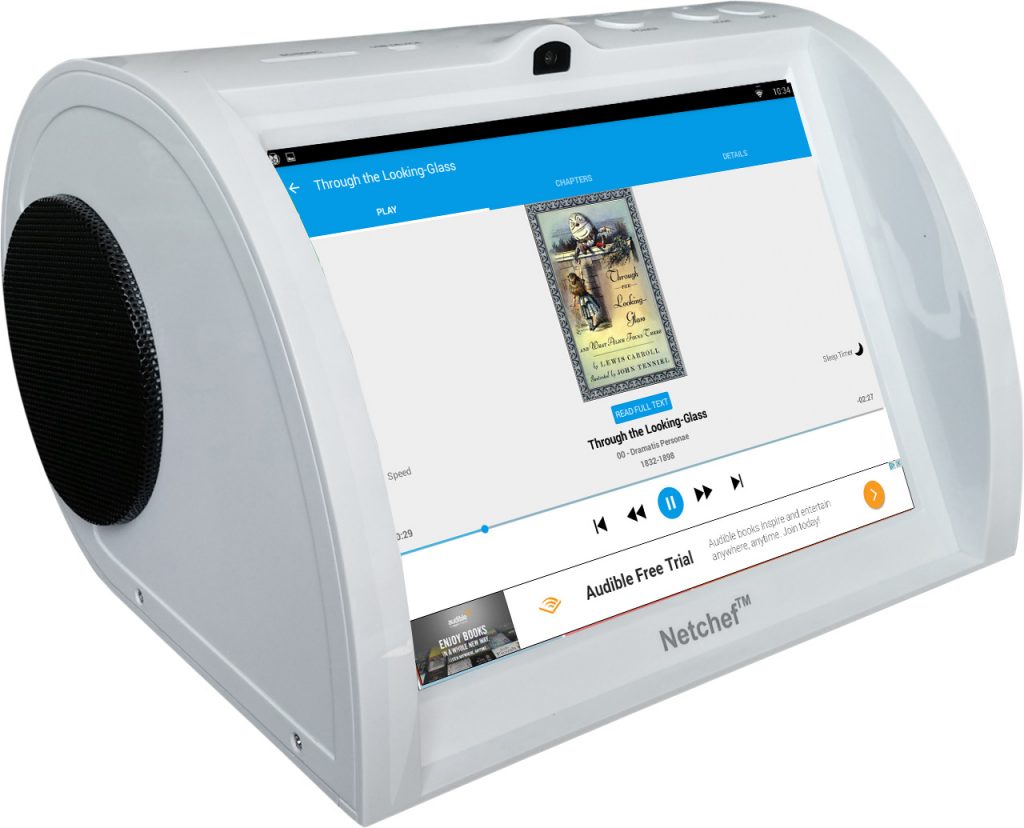 Multifunctions
The Netchef NC820 is equipped with audio players for you to listen to your favorite music from local memory utilizing internal or an external memory cards or you can choose from a selection of the most popular music and radio apps. You know how we love to read here at The Review Broads, so we're excited that we can LISTEN to books on the Netchef as well via Audible. The Gallery allows you to review all your photos, or if you are feeling in the mood to watch a movie or TV show while you're making dinner, you can even watch your favorite Netflix show (if you have a subscription)…time to catch up on Orange is the New Black!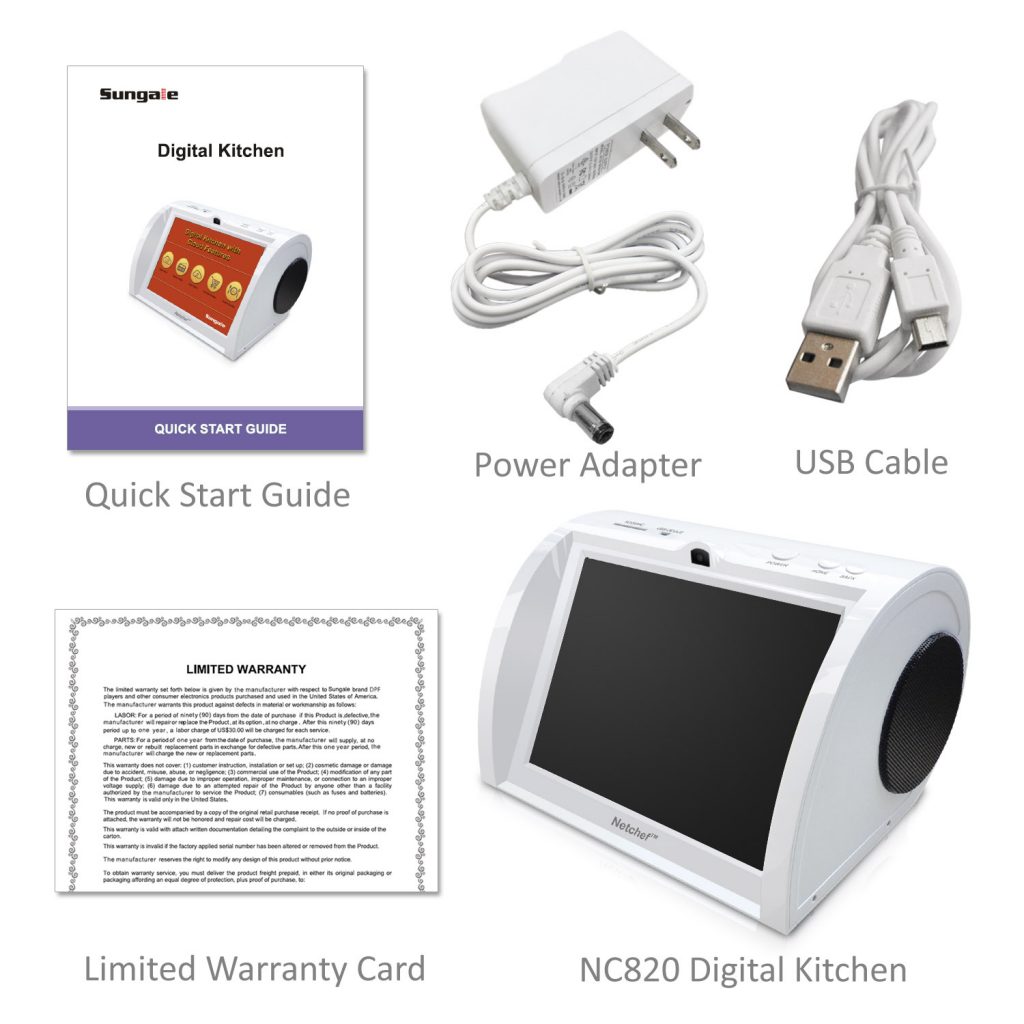 Netchef  is a revolutionary product for modern kitchen.
Key Features Include:
Two big stereo Hi-Fi speakers bring you music enjoyment
Three most popular Audio Books (Audible.com, audiobook.com, LoyalBooks) are available
Internet Radio iHeartRadio, Pandora, TuneIn available
No 1 Music player PI Music Player installed
Watch Movies from Netflix, and watch videos from YouTube
Display your personal stored photos and videos
Social Media Facebook, Twitter, Instagram, Pinterest available
Thousands of easy online recipes and the most popular cooking sites
Store your personal recipes
Surf internet
Touch screen operation
Specifications
Touch panel . Capacitive Glass panel
Screen > 8″ TFT LED screen
Resolution > 1024 x 768
Wireless > 802.11b/g/n
Input > USB Host; SD/SDHC card
Camera > 2MP
Audio output > 2x3W
Power supply > AC 100-240V, DC 5V
I know what MY favorite new kitchen appliance is, and it's not that new coffeemaker I got…nope, it's the Netchef G3!


We give the Netchef NC820 a full 5 stars!
A variety of models are available at various price points HERE

Purchase:

Digital Kitchen by Sungale at amazon.com, Best Buy, eBay, Sears, Sharper Image, Walmart and Staples among other places
This one is priced at a VERY affordable $149 – perfect for that holiday gift for your favorite chef or wanna-be chef