I received food from Petcurean to facilitate this post. All opinions are strictly my own.
Clem hunted until he found Petcurean GATHER Wild Ocean grain free dog food
and he's stopped hunting for good!
How do we choose the right dog food?
I have found in the last twenty years that the "right" dog food is the one that fits your dog and allows him to be his healthiest, shiniest, white toothiest and energy zooming best.  Every dog is different and every set of situations is different.  But what makes the difference is DUE DILIGENCE by us dog parents.  With so MANY great dog foods to choose from, we must consistently choose dog foods that are not filled with fillers of any kind, are sustainably produced and of the best ingredients possible.  The AAFCO does not require ingredients to be disclosed in dog food and there is no regulatory association that checks dog food ingredients: ingredients are up to the manufacturer.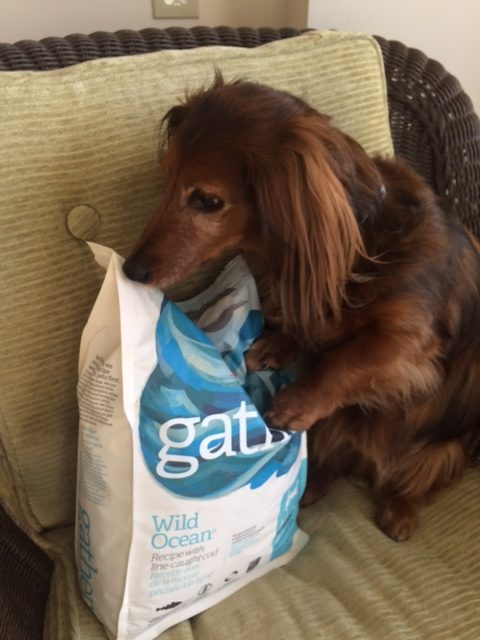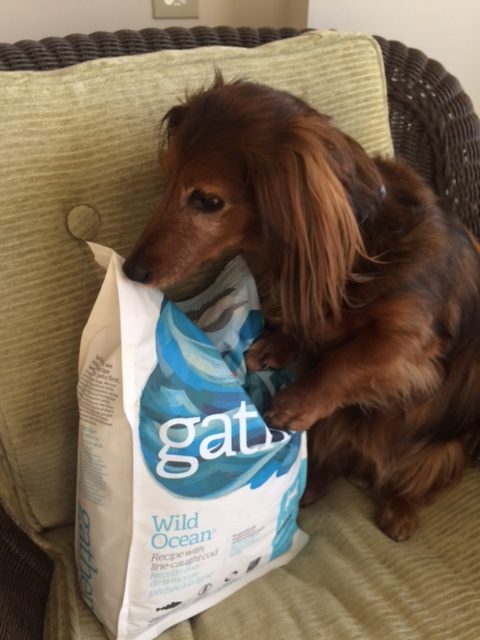 In my mind, it only makes sense to seek out those companies with integrity.
I like a family based company, not a huge conglomerate. Petcurean is family based.
I like to check dog food sites that rate quality of the dog food to give me an idea of the quality of the food. When I checked dogfoodadvisor.com, their rating was a 5 (the best possible rating). "Gather is a plant-based dry dog food using a notable amount of named meats as its main sources of animal protein, thus earning the brand 5 stars. Enthusiastically recommended."
Please note that these sites do not test food; they rely on the brand to offer information on their foods.  I have found this site to be helpful to me.
Petcurean is made in Canada. I like Canadian dog foods as I have experienced good results with them.
I want all natural and or organic ingredients in my pet foods. No fillers.  No grains.  I want a single protein source listed first.
Petcurean fills the bill.

CHECK OUT THE INGREDIENTS!

GATHER Wild Ocean contains:

Cod, Dehydrated Cod, Peas, Chickpeas, Lentils, Organic Sunflower Oil (Preserved With Mixed Tocopherols), Krill Meal, Organic Flaxseed, Kale, Carrots, Egg Shell Meal, Choline Chloride, Vitamins (Vitamin A Supplement, Vitamin D3 Supplement, Vitamin E Supplement, Inositol, Niacin, L-Ascorbyl-2-Polyphosphate (A Source Of Vitamin C), D-Calcium Pantothenate, Thiamine Mononitrate, Riboflavin, Pyridoxine Hydrochloride, Folic Acid, Biotin, Vitamin B12 Supplement), Minerals (Zinc Proteinate, Iron Proteinate, Copper Proteinate, Manganese Proteinate, Calcium Iodate, Selenium Yeast), Dried Rosemary.

Caloric Content

3574 kcal/kg or 393 kcal/cup

Key Benefits

Sustainably-fished, line-caught Alaskan cod is the very first ingredient, and the single source of meat protein, in this highly palatable premium-quality food.
Non-GMO vegetables including peas, lentils, chickpeas, kale and carrots deliver additional nutrition, antioxidants and flavor.
Sustainably harvested krill provides EPA and DHA fatty acids to supports healthy heart and brain function as well as healthy skin and coat.
Fortified with essential vitamins and minerals to provide complete and balanced nutrition for adult dogs.
Completely free of any antibiotics, added growth hormones, by-products, gluten, corn, wheat, soy or artificial colors, flavors or preservatives.
I want no recalls. Petcurean is recall free.
(By law, pet food labels must list their ingredients in decreasing order by weight. Look for a species-specific meat or meal as the first ingredient, i.e. turkey meal or de-boned turkey; salmon meal or de-boned salmon. The protein in these ingredients all have a high biological value, which means the protein contains a high percentage of essential amino acids).
Make sure the food fits your dog's age, weight and exercise levels.
Petcurean offers a wide variety of different kibbles for these different needs.  Petcurean also has a staff that will answer all your questions and help you fulfill your dog's needs.  All you have to do is call them.  I was very impressed that they have a doctor who specializes in ANIMAL nutrition (almost unheard of). Jennifer Adolphe (their PhD) and her team are available to answer all questions that you have.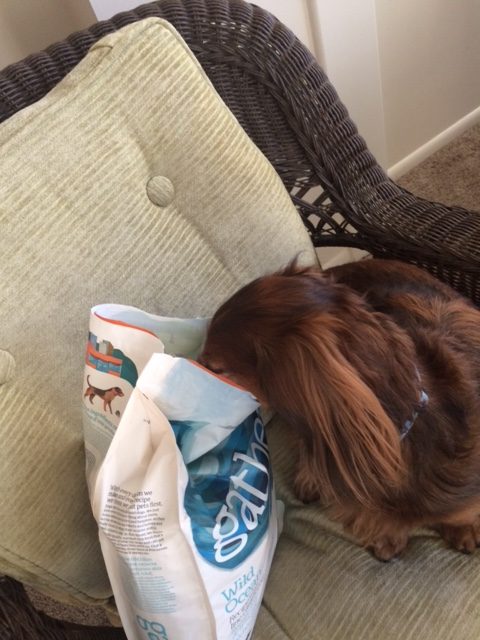 Does my Dog Love the Food?
This is extremely important in our house! 
As you can see in the pictures, Clem could not get enough of his Gather Wild Ocean kibble and begged for more.  I feed a variety of foods to Clem as he has no food allergies and his enthusiasm is an important feature of any food that I feed him.  In the wild, dogs eat many different foods and I believe if your dog does not have allergies or bad reactions then in my opinion feeding different foods is important.  Clem also rotates with GATHER Free Acres (chicken based) and raw foods.
Clem and I both have loved keeping GATHER in our kitchen and not having to HUNT for a great dog food to keep him zooming and booming! GATHER has fit our bill and then some.  The extra ingredients are also a key reason to know that a food is of great quality:
Petcurean GATHER (from their website) offers
"Omega 3 fatty acids that have been shown to provide health benefits in dogs. The omega 3 content of a food can be found in the guaranteed analysis on the packaging or in the food's nutrient profile from the manufacturer. Some examples of ingredients that contain omega 3 fatty acids are salmon oil, flax oil, and canola oil. We recommend foods that contain an omega 6 to omega 3 ratio of 5:1 to 10:1".
What more could I ask for?
Thank you Petcurean GATHER!