Giving Soaps
I just opened the COOLEST package.  BEFORE I OPENED the COOLEST package, the scent of lavender and honey and all sorts of great smells escaped into my living room from the box itself.  WOW!
I have a soap fetish.  My soap fetish is rather particular in that I will only review and use all natural soaps with natural ingredients.  And I just hit the soap lottery!  Givingsoaps.com is the most amazing company to cross my BIG review desk.
They only used recycled boxes and recycled newspaper for packaging (and yet the packaging is elegant and beautiful).
They only use natural ingredients
THEY GIVE 20% of their profits to designated charities that are posted and changed on their website
The handwritten note by the owner, Kristie, blew me away. She explained each soap and lotion and what it does.  AND she does this for every single customer!  Kristie, I hope to meet you one day – you have an amazing product and your marketing is simple but true: save the environment while presenting a perfect soap, lotion or ball soap, and win the buyer over with your great scents BEFORE he or she even opens the BOX!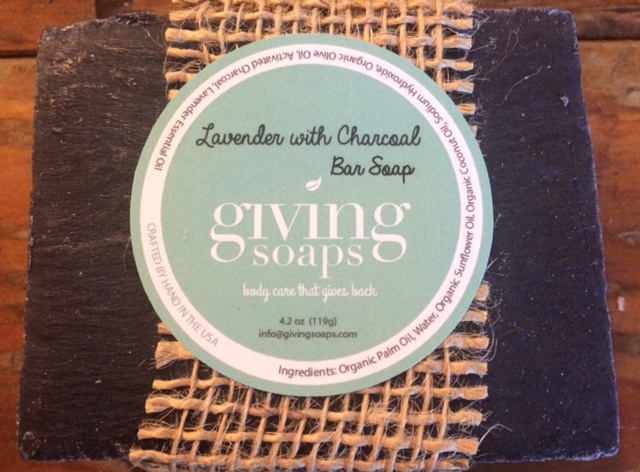 These soaps and lotions swept me off my feet and right into the tub.   Oh Kristie, where did you learn this talent for making DIVA soaps and lotions?  And each customer receives a free gift of Take Me Away bath bombs!  If you need a shower or wedding gift, a holiday gift or just to donate a wonderful gift to yourself, please order these soaps and lotions – they are more amazing than my words can say!
INGREDIENTS:
Our products are all made of plant-derived materials. While not necessarily organic, all ingredients are authentically natural. Our packaging is either compostable, repurpose-able or recyclable. If it were possible to send you everything naked, we sure would. But some of our creations don't agree with that idea. Our shipping packaging is all done at zero cost to the environment. We reuse boxes that have already had experience at the shipping dock – they're veterans and they are only at the beginning of their journey. Our box filler is all mixed shredded paper that would've otherwise gone in the dumpster. Local offices (including our own) donate their shredded pages to us, and it is used in lieu of bubble wrap, plastic wrap or foam packaging. We do wrap our naked soaps in recycled tissue paper and expect you to reuse it as the best-smelling gift wrap ever when you reuse those gift bags in your closet. Our promise to our loyal givers is that we will never make products that we wouldn't use on ourselves, and that every order remains open until you are completely satisfied. Our mission is the give you a product that allows you to give to a worthwhile cause. Our charities are thoroughly vetted online and we encourage you to help by learning more, interacting with our partners and spreading the word to your community that these amazing groups exist.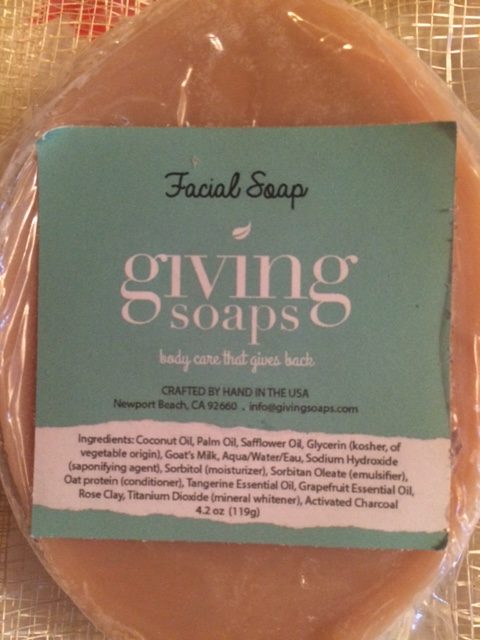 The facial soap was my first item to try and I cannot tell you how I adore it.  A gentle massaging soap that does not suds up, I have used this for 10 days now and I love the feel and look of my skin.  It is a two tone soap, with one side activated charcoal and the other side rose clay.  As the givingsoaps.com website describes it:
Two separate recipes go in to making this soap. Using a double pouring method, we mix the two into a single bar, helping to shorten your morning routine. The grey portion of the soap contains activated charcoal, which is said to draw impurities, dirt and oil from the skin. The pink portion of the soap contains rose clay that helps your skin regulate its natural moisture balance (as in, not stripping your natural oils away).

Ingredients: Coconut Oil, Palm Oil, Safflower Oil, Glycerin (kosher, of vegetable origin), Goat's Milk, Water, Sodium Hydroxide (saponifying agent), Sorbitol (moisturizer), Sorbitan oleate (emulsifier), Oat Protein (conditioner) , Grapefruit Essential Oil, Rose Clay, Titanium Dioxide (mineral whitener), Activated Charcoal."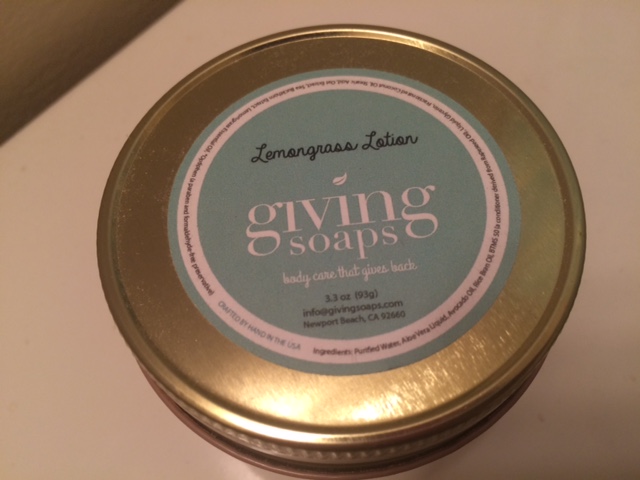 My skin feels smoother and glows and the smell and feel of this facial soap is amazing.  It is hard to wax poetic over a soap, but this givingsoaps facial bar is special.  Please try it; words aren't enough!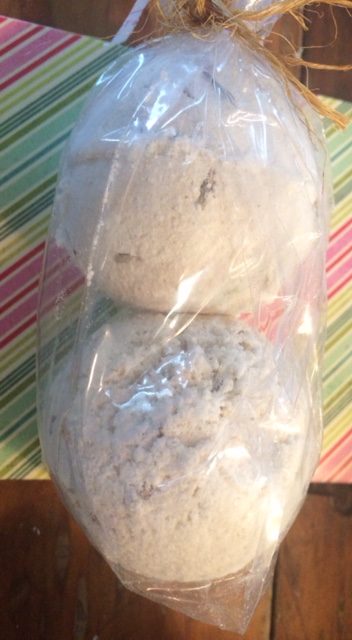 The soap bombs delight my bathtub water as they erupt under the faucet, and the oatmeal honey bar is wonderful on my skin with a scent that delights.  I loved every single soap that givingsoaps sent, and would buy them in a heartbeat – they are outstanding, much better and more natural than any other I have used.
My favorite thing of all that came in my Beautiful Givingsoaps box?  The lemongrass moisturizer.  I can't stop applying it, not only in the morning but in the evening too. The smell of lemongrass lingers and the cream is amazingly creamy and elegant and softening.  I don't spend a lot of time on moisturizers; I don't like much on my face except skin.  However, this is one line that goes beyond exceptional, readers.  And on top of everything else, the packaging is fit for a princess.  Each bar is in recycled brown paper, the facial soap comes in a delicate bag, and every order comes with a free shower bomb set of two soaps, and is elegant enough for a wedding gift as it is!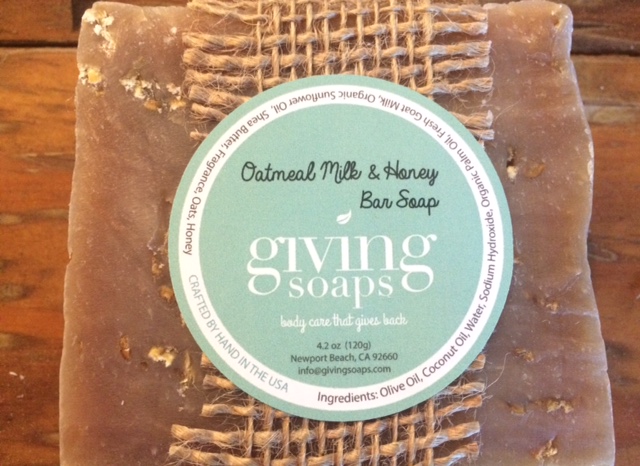 Kristie, I know your name from your note on the box – I want to thank you for one of the most delightful soap adventures and creams and lotions that I have experienced in almost eight years as a reviewer.
Ratings are based on a 5-star scale 
Overall: 5+++++
Review by Broad "A" 
We received a product to facilitate our review. All opinions are our own
DETAILS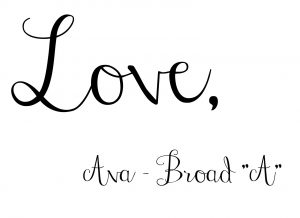 Please follow and like us: