Blue and Red Make Purple
a musical journey with Jennifer Gasoi

I love music and I generally buy children's books for my nieces and nephews that have CDs that go along with the story and illustrations.  Blue and Red Make Purple is a wonderfully colorful picture book (illustrated by Steve Adams with charming illustrations) that gives children the history and instruments used in different musical genres and suggestions with each song.  Encouraging readers to make their own sounds, and introducing song writing to kids, along with lyrics to each song, Blue and Purple Make Red is a wonderful way to introduce music that introduce bluegrass through Dixieland to calypso to Cajun and klezmer.
Under the Moon
Jazz Standards and Lullabies
With recordings by genuine artists, from Ella Fitzgerald to Louis Armstrong, to Nina Simone, Under the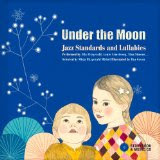 Moon offers 13 jazz classics to children in a beautifully illustrated book and CD combination, Under the Moon.  As children hear singing legends sing Moon River, and other lovely famous songs, the book and CD creates an awareness of music while lullabying young children to sleep.  Under the Moon comes with lyrics also and notes and illustrations with each famous artist and song.  Selected by jazz artist Misja Fitzgerald Michel and illustrated by Ilya Green, this book and CD combination is wonderful for everyday or a special holiday gift.
Introducing children to music through books and CDs is a wonderful way to generate their interest and creativity and both of these sets are amazing.
Ratings are based on a 5-star scale 
Overall: 4
Review by Broad "A" 
We received a product to facilitate our review. All opinions are our own
DETAILS
Please follow and like us: