Disclosure: This post has been sponsored by Blue Sky Family Farms Eggs. Please note that while they have sponsored the post, all opinons are those of Broad A and The Review Broads.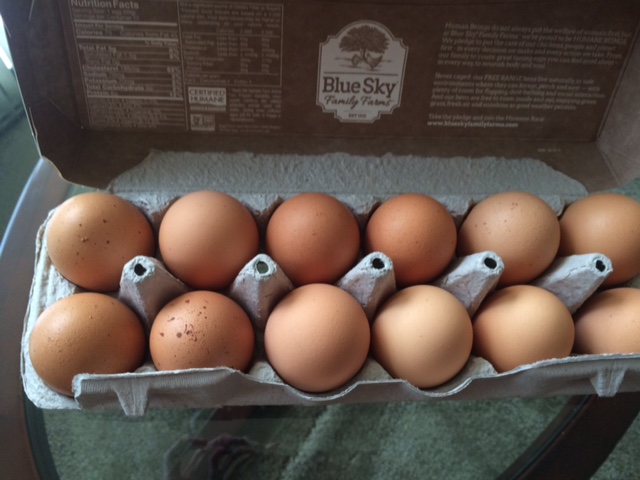 Got EGG on your Face? 
MAKE SURE THAT IS BLUE SKY FAMILY FARMS EGGS!!
Eggs. Eggs..Eggs…
Easter….Eggs…..Benedict……Eggs Heuvos Rancheros….Green Eggs and Ham….Eggs Benedict…….WE ALL LOVE EGGS!
And…being a green being and a nutritionistic DIVA and mom and grandparent, I want my eggs FRESH, not manufactured.  NO GMOS.  No cruelty to HENS (or roosters, or chicks, or humines).  I want natural eggs…and the next best thing to owning is renting….so I "rent" my eggs from Blue Sky Family Farms.  I make their certification my badge of honor when I purchase their all natural eggs!
As a kid, my Mom always took her French net rope marketing bag to market.  We lived in Izmir, Turkey, and I still remember the distinct sounds and odd smells of the open marketplace, a place where the sheen of sweat mated slickly with raucous Turkish voices. Where coffee was so black it became another color and was sipped with a sugar cube between thick lips of hungry looking turbaned men, where hens and goats screeched and scratched and bloated slabs of meat slapped back and forth on iron curved spikes.  Every morning, we walked through the market, a pair of foreigners, shoveled and pummeled ….but my mother and I loved filling our net bag with fresh eggs, beautiful ripe vegetables, and gazoose, a spirited soft drink.  She laughed at the men staring, at the veiled women, at the children spitting.  And, every morning, we ate fresh, all natural eggs.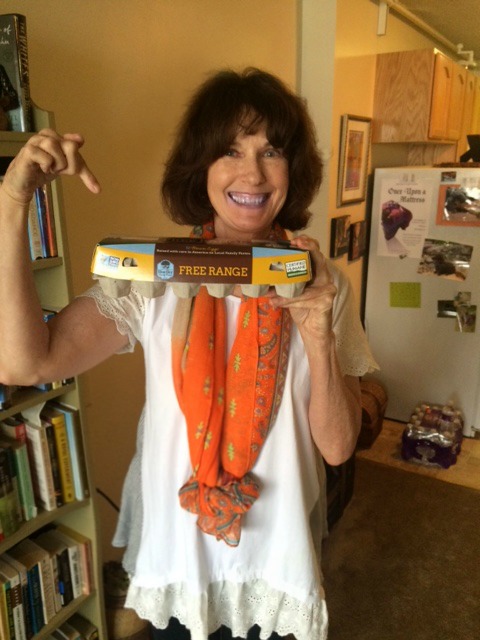 I imprinted those fresh laid eggs into my family's consciousness, and when I was sent a coupon by Blue Sky Family Fresh eggs, I ran not walked to Nature's Grocery to buy them.
DID YOU KNOW:
Most chickens are caged for life (93%) in a space the size of a page of 8×10" paper. They are caged for life.  Their conditions are filthy.
Cage free chickens are placed inside barns with one square foot of space per bird.
'Free Range chickens have over 2 certified square feet of pasture that is outside pasture and roam free
Pasture raised hens roam all year long on over 108 square feet of land
AND…
Hens need to be happy and in a natural environment so that they can interact with their normal behaviors, scratching, bathing in dust and grass.  They lay more and healthier eggs.  THIS IS A FACT.
From the Blue Sky Farms website 

 "Is your egg "Certified"?
ONLY "CERTIFIED HUMANE" eggs ensure the ethical treatment of hens
OUR EGGS are "certified" to the highest standard of Humane Farm Animal Care (HFAC)"
THE BLUE SKY FARMS PLEDGE
"We pledge to put the welfare of our chickens, people and planet first, in every decision we make, every action we take."
We all want good nourishing food for our children and families. It is one of the things that we can CONTROL in an often out of control world.  I honor the Blue Sky Farms pledge because I believe it applies to our lives in every single way.  At a time on our planet where even our food is manufactured, and we treat our animals inhumanely, I need to support great farms.  AND because I love my eggs!
Here is one of my mother's favorite Southern recipes, and I dare you to find a better one.  On lazy days, my mom always made the BEST potato salad with the best, and freshest eggs.  Here is her recipe! I have used one dozen of Blue Sky Farms eggs in this recipe and I hope you discover the difference in taste and humanity that this family owned egg provider offers!  It only takes one change to make a difference!  Let's start with our EGGS!
I highly suggest that you go to the Blue Sky Farms website and watch their video to inform yourself of the quality of their eggs and care of their chickens and hens.  It's our gift to ourselves and our families!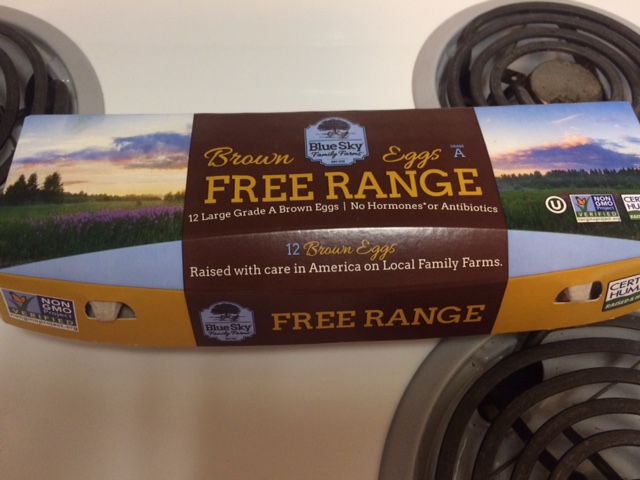 WHERE TO BUY:
Blue Sky Family Farms is available in 750+ grocery and specialty stores including Natures Grocers, Whole Foods, Fresh Thyme, and more
For more details visit Blue Sky Farms online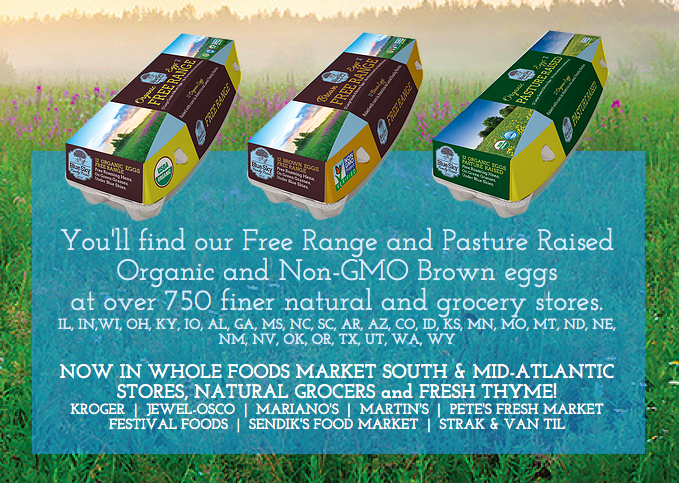 And don't forget the Easter Eggs……..!
MOM's Southern Style Potato Salad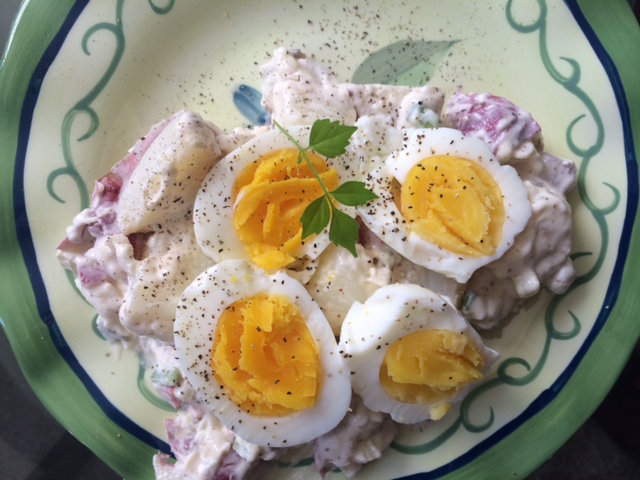 Ingredients
2 pounds potatoes (6 medium)
7 hardboiled eggs
1 teaspoon salt
1/8 teaspoon pepper
½ cup mayonnaise or salad dressing (more to taste if desired)
½ cup chopped celery
¼ cup chopped onions
2 chopped dill pickles or pickle relish
Mustard (I used regular grey poupon) about ½ teaspoon to taste
Paprika (pinch or two)
I add a touch of vinegar if it needs it, or a pinch or two of sugar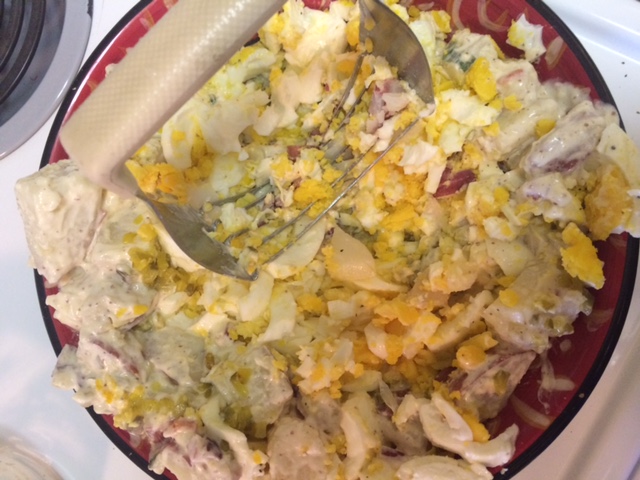 Directions
Wash potatoes.  Heat 1 inch salted water (1/2 teaspoon water to one cup water) to boiling.  Add unpared potatoes.  Cover tightly heat to boiling and cook 30 to 35 minutes or until tender. Knife should go in but should not make the potatoes fall apart in water.  Do not overcook.
Drain.  Cook and peel.  Cut potatoes into cubes…combine in bowl with mustard, pickles, onion, salt and pepper, vinegar or sugar, 6 hardboiled eggs (equal amounts egg to potatoes) and refrigerate for several hours.
Put in chopped celery and two halved eggs for garnish on top.  Can also add paprika to top for serving if you wish.
Feeds 4 to 6 unless you love it as much as I do: then, don't share!!!!
I notice that when I use Blue Sky Farm eggs, they are much more "yellow" after I hard boil them and the taste is phenomenal!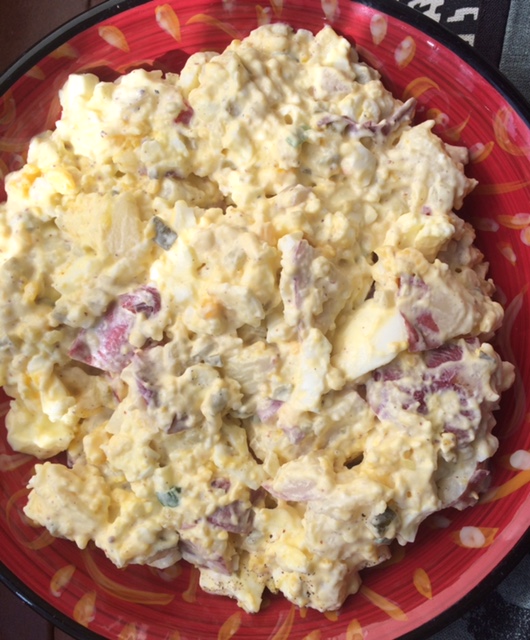 We received eggs to facilitate this post. All opinions are strictly our own.
Please follow and like us: