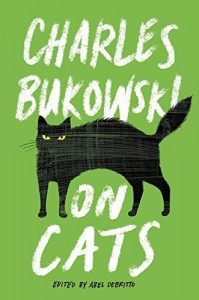 FOR YOUR HOLIDAY READING PLEASURE
Charles Bukowski on Cats
A cat is only itself, representative of the strong forces of life that won't let go.
Poet and writer Charles Bukowski died in 1994, but his legend still pounces with still and quiet feet into our consciousness.  This book, published after his death, reveals another side of the road weary warrior of the everyman 60s that we think of: Bukowski, who claimed that the cat is the devil, loved these creatures and without embarrassment, claims them in Charles Bukowski on Cats.
Bukowski sears with life in his own miasmic tortured way – brilliant wordster, hip poet of the 60s, and author of ripping prose and poetry and beloved as one of the wordsmiths of our times.  He's one of my all-time favorites along with Plath, Sharon Olds, Galway Kinnell, C.D. Wright, etc.
"The factories, the jails, the drunken days and nights, the hospitals have weakened and shaken me like a mouse of a hip-cat:life".
Who could have said it better?  And if you know those souls who treasure, endure and delight in both cats and life – you lucky kings and queens of literature loving crowd – this is the book for you!  Buy it.  Don't just listen to that audio stuff or eBook trivia – this is a volume to hold and have through good and bad, illness and health, to have and to hold 'til death do we part!
Bodalicious!
Ratings are based on a 5-star scale
Overall: 5+
Review by Broad A
We received a copy of this title for our review. All opinions are our own
On Cats
is available for purchase on Amazon.com and at book retailers nationwide
Please follow and like us: