We received this product to review. All opinions are strictly our own.
ONCE UPON A MATTRESS…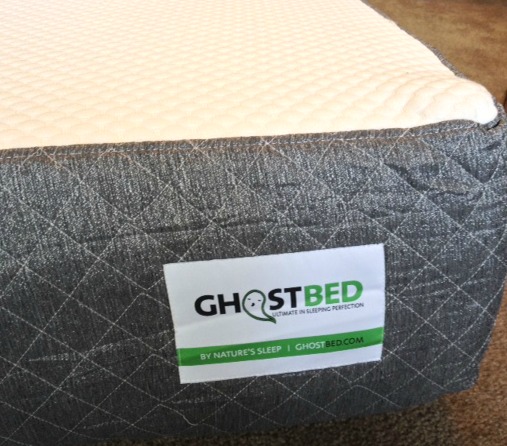 We lived in foreign countries when I was small, without access to libraries or toy stores, so my parents bought us books.  Every night my parents read bedtime stories to us, with The Princess and the Pea being my favorite.
I was a cranky high strung kid who never could fall asleep. I screamed and screamed deep into sleepless nights, and as an adult I have suffered from insomnia my entire life.  Finding the RIGHT mattress is deeply important to me, for if I don't get at least 8 hours of sleep, I cannot function at all.  I don't know if there is a phobia named after this, but for me it is a medical condition!  No sleep, lose the entire next day.  The mattress I have now has long served this restless sleeper, but it is 11 years old so I decided to go find a mattress.
As I pondered chancing the malls at the most commercial time of the year, I simply felt paralyzed and overwhelmed.
Then I wondered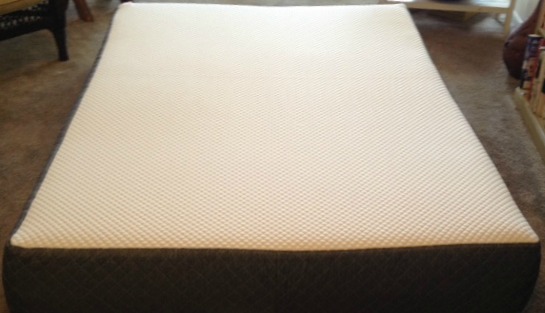 What it might be like to order a bed online, and receive it through the mail?
Would it take forever to get here?
How much research would I have to do?
What if I spent $500 plus on a mattress I hated?  Could I return it?
What has changed, what is the new technology, how does my age (66) and insomnia affect sleeping on a mattress?
What kind should I look at? A
And even more importantly, I don't want to have to cut through all the technical information – I just want to have a great mattress!
So many questions, and like the Princess and the Pea, I had a seeming landmine to go through in order to decide on a mattress, and for me, a mattress is not JUST a mattress – it affects my physical and mental health.  Should I get a hard mattress, a soft one, a medium one?  How does latex and memory foam work?
Like the pea under the mattress, will the Ghost Bed be comfortable?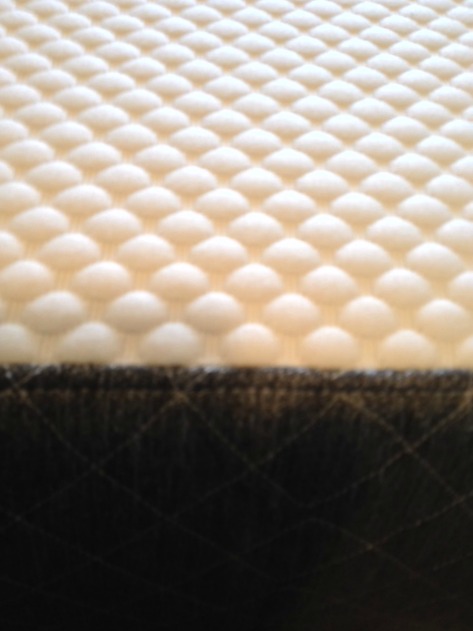 I looked at a lot of other websites (I spent hours on different websites and learned about many factors in mattress purchasing) and finally decided to go online to check out the Ghostbed, a mattress made of foam and gel and as different as night and day to my Simmons spring mattress that I've been reading a LOT about lately.  How would it be to set up a bed as a single person coming in a BOX? I was about to find out, when Ghostbed offered to send me a mattress to review.
Here is my experience with the Ghostbed mattress, it is my FIRST experience sleeping on a memory foam mattress, the type used by astronauts and hospitals for medical benefits of warmth and body hugging comfort.
SHIPPING: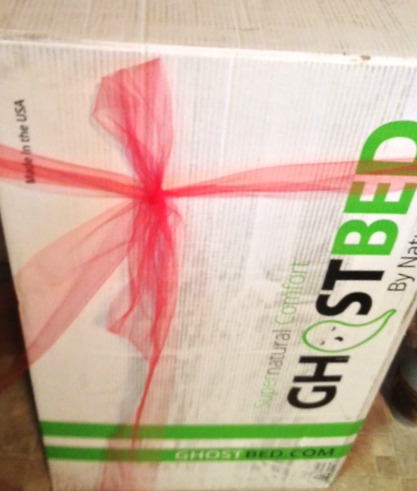 The Ghost Bed arrived within two business days and it is HEAVY in a very heavy and sturdy box.  I invited the grandkids over for an Opening Event as I don't feel comfortable opening it on my own and trying to handle my video camera!  But, I can tell you that opening it as a Single Princess is totally doable!
PRELIMINARY Things I Liked:
A twenty year warranty (a full ten year warranty thereafter prorated for the next ten years)
Construction: GhostBed foam layers (top to bottom) – 1.5? aerated latex foam, 2? gel memory foam, 7.5? support foam on the bottom, the GhostBed is VERY comfy with no "foam" smell at all
Trial Period: 101 nights
A mattress that molds to my body – interesting and I am excited!
So easy to order at ghostbed.com!
With 3.5 inches of padding, (foam and gel) on the top, and the mattress proves very comfortable as I sat upon it. The mattress felt firm and solid and did not immediately "mold" around my body in any way.
The first night, the mattress felt rather firm, I would say an 8 out of 10 and it was a tad uncomfortable FOR ME as I have always had a SOFT mattress. I would bet this is much better for my back which often hurts after a night of sleep.
The second night, the mattress felt softer and more relaxed, much like its owner. It had "softened" to about 6.7 out of 10 and I had a very comfortable night.  The mattress does not "fold" when you sit on it or when you sleep on it.  My back did not hurt in the morning.
The third night I slept really well and fell in love. I for sure felt like a Princess and would rate the GhostBed mattress at a 5 to 7 on firmness with a great feel.
The cover is well made and comes off for spot cleaning
This is a solid mattress and it is a bit heavy to move. It is also extremely well made.
COMFORT: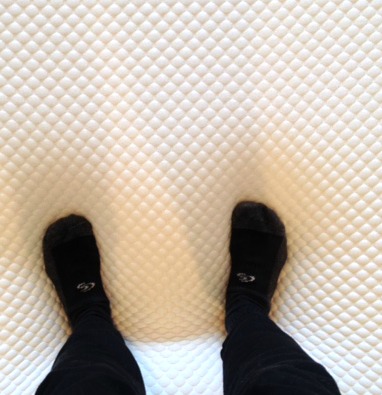 So did the Princess sleep all night? Because the mattress needed to expand, the first two nights on this mattress was a little difficult to get used to, after the third night, I was very comfortable.  I've heard horror stories that a memory foam mattress can be uncomfortably worm. I found the sleeping temperature to be just right, most likely due to the aerated latex foam top layer, which is constructed just for the purpose of not retaining heat like the other brands.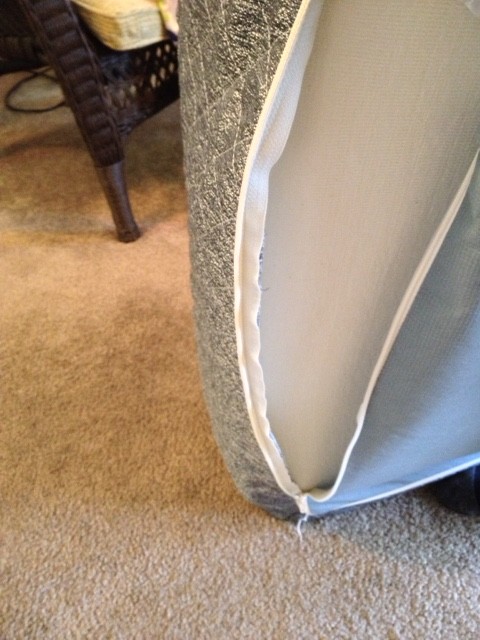 The look of this mattress is elegant and soft, with a pretty top.  The cover can be removed for spot cleaning.
WARRANTY:
Longevity – not an issue!  With a 20 year warranty (the last 10 are prorated), the lifespan of a Ghostbed is much longer than a traditional mattress. Some of this is due to the face that it is built a full inch thicker than the rest. Best of all, GhostBed mattress fits every Princess's budget.
OVERALL: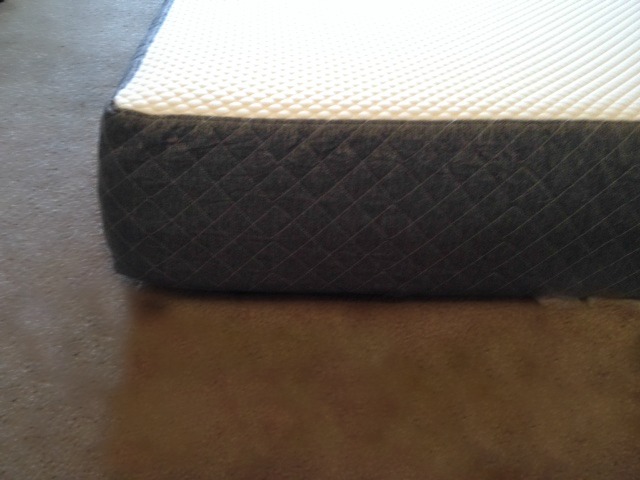 GhostBed mattress proved to me to be a quality mattress, with the newest in foam latex and gel technology.  As promised, it offers a nice balance between soft and firm, making it an easy choice for couples who might have different firmness needs. Excellent quality and well-priced.
From the GHOSTBED CEO: 
"The introduction of GhostBed marks a milestone for the new way consumers buy mattresses. Created by the "Sleep Scientists" at Nature's Sleep, the GhostBed offers an exciting and more convenient alternative to a traditional visit to a mattress retailer. Customers simply visit the website at GhostBed.com and in just a few clicks, order their GhostBed mattress and matching foundation.  The GhostBed mattress ships FREE within 24 hours from our centrally located warehouse, and is conveniently delivered to their doorstep in our signature box.  All this risk free, as GhostBed offers an unparalleled 101 FREE night trial".  
Not sure how you feel about ordering a bed over the internet?
Most mattress shoppers simply plop down on a mattress for less than 5 minutes on the showroom floor. Ghostbed offers a 101 night sleep trial…a FULL 3 MONTHS! Since your body needs to get used to a new mattress your body could take 30…even 60 days to get really comfortable with a new mattress, the 101 night sleep trial means that you can be absolutely CERTAIN that the Ghostbed is for you. If not, it's as simple as a phone call or e-mail to the company to arrange for the return immediately.
This princess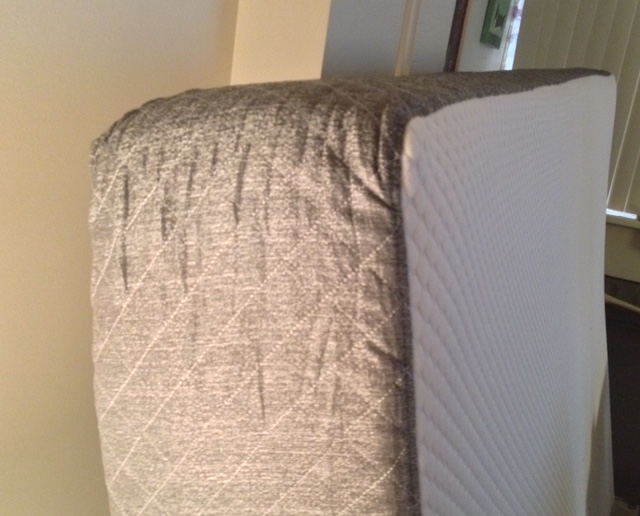 This fairy tale is over with a VERY HAPPY ENDING!  Thank you Ghostbed!
DETAILS
To learn more about Ghostbed or to order one for your 101 night sleep trial visit: Ghostbed.com (plus get an instant $50 savings when you use our link)
Please follow and like us: