A Killing Winter
Author: Tom Callahan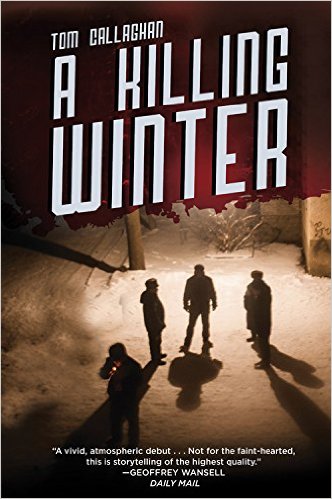 Enter Tom Callahan and A Killing Winter: throw Jason Bourne into the tsunami, ask Mark Billingham to pen the first line of this stellar crime novel, and A Killing Winter presents a unique and thrilling new name to crime novels: author Tom Callahan.
With a brutal pen that rips the page and more atmosphere than a space station, A Killing Winter follows hard core Investigator Akyl Borubaev as he devours the political killers that are murdering women and placing dead male placentas into their carved out bellies in Kyrgyzstan.  A country both harsh and hellish, Investigator Borubaev has just lost his beloved wife to cancer and the murders stir him from a primal place of horror and rage.  As he investigates the first murder of a woman who has been ravaged and mutilated, he discovers that she is Yekaterina Mikhailovna Tynaliev, the daughter of the Minister of Mikhail Tynaliev, the most powerful official in Kyrgyzstan.
Akyl treads with heavy feet into a putrid and dour world of snow and blood, harrowing and desperate; one of the most world weary characters in recent crime novels, his intelligence and sense of justice create a policeman who brings a fresh face to the world of crime.  One of those novels that creeps noisily to an ending that remains as bitter and hopeful as any investigation into the domain of greed and corruption can be, A Killing Winter pushes the envelope, and writes itself into a brilliant read.  As the crimes and become more intricately horrific, the weather and Investigator Borubaev dwell unparalleled within this atmospheric novel.  When the Uzbec Security Police thrust Agent Saltanat into Borubaev's case, the temperature explodes, one degree from Hell.
Love, violence, political brutality and betrayal settle into the snowcapped mountains and craggy streets of poverty blasted Kyrgyzstan, as Investigator Akyl Borubaev slushes into crimes too horrible to reveal without walking us straight into a maelstrom that demands reading.
Brilliant.
Ratings are based on a 5-star scale
Overall: 5
Review by Broad "A" 
We received a copy of this title for our book review. All opinions are our own
A Killing Winter
is available for purchase on Amazon.com and your local bookseller.
Please follow and like us: