"I participated in a Influencer Activation on behalf of Influence Central for RoC Skincare. I received product to facilitate my review and a promotional item to thank me for my participation."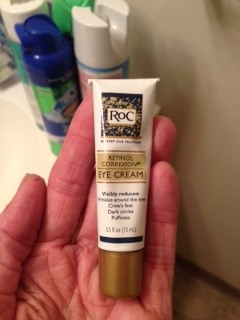 What to do!  As an aging baby booming diva type woman, I want to be able to play with makeup and glimmer eye shadow.  And yet when I look in the mirror all I see are the wrinkles, bags and puffy wuffies under my eyes.  I don't want my eyes to get lost in those wrinkles.  So I decided to tray RoC Retinol Correxion Deep Wrinkle Serum (reduces deep wrinkles) and Retinol Correxion Eye Cream (reduces crows feet wrinkles puffiness and dark circles around the eyes).
Now this is not a long time to allow a product to work, but I had heard great things about RoC eye products so I expected great things from these little tubes of eye-magination to help me maintain beautiful eyes at 60 something. I am including some wobbly shots of my face wrinkles AFTER application of RoC RETINOL CORRECTION Eye Cream and RoC RETINOL CORREXION Deep Wrinkle Serum so you can see for yourself!
WHAT DID I FIND OUT?
RoC RETINOL CORRECTION Eye Cream
This eye cream stands by its ingredients: with both retinol and a mineral complex that WORKS, my eye wrinkles which are as large as the Grand Canyon actually faded before my eyes.  I felt the cream working as I applied it, and the more I used it, the dark circles and puffiness under my eyes diminished.  I used it three times a day, first thing in the morning, in the afternoon and as I prepared my nighttime beauty regime. Since I tend to have sensitive skin, I was amazed that I had no reaction to RoC RETINOL CORRECTION Eye Cream.  AND being a senior on a budget, I was thrilled with the retail p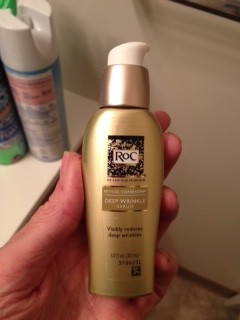 rice and the drugstore availability : $22.99 for 0.5 fl. oz. tube!  The amount I used every day was tiny, less than a teardrop per application.
RoC RETINOL CORREXION Deep Wrinkle Serum

Radiant and gleaming skin are what I want, and with a  cool   mineral complex that visibly removes the deep effect of my eye wrinkles means that I want  RoC RETINOL CORREXION Deep Wrinkle Serum. Yes, It works.  I used it after washing my face and before I put on my daily moisturizer and makeup.  As I used it, my eyes looked better and better.  The puffiness that surrounds my eyes like Surround Sound smoothed out.  I am thrilled! And again, I can go to my drugstore for this product and pay a reasonable price : $22.99 for 1.0 fl. oz. tube.
WHERE DO I LIVE AND HOW DOES THAT WRINKLE ME?
WRINKLE RATING!!!
Did you know that your state has a ranking as to skin wrinkling and sun exposure? 
Dr. Debra Jaliman from NYC states that this is so.  RoC® and Sperling actually studied each state and analyzed the factors that decrease and or increase a resident's chances for wrinkling.  The study was based on UV exposure, those rays that effect skin damage as well as elevation, stress, ozone and commuter factors in detailing a state by state "Wrinkle Index" – your state's own particular measure of possibility of skin damage and premature skin.
This non-greasy moisturizing cream is especially formulated for use around the delicate eye area. It evens out the look of dark circles and helps to reduce the look of puffiness in four weeks, and it visibly reduces the appearance of wrinkles around the eyes and crow's feet in 12 weeks
I suggest each of you check out your state, so you know what you are dealing with skin damage wise (and get some help with RoC!).
Utah is number 28 ..
so I am a little higher than the middle for at risk skin states!
To determine those U.S. states with conditions most hazardous to skin, RoC® and Sperling performed a state-by-state assessment to analyze influences that may increase or decrease ones proclivity for wrinkles. The analysis included factors commonly known to cause skin damage such as UV exposure, as well as other factors such as geographic elevation, daily commute times, stress levels and ozone pollution. Each state was awarded a "Wrinkle Index" which is a measure of each state's vulnerability to skin damage and premature aging. The last two states on the list are Oregon and Alaska, and since I have always wanted to live in both of these states, I am going to have a long talk with my skin!!
GUESS WHAT?  RoC is French
For more than 50 years, RoC has parlez voused with an international audience of faces, treating and assisting with wrinkles and aging damage to our skin!  RoC was the first company to market retinol as an ingredient in its cosmetic products.
DETAILS
Please follow and like us: