Disclosure: we received product to facilitate this review
May is Mediterranean Diet Month
and We Have Some Yum Yums for You!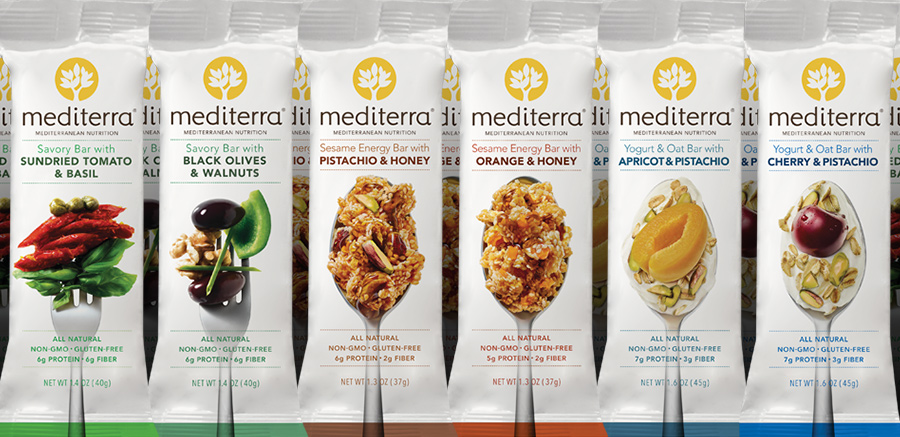 I don't know how I happened upon Mediterra Nutrition Bars – maybe my Fairy Godmother sent them seeing as how I am trying to eat healthy in May.  Noted by some scientists as the healthiest way of eating, the Mediterranean Diet is more a lifestyle than a set of dietary ingredients.  The Mediterranean Diet emphasizes whole grains, greens and healthy fats, fruit, nuts and less meats and sweets.  To make is easier to take your Mediterranean Diet while on the go, Mediterra created their line of nutrition bars which fall into the guidelines of the Mediterranean diet.
And they are delicious! 

With flavor that is balanced, each ingredient pops into my mouth and shouts "I'm delicious."  Loaded with fiber, nutrients and vitamins, instead of complex sugars and saturated fats, the Mediterra Nutrition Bars are succulent.  Ingredients include sesame seeds, sundried tomatoes, capers, walnuts, black olives and Greek honey.  These bars are all natural, Gluten free, and non-GMO and sell for $1.99 each.
You know how it is readers!  I'm sitting petting Clem the dachshund, reading the newest book to be reviewed and suddenly my stomach says HUNGRY!  Only I am not eating sugar or pastas this month, as I am trying to get rid of that ugly five pounds that has come to live on my hips.  Its breeding, that five pounds, and I notice some has slithered down to my stomach too!  Go away I shout!  And I reach for my Mediterra Apricot and Pistachio Yogurt and Oat Bar with 7 grams of protein and 3 grams of fiber (180 calories).  Ha!  I'm safe from the FATS for one more night!
And I love the taste of these bars.  Filling and totally awesome, look at the ingredients in this one Apricot Bar:  gluten free rolled oats, organic brown rice syrup, honey, soy nuggets,  yogurt coating, nonfat dry milk, pistachios, sunflower seeds raisins fig paste, apricots, flax meal, sea salt…. No bitter artificial aftertaste either!!!!  Yum, yum!
Mediterra Nutrition Bars come in three varieties each offering two flavors: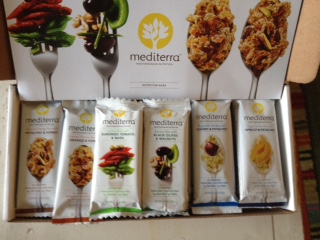 Savory bars…
Rich in vegetable content low in calories, sodium and sugar, containing protein rich pea crisps and olive oil, with 6 ounces of protein and fiber.  Kosher and dairy free.
Tomato/Basil/Capers
Olive/Walnut/Chives
Sesame Honey Energy Bars…
contain only a few ingredients including roasted sesame seeds, pistachios from Aegina Island, or orange peel with five grams of protein and two grams of fiber.
Sesame Seed/Pistachio/Greek Honey
Sesame Seed/Orange/Greek Honey
Yogurt and Oat Bars…
seven grams of protein fig paste, sunflower seeds and raisins.  Flavors include:
Yogurt/Oat/Cherry Pistachio
Yogurt/Oat/Apricot Pistachio
Wow
Clem of course sampled my Mediterra Nutrition Bars and loved them!  Check them out readers, and enjoy Mediterranean Diet Month!
Where to buy
Please follow and like us: