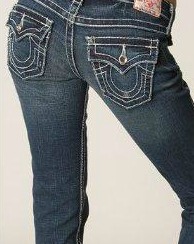 I used to wear whatever jeans were on sale the day I decided to go shopping was. I wasn't picky, but then I grew up. Well, grew up is a strong word because I'm a 30 year old man with the mentality of a 14 year old boy, but hell, I started caring about how I look. This caused a giant problem how do I find the right jeans? And since I care a whole bunch more now how do I find the right designer jeans for men? Other than falling in love with True Religion Jeans it was time to do some research.
How do I want the jeans to cut?
After trying on jeans I found that I like slim fit but not skinny my legs are too big for skinny jeans but a straight legs looked like I was auditioning for a hip hop group in college. The tapered lines kept me from stepping on the heels and kept me looking crisp.
What wash do I pick?
I have to say that I heavily favor a dark rinse or a raw jean now. A dark rinse felt a bit heavier (which kind of sucks in Florida) however, I feel like I can wear them with anything, a blazer or a t-shirt. They are in my mind the most versatile of washes. Raw jeans take forever to break in but once you get it done, they are completely unique to you.
"Fit starts at the waist; you should be able to fasten your belt without the waistline cinching. A great classic jean will have a medium rise, so it's not too high and tight or too loose and baggy. Guys with larger frames should stay away from superslim or skinny fits if they are not flattering."
Brad Andrews
So what did I fall for when I came to the True Religion? The Geno Relaxed Slim With Flap. Why you ask? Because they fit and prefect and feel amazing. A rich, dark wash in Wanted Man is a deep, indigo shade with minimal distress details. The clean and contemporary look is great for a night out and gets better with each wear. They are the perfect designer jeans for my lifestyle!

Please follow and like us: