I swear, Jonathan must spend every waking hour watching TV, movies or listening to music. If you haven't seen his Album favorites or Best of the Fest, hop over to The Gin Joint and check them out. Today we're bringing you
KILLORAN'S FAVORITES OF 2013: TV PART 1
Once again I find myself on the fence about my favorite movies of the year.  In fact I'm outright, stubbornly pushing back up any sort of finalized list making until I see the Coen Brothers new melancholy folk feature INSIDE LLEWYN DAVIS but I thought it unfair to any reader that may have missed my bizarre musings in the last half of the year to just kind of leave them waiting, desperate to know what movies came out on top so I'm doing something a little different.  I have a few lists of categories I plan to role out over the next few days in order to shorten the gap.  You'll see my favorite albums, favorite TV shows and since I went to a few festivals this year as well, I have a few selections to keep your eyes on for the upcoming year.
Let's continue with the Best NEW TV SHOWS of 2013, again these aren't in any order.
HANNIBAL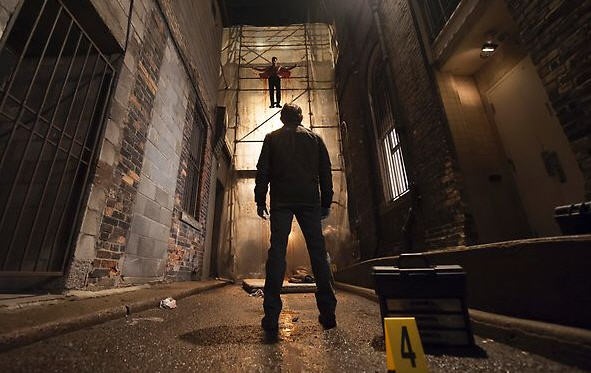 This shouldn't have worked at all but through the eyes of Bryan Fuller, the mind behind "Pushing Daisies," and "Dead Like Me," Hannibal Lector is given new life on primetime television.  Detective Will Graham is brought back in to investigate serial killers all the while establishing a friendship through his therapy sessions with the very man who will become one of his most cunning enemies.  Excellent performances, beautifully shot, and amazing effects on a network show allows for a fresh spin on some well-worn material.  Mads Mikkelsen turns in a quiet, subtle and truly threatening, performance as the good doctor.  Hugh Dancy's detective is a manic ball of nerves that could explode at any minute.  Fleshed out with some amazing kills, that are shot in a way that puts us and our surrogate main character right into the minds of the killer, and even better looking food, which I feel I should be worried about since every week it's mouthwatering makes for an enticing show that I can't wait for Season 2 which returns to NBC Friday February 28th 10/9c.
Best Episode(s): "Sorbet," "Savoureux"
GRAVITY FALLS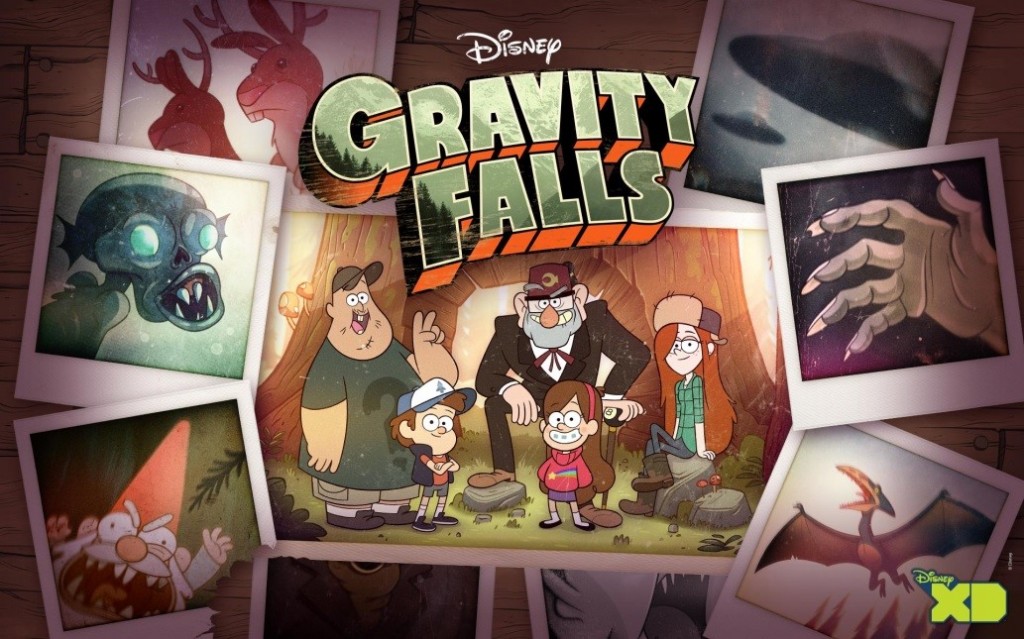 A kid's cartoon, yes, albeit a HILARIOUS one.  It's a tonal mash-up of TWIN PEAKS and THE X-FILES along with the old Saturday morning animation block.  Dipper and Mabel are sent to live with their frugal, shyster "Grunkle" Stan at his Mystery Shack, right away things are certainly not what they seem and with the mysterious journal Dipper finds out in the woods things only get weirder.  For the younger crowd but offers enough off-beat, bizarre scenarios that adults won't need to worry about checking it out and enjoying the show.  Great, fluid animation that really pushes itself for a half hour show, strong vocal performances that bring out a great family dynamic and charming side characters, and chock full of mysteries! From Gnomes, to Hillbilly mad scientists, midget psychics, time travel, Clones, ghosts, ancient evil and more insanity than you can handle the show may take a few episodes for you to hit the same wavelength but it is on the right track to being a staple of classic animation. The show was renewed for a second season and Creator Alex Hirsch announced that is likely to premiere sometime in 2014.
Best Episode(s): "The Inconveniencing," "Gideon Rises"
THE AMERICANS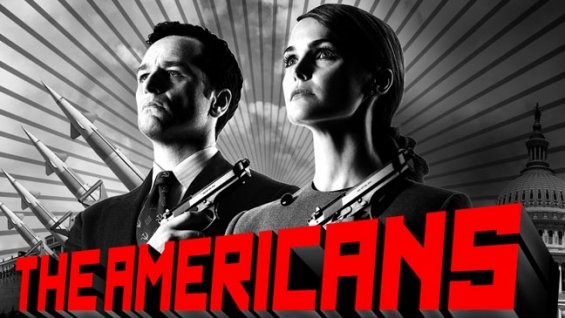 FX is on fire with original content.  Normal American suburbanites during the Cold War are actually deep undercover, soviet KGB operatives hiding out and performing covert missions unbeknownst to their own children and neighbor, an FBI Counter-Intelligence agent.  Playing with real world events to flesh out the show's universe it manages to create a tense thriller that will keep you on edge but the real standout is the strong characters.  The relationship dynamic of the marriage is sometimes so strong and more intense than any of the spy v. spy stuff that it becomes a whole different show.  Noah Emmerich is excellent as Agent Stan Beeman, whose own marriage is crumbling as he tries to do his job.  The soundtrack is also worth noting, a strong pilot episode that set an entire chase scene to Fleetwood Mac's "Tusk" is a prime example.  Definitely worth catching up on before the next season which will return to FX on Wednesday, Feb. 2 at 10pm.
Best Episode(s): "Trust Me," "Duty and Honor," "The Colonel"
BROOKLYN NINE-NINE
I was ready to write this show off and skip it all together. To be honest the ad campaign made it look bad.  After some convincing from a few close friends I gave it a shot.  Thank god I did as it's one of the funniest shows on TV right now!  Michael Schur, creator of PARKS AND RECREATION takes his work-place comedy to a new location but gotten an ensemble cast that works so well off of one another, that it's magic.  Together they have made a show so confident and self-assured that you'd think they were on Season 2 or 3 already the way they act.  There's still a problem of forging Andy Samberg's Detective Jake Peralta into a real character but everyone else seems to have the dynamic down.  The real standout is Andre Baugher who's gay, black C.O. absolutely KILLS IT in every comic beat he's given.  His deadpan reactions are hilarious and I love everytime we get a glimpse of his past.  Give the show a chance and you'll grow to love it, it has an amazing streak going so far.  Season 1 continues January 7th on FOX at 8:30pm.
Best Episode(s): "The Vulture," "Old School," "Christmas"
ORPHAN BLACK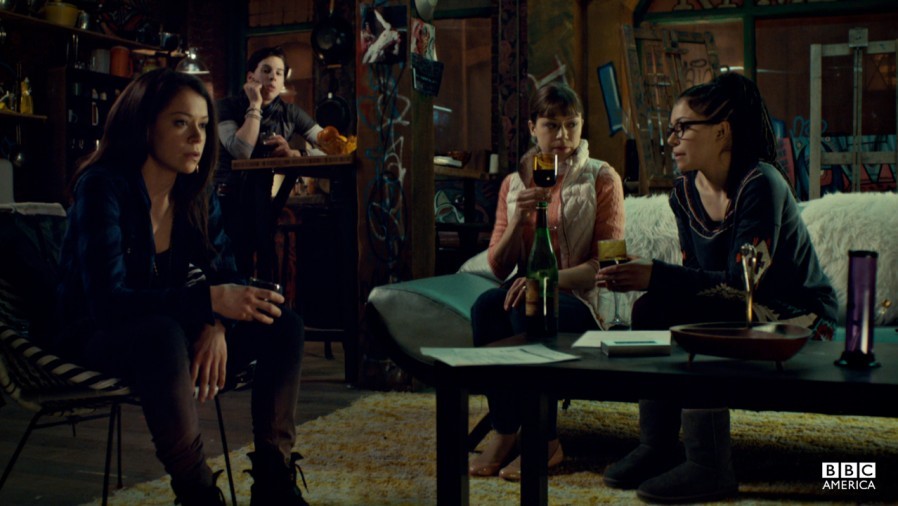 [SPOILERS] Tatiana Maslany is a revelation.  Seriously this is a hi-concept episode about clones and she plays multiple roles against herself – sometimes as one pretending to be another – and not one of the characters feels like her phoning it in. It's unbelievable; you just have to see it.  It's a cool idea that's executed wonderfully and doles out just enough information to keep you intrigued in the thrill or gut punch you with a revelation.  It's not a flashy, over-the-top show and character decisions are what fuel the plot as one choice leads to another fluidly and naturally.  The show didn't pull any punches this season and I'm genuinely curious to see where it goes next.  I'm sure it will be a pleasure to watch.  Season two premieres Saturday, April 19 at 9:00pm
Best Episode(s): "Natural Selection," "Effects of External Conditions," "Unconscious Selection"
I'd also recommend checking out mini-series Top of the Lake along with Rectify and The Returned from Sundance Channel, The Bridge on FX and Drunk History on Comedy Central all were very different types of shows worth a look.
Now I didn't get to see every new show that premiered this year, there just wasn't enough time but I've heard good things about Blacklist, House of Cards, Orange is the New Black, Masters of Sex and more so if there's any I missed that you think I shouldn't have cold shouldered and are worth it to check out, let me know, I'll give most things a shot.

Thanks for tuning in and I'll be back with the BEST RETURNING SHOWS of 2013, hint it's BREAKING BAD.
Cheers,
Jonathan Killoran