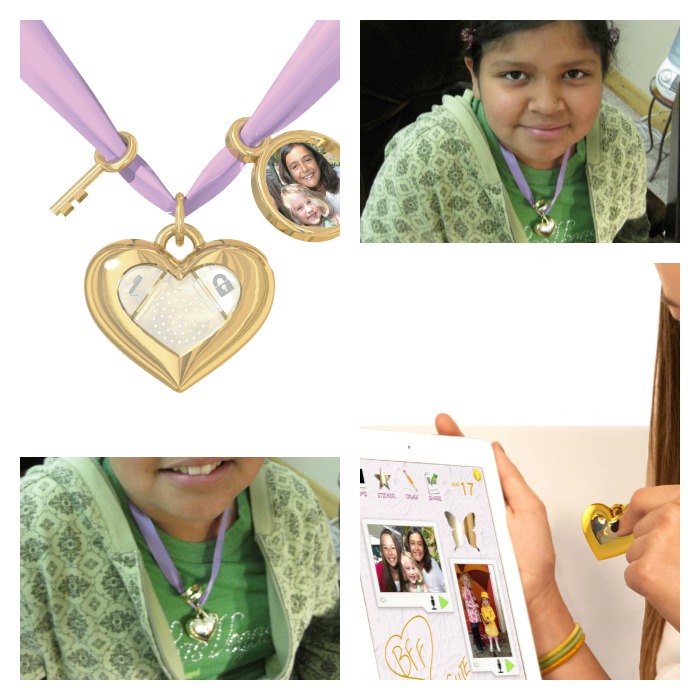 DANO toys iHeart Locket
 "Unlock your world

The iHeart Locket is the key to your digital diary. Push the key button to transmit a unique code that opens your iHeart Locket Diary App.(free download).The iHeart Locket is more than just a diary. You can capture your life with photos, stickers, drawings, and voice notes! Keep your secrets. Make your writing and sketching disappear by pushing the lock button to keep your secrets from being discovered. Express yourself! Talk to you iHeart Diary and it will magically write down everything you say while keeping a recording of you saying it. Photos saved to your diary can be printed out to perfectly fit the mini picture frame on your necklace. You can also save entire pages of your diary into your photos folder, and even export your entire Diary as an iBook!* Export with caution as brothers can be sneaky."
In the world of smart phones and tablets, have we given up the precious DIARY?
NOT AT ALL. The diary is alive and well and available to wear around your child's neck. Her NECK?
We received this wonderful iHeart Locket to review, and although initially I hadn't realized just what age it was geared to, I quickly learned (after talking to a friend), that it was TOTALLY for someone like my friend's daughter. I called on 10 year old Daisy to try out the Dano iHeart locket on her iPad.  This small locket that you wear, allows your child to capture her life with photos, stickers, drawings, and even leave voice notes!  It took a little while for her to figure it out, but now she wears it around her neck and says it rocks.  She has two older (sometimes maniacal) brothers who are constantly getting into her "stuff" and she says she loves this locket and APP for her iPad.
Daisy found it easy to use after she got it down.
She really treasures her privacy and the fact that she can talk and the iHeart writes it down on her digital – LOCKED – diary, by simply pushing the "LOCK" button. If she wants to SHARE her photos they can easily be printed out to perfectly fit the mini picture frame on her necklace.
This is a great gift for a preteen, teen and the price at under $25 makes it a great birthday or holiday gift giving idea.  I felt that the plastic that the piece is made of might be sturdier made with metal, but Daisy says it felt light around her neck.
So there you go …
from the mouth of a very bright and honest 10 year old!
Ratings are based on a 5-star scale
Overall: 3
Review by Broad "A" – Ava
We received product to facilitate our review.  All opinions are our own
The iHeart Locket is available for purchase online.