Spicy Subscriptions
Now we all know that Zippy is Naughty and Ava is Nice – but sometimes, we like to switch roles here at The Review Broads (sorry Bro B, you were at a movie somewhere and this is for WOMEN ONLY!).
Discreet is the word at The Review Broads, so when Spicy Subscriptions asked me if I wanted to review some romantic and worldly womanly items, I thought, hey why not!  Take off the wimple and take on some romance. I waited patiently for my complementary box of spicy products to arrive.
In my April Spice Box (if you subscribe you can get a different box EVERY month!) I had some aromatherapy, some oils (hmmm…) and linen spray and one of those little machines that gives women a little taste of love.  I loved the quality of the products and felt that this would be a wonderful gift for my single girlfriends of distinction, especially when we TALK about all this stuff, but never WRITE about it!  And we are women – we enjoy taking care of ourselves and pampering as much as we can.  So subtle or not, here is SPICE BOX!
FROM THE SPICY SUBSCRIPTIONS WEBSITE:
"Get monthly romantic surprises to your door, with Free and Discreet shipping. Spicy Subscriptions is the best and most convenient way to spice up your love life."
What a fun gift for your wife for Mother's Day to show JUST how sexy you think she still is!
3 easy steps to get YOUR Spice Box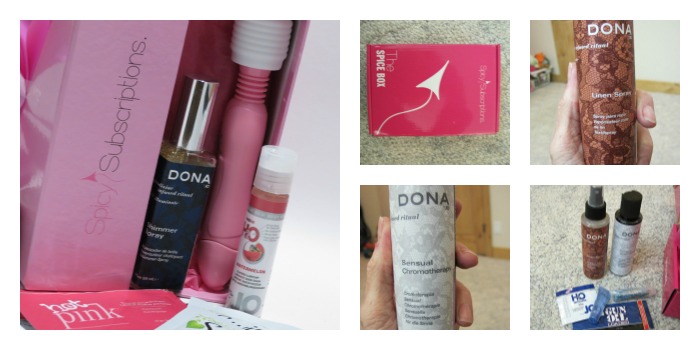 1. Choose your Spice Box
Adding romance to your life has never been so simple: Choose from our Premium Spice Box ($24.95/Month) or Deluxe Spice Box ($34.95/Month). Just choose a subscription that works best for you and we'll take care of the rest!
2. Receive Your Spice Box
Your Spice Box will be discreetly delivered right to your door step in the first 10 days of every month! Save time, money, and best of all the embarrassment that comes with walking into an adult store.
3. Time to Spice it Up!
Unpack, discover and enjoy your Spice Box contents! Every month, you and your significant other will have something romantic to look forward to. You'll love your Spice Box! Do it all again next month!
I like sophisticated and fun products and my Spice Box was so discreet that my boyfriend thought I had gone to Macy's and bought MORE perfume!  Little did he know that Macy's was having a sale and I hate crowds.  NO!  I decided to take some ME time and enjoy a bubble bath and …well there you go!  YOU CAN be nice – and a tiny bit naughty – as long as you are DISCREET!
For more details or to subscribe to Spicy Subscriptions visit their website: SpicySubscriptions.com
REVIEW BROADS READERS get 5% off on your order.
Simple use the coupon code: reviewbroads
Ratings are based on a 5-star scale
Overall:  4
Review by Broad "A" – Ava
We received product to facilitate this post. All opinions are our own