Evil Dead
Horror remakes are a tough bet. 
On the one hand you may be able to reshape the material into a transcendent piece that evokes the original but becomes a classic in its own right.  Other times, a remake is pushed through the studio remake machine and comes out a mere shell.  Wearing the flesh but hallowed out of any spark or imagination contained in the original.
I'm always skeptical when a remake starts to come out, especially horror.  A great horror movie can really play a crowd and illicit a range of emotions.  Other films can simply feel like a by the numbers exercise unworthy of your viewership.  This weekend, EVIL DEAD, the highly anticipated remake of the Sam Raimi classic floods the theater with gallons of viscera and gore but is it any good?
Yes. It's just not – Great.
Five friends wind up in a remote, familiar, cabin in the woods isolated from the world.  Their goal is to cure junkie, Mia (Jane Levy) of her barely touched upon heroin addiction.   Eventually she is possessed by the classic Deadites and insanity reigns supreme.  No one is safe and no one can fend for themselves against the onslaught as friend and significant other become mere pawns in a game of life and death.
The opening of the movie sets the tone of how this EVIL DEAD will play out. 
These are serious stakes and witchcraft stuff that never properly excites or plays to the audience.  Seriously, WHO IS THAT WITCH?!  She never plays into the rest of the movie.  It just felt like time being burnt up instead of being put towards regular character development since none of this stuff comes back up later.
Eric (Lou Taylor Pucci) is the unfortunate friend who reads the Necronomicon.  He actually does on a whim.  More time could have been granted to establish his character traits.  What was his obsession with the book?  Even placed in small details, his past could have elaborated on the decisions he makes rather than a cursory glance.  He's a "teacher," so maybe its part of the subject he studies, it's never mentioned.  All plot threads are dropped as soon as the proverbial shit hits the fan.  Eric is at the very least rightfully punished and his comeuppance for his particular transgression is that more so than any other in the movie he is hit with a barrage of injuries.
The "Ash" like hero character David does well as the brother who abandoned the family when things got tough.  His arc is okay and he does a lot through action to redeem himself but again a lot of set up is through dialogue given in the first half of the movie to get a basic understanding of his motives.  Even then he's kind of a blank slate.   I don't recall any major details about the other girls in the cabin outside of "Nurse" and "Heartbreaker girlfriend."
The dialogue feels very perfunctory in order to get enough information about the characters as it hurry's along to get to the gore. If you asked me who wrote the script, Diablo Cody would not have been my first guess.  None of her cadence, style, or inflection is there.  I guarantee there was a rewrite and we're left with a very bare bones layer of exposition.  The characters in turn are barely fleshed out, merely bodies brought before the slaughter rather than given any real development.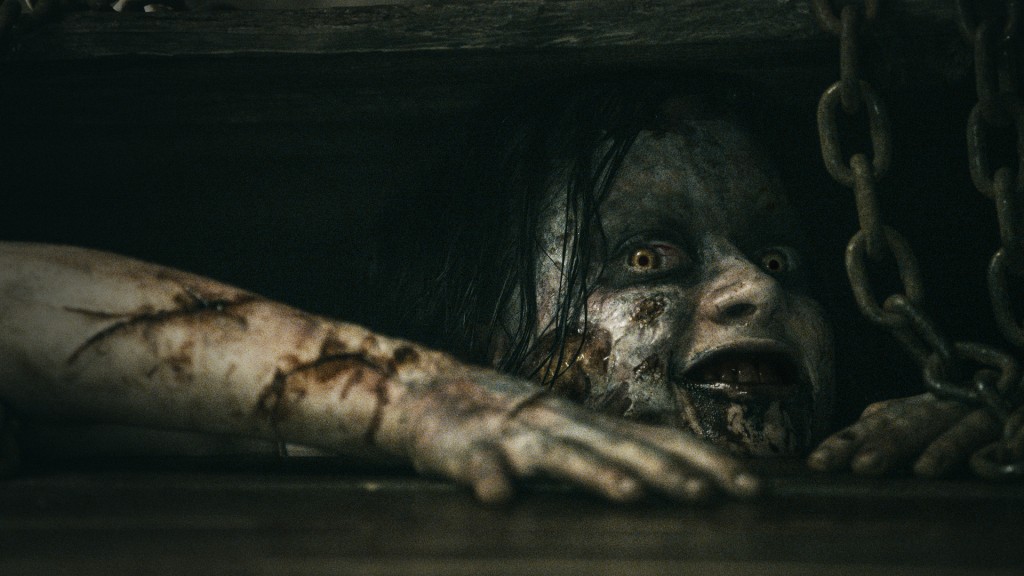 There is one standout though: Jane Levy because if the movie has one all-star in the cast it's her.  I'm not sure how accurate her portrayal of a junkie is but her sweaty, hallucinatory performance is really great.  EVIL DEAD really gives her a beating and she takes it in stride with a twitchy nervousness.  Once possessed she goes all out, EXORCIST style, as she torments the others.  Having to play a gamut of insanity she really steps up.  Though I would say this is certainly not for the SUBURGATORY crowd.
My main issue is that the movie doesn't seem to have its own style until the final minutes. One moment it feels like it's on the rails getting us to the big moments, then it wants to take itself really serious and be its own thing with lots of violence galore but then there will be a callback to the original THE EVIL DEAD and I'd be taken out for a moment.  The small callbacks are fine, a certain broken down car in the woods was a fun shout out.  Then there's the more blatant stuff: the hand chopping off (from EVIL DEAD 2), a chainsaw in the tool shed, and yes the infamous tree rape returns.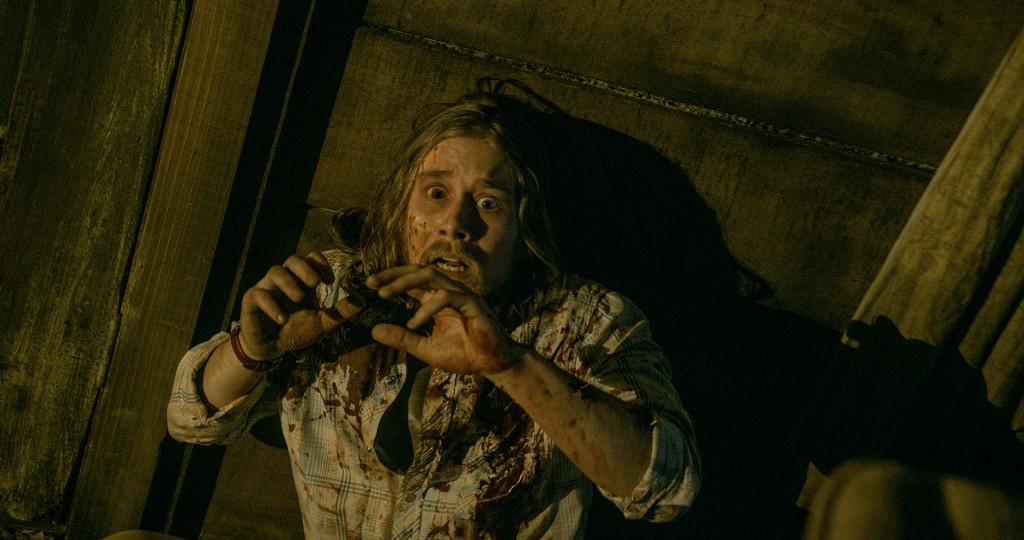 The original is relentless towards its characters. 
Maybe it is a little silly by today's standards but it has a very dark sense of humor and Raimi's signature style.  Raimi himself has said that the scene may have gone too far, even for the horror movie he was making.  This movie subverts that scene for its own bizarre purposes and it just doesn't work the same way.  It's like the film is trying to have its cake and eat it too.  With established character traits why not create a more conceivable scene where she injects the deadites in like heroin?  A needle could rise up from the ground, tempting her.  The callback could be the tree branch tying off her arm as we watch the possession slowly course through her veins.  She "cracks" under the pressure of this intervention and the cold turkey/junkie stuff could come full circle.  Instead of just dropped off as soon as it's convenient.
No matter how deranged Raimi's original got, there was still that level of perverse dark humor carrying you along.  Raimi understood the ability to play and audience and there is a joy at play even when the intensity increased.  The remake is exceedingly mean-spirited, almost horribly so.  There is no levity in the new EVIL DEAD as it aggressively pushes head first into the darkness.  I applaud the hard-R wide release. It's a level of brutality and practical good that is rarely seen these days.  Certainly top-notch effects work.  Unfortunately the exercise is somewhat hollow, nothing substantial holding the foundation together.  I wouldn't call the movie particularly scary since tension is replaced with oceans of blood.  I give it an A+ for the majority of practical effects though the film just heavily relies on gore and the gross out.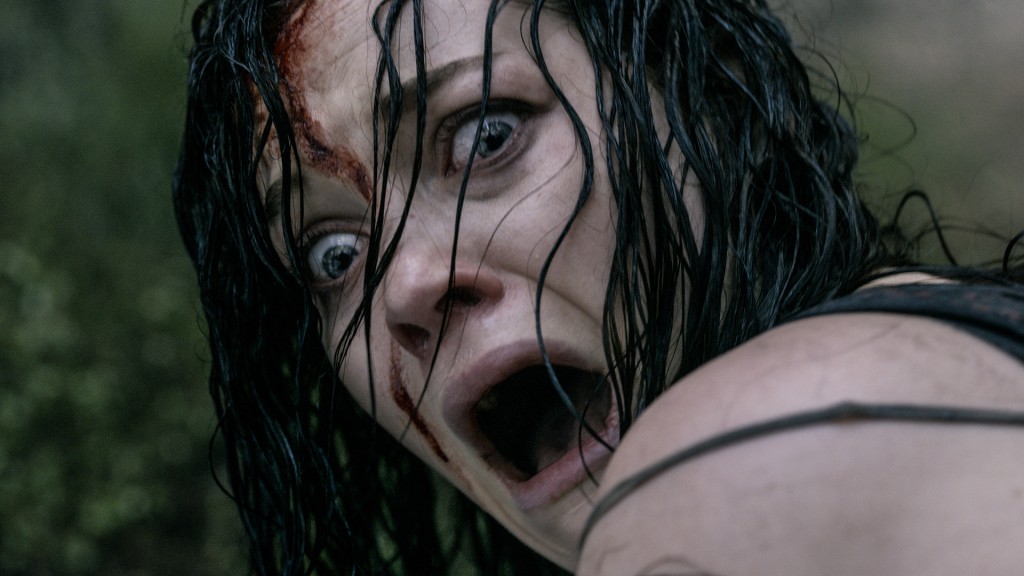 What makes a good remake? 
It could be an understanding of the core concepts of the source material and tone but imbuing it with a fresh signature style.  Not until the final 20 minutes does the film find its footing when it starts riffing on the expected formula to fun effect.  We get some brutal, gruesome and even satisfying gore.  Some blood-letting for the hell our characters have been through.  I wish the whole film could have felt so fresh and invigorating.  It has a lot of fun and delivers on some insane horror imagery.
The movie is similar to Alexandre Aja's excellent THE HILLS HAVE EYES remake in that washed out look and great use of practical effects but what made Aja's remake work was he added his own ideas.  There's a strange, underlying STRAW DOGS riff at play in that movie that creates a new dynamic, an idea about masculinity that propels the movie.  Here it seems the producers and popular opinion got in the way of Fede Alvarez's vision.  I'm not sure how to read him, where is his signature on this movie?  What's his style?  Maybe he'll shine on the next one.
EVIL DEAD is a bizarre experiment in remaking a classic that really added nothing to the originals.  A slow start escalates quickly into an oozing, blood-soaked extravaganza of harm.  It's definitely worth a visit as it earnestly strives to assault the viewer with gore.
EVIL DEAD is currently in theaters.
Review by Bro' J – Jonathan Killoran
We received no product or compensation at all. All opinions are our own.