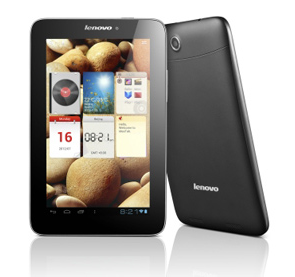 This past Christmas, my daughter, The Diva, received a "touch pad" from Santa. She wanted it very badly so she could play Angry Birds. No, I'm not joking. She's not quite eight-years-old, so it's little things like this that make her feel special. My husband and I researched tablet computers and although the Kindle Fire HD seemed like the best choice, the price and the fact that I wasn't sure if you could surf the 'net on it made us choose the Lenovo IdeaTab A2107A-F instead. I got it at Staples for $169.
It's a small tablet and the perfect size for a little girl, although a bit heavier than I would have liked. It has an Android-based OS and is supposedly designed for on-the-go reading, web browsing and emails.  However, it truly sucks for adult use. Playing downloaded games does not cause many problems, but if you actually want to surf the internet, check/send emails or peruse Facebook, you're kind of screwed.
Here are the specs on the tablet from the Lenovo website:
CPU – MediaTek 6575 1.0GHz Cortex A9 processor
Operating System – Google Android™ 4.0 Ice Cream Sandwich
Memory –  512MB LP DDR2 (WiFi model), 1GB LP DDR2 (3G model)
Dimensions – 192mm x 122mm x 11.5mm (7.6″ x 4.8″ x 0.45″)
Camera – 0.3MP webcam (front),  2.0MP (equivalent D-value 3M) webcam (back)
Display – 7.0″ (1024×600) LED display with 5-point capacitive multitouch
Weight – 400g (0.9 lbs)
Audio –  2 speakers
I/O Ports –  Micro-USB, MicroSD card, Combo jack
Storage – 4GB, 8GB, 16GB (eMMC)
Wireless Connectivity – 802.11 b/g/n WiFi, Bluetooth® 4.0
Battery Life – Up to 10 hours WiFi browsing
When you first turn on the Lenovo, instead of it going to the main screen where you can access all of your apps, you have to wait 2-4 minutes for Android to updgrade. This is every time you turn the bloody thing on! And, more often than not, as soon as you get to the home page, you are bombarded with messages saying that App X or Y has stopped working. Then you must press the "OK" button for the message to go away, which then brings up a box to send info to the app about the crash. I always type something in and end up with yet another message telling me that the message could not be sent.
These pop-ups will often continue several times even though you've pushed the "OK" button. The only way to stop it is to restart.
It's extremely frustrating!
This morning, while everyone was still sleeping, I decided I would commandeer The Diva's tablet and read a book that a friend recently sent me via Kindle. After reading for a mere THREE MINUTES, I was notified that the Kindle app had stopped working. I ended up repeating what I described above several times until I gave up and rebooted. Once the tablet finished it's second upgrade of the day, I decided to check for a firmware update. And lo and behold, there was one that needed to be completed. Why this did not occur upon start-up, I will never understand. After that task was finished, I decided to check on the apps and found that nearly all of them needed an update. This I find odd, since I set them all to perform automatic updates because I know that neither Ro or my husband would ever remember to check for them.
Here is where I finally said enough!
After the firmware update, there was a new app on the Lenovo that I had not agreed to and that was not there prior to said upgrade. It is the PokeTalk app and there seems to be no way to uninstall it. The comments on the app's page are all angry and saying the same thing: there's no way to uninstall this thing. It took three and a half hours to get only half of the necessary 23 updates completed! The Firefox update was stuck at 93% the entire time, no matter what I did. Do you have any idea how hard it is to tell your daughter that she can't use her tablet yet knowing that every five minutes she will be asking "is it done yet"? This is what my morning and early afternoon consisted of.
The tablet finally ran out of juice and died around 2pm. I will absolutely attest to the fact that the battery does not last anywhere near what the specs say it does. We maybe get four hours if we're lucky. After it charges, I will fire that puppy up once again and check on the updates. And I'm sure that it will take another few hours to complete, all the while hearing The Diva whine because she wants to play with her tablet and check on her "bakery".  I can't blame the poor kid, it is hers. And she's only seven (she'll be eight next Sunday), so five minutes is an eternity to her. A few hours is most of her life.
I have no idea why this happens to the Lenovo. I have researched and found that many people are just as frustrated as I am with it. The apps that crash most often are Google Play Store, Facebook, Gmail, Firefox and, funny enough, the system itself. Last night her animated interactive Star Wars Angry Birds wallpaper suddenly disappeared and The Diva was beside herself until I fixed it.
I do have to say that Ro loves this tablet.
She gets to play all her games and download things she likes because they're free. And we actually liked it a lot, too, until this morning's fiasco. We have a mini-SD card installed that isn't even a quarter full, even though I've moved most of her games to it and the internal storage is only about three-quarters full. I honestly don't know what to do to fix this problem. I know there are some hacks I could perform, but I don't want to void the warranty. Besides, shouldn't this have worked well straight out of the box?
I am not recommending the Lenovo IdeaTab A2107A-F for anyone, not even kids, even though it's well-priced, because of the constant crashing, upgrading that does nothing and slow start-up. Had the Kindle Fire HD been more affordable, Santa would have delivered that to The Diva instead. And yes, I know, iPads are the best, however, I do not believe any child needs a $600 toy. Now mommy is a different story.
Lenovo A2107 7-Inch Tablet
 is available at Amazon.com – but save your money.
Review by Broad S – Shan
*This is not a paid review. The Lenovo IdeaTab A2107A-F was purchased by me as a Christmas present for my seven-year-old-daughter. She still believes it came from Santa, so don't let the cat out of the bag, K?*