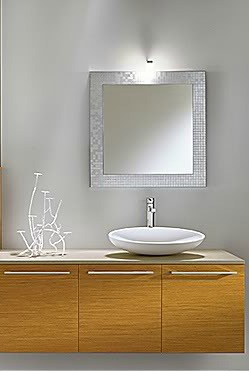 Depending on your home and how much natural light it lets in, winter can sometimes feel a little gloomy; especially in rooms such as the bathroom where there tends to be just one light fitting. One way you can add a little extra oomph to your bathroom is to consider visiting
Illuminated Mirrors – Bathroom Cabinets Online are available to suit all tastes and styles. As well as containing subtle lighting, mirrors give the illusion of a bigger room and when placed opposite a window, can transport light around the space.
The Traditional Look:
If you're going for a simple, classic look, try a solid oak frame. With mitre cut corners and clean lines, these mirrors offer elegance and style while being easy to hang.
Bold and Bright:
For something a little different, why not try a color changing lighted mirror. These give the option to change the speed of color transition, brightness, and fade and flash options. If you have one particular favorite, there's also the option to have a constant single color.
Practical and Convenient:
There's nothing worse than a steamed up mirror when you've just got out of the bath or shower and you're rushing to get ready. Why not try a mirror with built in demister pads for the perfect solution to that pesky common problem. You also have the option of a cabinet in addition to the mirror itself which makes for a handy storage solution when needing a home for your cosmetics.
All mirrors and bathroom cabinet units come with a ten year guarantee and are CE tested. The illuminated models contain LED lights which had an extremely long life and are low energy; great for the environment and saving you money of your electricity bill! Give your home a boost this winter and invest in one of these models offering style and practicality at the forefront of their design.