from Icebox Knitting
While it's still 90 degrees here in Utah, we have a strange weather pattern.  Winter chill hits around the end of September, so everyone is running out to stock up on their winter clothes.  And Utah gets FRIGID in winter.  I was so pleased when my DOHM hat arrived in the mail!  I have reviewed this company before, and their products amaze me.  Quality wool, handmade from their own looms and CHIC designs – along with their totally affordable prices – has made me a long time fan.
I also love that my DOHM handpainted rainbow hat is one of a kind – that's simply my MO.  I like the Diva with a Different Look label as a discerning woman!
This knit is 100% organic merino wool (and you ALL know how I love ORGANIC).  Wool in the DOHM Handpaint set comes from the DOHM family owned Wyoming ranches dedicated to sound animal husbandry and sustainable agricultural practices.  All wool is traceable back to the ranches it comes from.  The wool is milled using environmentally friendly and truly natural processes.  The name, Handpaint, reflects that each skein of wool is painted by hand making every piece unique.
This darling wool beanie hat has a slight flair on the edge.  It comes in clover field (greenish tinges), rainbow (red and orange tinges as seen in the pictures) and tempest, a lovely autumn palette of browns, greens and oranges.  As an aside, DOHM's  fingerless hand warmers (which come in matching Handpaint merino wool design) are AMAZING.  Because of the design work, they are extremely comfortable and warm, with a flipped wrist that goes over any hoodie and fingerholes that are large enough to drive the car or hold a ski pole comfortably.  I just love them as they are not only truly unique, but also warm enough where you can go out in -0 degree weather and they keep your wrists and hands REALLY warm.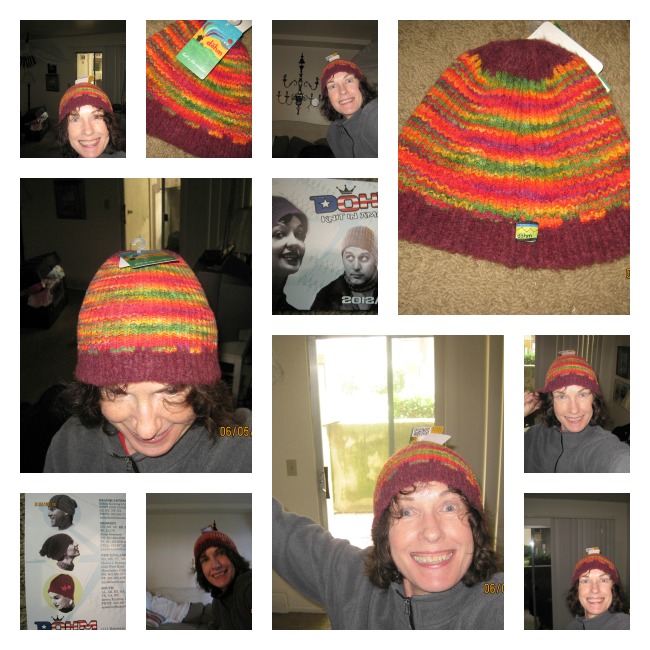 DOHM's combination of style and the best wool materials (made in Colorado) keeps me coming back to their catalog year after year.  Believe me, I am one of those catalog keepers who is always looking for the "newest hat and hand warmer combos" to wear with my Sundance coats, and DOHM is the best of the best!
THANKS DOHM for creative winter accessories that keep our planet sustainable!
DOHM Handpainted Wool Hats are available in RETAIL LOCATIONS throughout the US or on their website (see special Review Broads discount below).
SPECIAL REVIEW BROADS DISCOUNT! Get 20% off (and as always free shipping) when you use the code: REVIEW20 
Ratings are based on a 5-star scale

Overall:  5 for DOHM (their catalog is awesome too by the way!)

Review by Broad "A" – Ava
We received product for this review.. All opinions are our own.