The bathroom is often considered the most important room in a home. This is because it is where you go to restore yourself after a long day of work, school, or play. It's also a place where you can be alone and find some peace and quiet from the outside world. So it's no wonder that many homeowners are spending more time and money on remodeling their bathroom space as they want it to reflect who they are as individuals as well as what kind of lifestyle they live. In this blog post, you will learn all about different renovation ideas for your own personal sanctuary!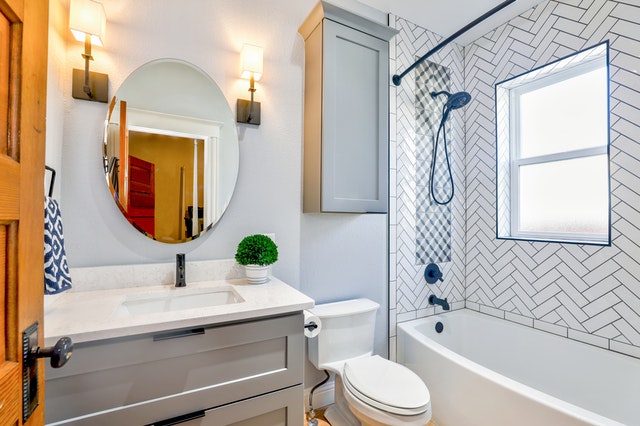 #1 New fixtures
The first step in any bathroom renovation is to replace the old fixtures with new ones. This includes the toilet, sink, bathtub, and shower. If your budget allows for it, you may want to consider investing in luxury fixtures such as a heated floor mat or an electronic rainfall showerhead.
If you're looking for a more affordable option, there are many beautiful and unique sinks, toilets, and tubs on the market that will give your bathroom a fresh look without breaking the bank. Be sure to choose colors and styles that reflect your personality! Lastly, when you're busy with the fixtures, you may also want to read this Guide to Clearing Clogged Drains so you can be sure your plumbing is in order as well!
Tip: When shopping for new fixtures, be sure to measure carefully to ensure that everything will fit properly before making your purchase.
#2 Wall tiles
One of the easiest and most affordable ways to give your bathroom a new look is by retiling the walls. There are many different tile designs and colors to choose from, so you're sure to find something that will suit your taste. If you're not confident in your tiling skills, there are many professional contractors who can do the job for you. Just be sure to get several quotes before making a decision.
Tip: When choosing wall tiles, be sure to take into account the size of the room and how much natural light it receives. Lighter colors will make a small room seem larger and brighter, while darker colors will add a touch of luxury and elegance.
#3 Color schemes
Color is an important consideration when choosing a color scheme for your bathroom renovation. It can help to look at existing interior design magazines or Pinterest boards to get some inspiration before you start shopping for new items.
Tip: When designing the bathroom, choose light colors that complement each other well and create a soothing environment where you will feel relaxed every time you step inside. Avoid using too many bright colors as they can be overwhelming!
#4 Replace the mirrors
Another relatively easy and affordable way to give your bathroom a new look is by replacing the existing mirror with something larger or more stylish. There are many different types of mirrors available on the market, including full-length mirrors as well as smaller vanity mirrors that can sit on top of your sink. If you're feeling extra creative, you could even paint one yourself!
Tip: When choosing a new mirror, be sure to choose one with an appropriate frame for the style of bathroom space you have chosen. You don't want it looking out-of-place!
#5 Use plants
One of the easiest ways to give your bathroom an organic feel is by using plants. If you don't have a green thumb, this might not be the best option for you! However, if you are confident in your gardening abilities or know someone who can help maintain them while you're away on vacation, they make great additions to any space.
Tip: When choosing houseplants for decorating purposes, try and find ones that do well with little sunlight, as bathrooms tend to receive less than most rooms in the home. Tropical plants will also work but require more frequent watering – choose accordingly based on your schedule!
#6 Storage solutions
The final step for completing your bathroom renovation is to purchase new storage solutions. You can do this by adding built-in cabinets, smaller shelves, or even a small dresser if you have the space.
Tip: If budget is an issue, look online at garage sales and second-hand stores where you might be able to find items that are still in good condition but don't quite fit into someone else's decor style anymore! Once they're clean and polished up, it will be like having brand new furniture without spending all of your savings on it.
In conclusion, there are many different ways to give your bathroom a new look without spending too much money. Just be sure to do some research and get creative so you can enjoy the benefits of having a beautifully designed bathroom space!