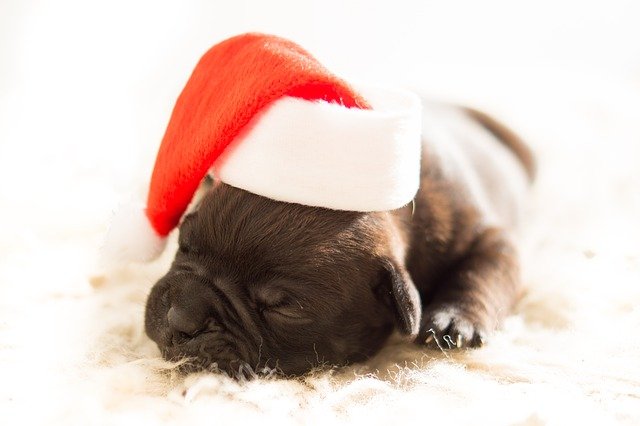 After a tough year, many of us have chosen to adopt or foster puppies or kittens while we are at home to bring some joy into our lives and make a difference. If you have recently added a furry companion to your family and they are still young; Christmas can become more of a challenge. 
Today we want to talk about having a baby animal in the house during the festive season and what you can do to make the house a little safer and keep your Christmas celebrations happy! 
Watch out for teething 
When kittens and puppies are small, around 16 weeks old, they will start teething. When baby animals teeth they try to chew everything in sight and this will include your Christmas tree, lights, and tinsel! Be careful when watching your babies around Christmas decorations because their teeth can be sharp and tinsel is very easy for them to swallow and throw up later. 
Train them well 
If you have a little puppy and you want to make your festive season a little less stressful, it is a good idea to take them to a dog training company. This will ensure that your dog is able to learn basic commands as well as recall, so that when you do have visitors for Christmas you'll be able to prevent them jumping all over the place! 
Keep cables out of reach 
Dogs and cats both love anything that moves; and cables are something you will have in abundance during the festive period. Consider investing in a canoe organiser to get rid of loose cables; and even consider hiding cables altogether to ensure that your furry friend doesn't chew through them and electrocute themselves. 
Consider a plastic tree 
One of the most magical parts of the Christmas countdown has to be when you bring your tree home and put it up with your family. If you normally get a real tree for your home, this year might be a bit different. Just like buying a cat tree or a dog toy – as soon as you bring a tree home your pet will assume it is a toy for them to play with. It is important for you to consider a plastic tree for this year because your kitten or puppy will likely chew, pull at, and climb the tree. At least by getting a plastic one you won't get tree needles all over the house! 
Block off the stairs 
One of the best things you can do to save some aggro this Christmas is to install a baby gate at the bottom of the stairs. Baby animals are super curious and if they are able to explore the whole house they might get into your Christmas present or wrapping paper stash! Be sure to block off the stairs and this will also get rid of the risk of your baby jumping through the gap in your banister. 
Get tidier in the kitchen 
Christmas is a time when your culinary prowess will really come out to play, however, it is also prime playtime for your little baby. If you have kittens especially; it is worth keeping them out of the kitchen while you cook to avoid them jumping up on the counter to try and eat everything in sight. You also need to make sure you have a washing up bowl ready on the side whenever you start to cook so you can clean pots and pans as you go along. This negates the risk of your pet coming into the room once you go to eat to try and reach the leftovers. 
Lock up cleaning supplies 
Kittens and puppies are incredibly curious, and they love anything that is a bright color. The main issue here is that you will have cleaning supplies as well as laundry pods that are bright colors that attract your pet. Make sure when you have a small pet that you lock up the cleaning supplies in a secure place so that they cannot reach them. This will ensure that your baby doesn't eat anything they aren't supposed to and end up ill. 
Keep them entertained 
Kittens and puppies need a lot of sleep – they are babies after all. However, when they are awake, they need to be kept entertained and stimulated both mentally and physically. It is important to dedicate time to play with your puppy or kitten every day to help them develop their natural hunting instincts as well as to draw their attention away from your Christmas tree!