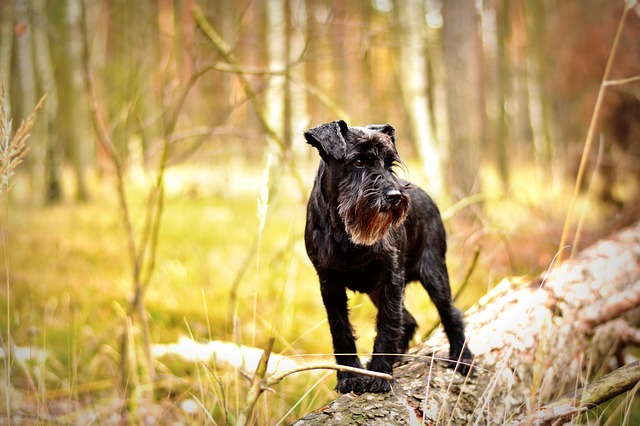 If you are keen on welcoming a new puppy into your home, you are probably researching breeds. Taking on a puppy and having him in your life for fifteen years or more is a commitment that you shouldn't take lightly. However, having a canine pal who will become your best mate and a true family member is a joy. They cheer you up when you are down, they will protect you from the strangers walking up the driveway, and they will chase every leaf floating on the wind! If you have never considered the joy of a mini schnauzer, you need to take a look at this lovable and wonderful breed.
Character
The humble miniature schnauzer looks like a terrier, but he's anything but. A large dog in a small body, the mini schnauzer is a brave little fellow who is charismatic and easy to train. Mini schnauzers are relatively stocky little chaps and can be silver and black, salt and pepper, black, or the more elusive full white. They are happy and playful little souls who are keen to venture out on walks as well as snuggling down with you to watch a bit of television. Mini schnauzers just want to be with you no matter what you are doing so expect to have a shadow every now and then. If you want a canine friend who doesn't become aloof, a mini schnauzer will be your affectionate and loving companion.
Family Friendly
The joy of a mini schnauzer is its ability to adapt. They will be happy in a household with small children, being affectionate and protective over the smaller household members. They will see you as their pack and will do everything they can to protect you. If you have smaller brood members who suffer from allergies, don't discount the mini schnauzer. The excellent hypoallergenic quality of this breed means that they are great for individuals who are allergic to dander or who are asthmatic. Their fur is actually hair biologically meaning that they don't shed, keeping your home clean and your offspring healthy. They will be keen to go out on family days out, playing in the park, going on walks, or having beach days. Just ensure that you train recall early, otherwise, your highly intelligent schnauzer may wander off to say hello to a fellow pooch and ignore your calls.
Eating
A mini schnauzer tends to be highly food motivated making him easy to train and feed. He doesn't tend to be fussy per se. However, his digestive system may tell a different story. Mini schnauzers can have delicate tummies and can suffer from allergies. You may need to investigate the best sort of food for them. Ideally, hypro dog food offers some great novel proteins. Kangaroo and lamb are perfect as a dog isn't regularly exposed to them, meaning that they can eat them with little ill-effect. Alternatively, you could opt for a wet food, which tends to be easier to digest. In any case, your mini schnauzer will eat whatever you feed him with a smile on his face!
A mini schnauzer is a wonderful family pet. Add him to your list of potential puppy breeds!