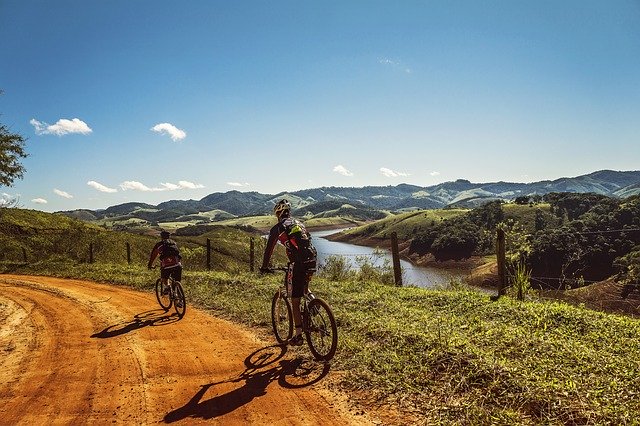 Cycling is a wonderful hobby. The great thing is you can go alone, with your partner, or friends and family. It's a lovely way to discover the nearby countryside and stunning landscape you didn't know existed. Cycling is good cardio as well and an hour per day will keep you young. Start prepping for a long-distance bike ride with a little bit of practice locally, following these simple tips.
Maintenance
If your bikes have been in hibernation in the garage it's a good idea to look go through a maintenance checklist before you go anywhere. Even if you haven't used them they still might have succumbed to rust or a flat tire. Take your bike for a test drive and make sure the brakes work well. Ensure the seat, handlebars are all fixed tightly and in the right position. You want your feet to lightly touch the ground to be comfortable. Check all moving parts aren't blocked by rust. In all cases, put some oil on the chain and pump up the tires full. 
Safety
Your safety on the road should be first and foremost, so don't neglect the traffic laws, protective gear, or any other equipment. Invest in a new helmet, light, and a top emergency repair kit. Even if you're an experienced cyclist you need to prepare for the unfortunate happening. Fatal bike accidents can happen and come under the categories wrongful death include. Injury lawyers can help you understand your rights if you do end up in a sticky situation. 
Start Local
Due to the social-distancing rules in place this spring, for now, it's best to stick to local routes, near your house. This will be a great way to train and you can build up confidence for longer trips later in the year. Research the countryside surrounding your local neighborhood, see if you can find any hidden gems. You'll be surprised what might be right on your doorstep. Sites like Bikemap can help you find local trails and long-distance options. Bikemap covers trails all over the world and there are more than 100,000 in America alone. 
Clothes and Equipment
It depends on the weather and the length of your trip, but a cyclist's basic pack should include:
Bicycle pump

Puncture repair kit

First aid kit

Sunscreen

Water

Snacks

Gloves

Money belt
It's better to always pack light because whatever you bring you'll be carrying with you. If you're going out in the rain take a waterproof jacket and cover for your backpack. Take extra care on slippery roads and consider waterproof shoes and socks. Thinking of safety first include your phone charger and a piece of paper with emergency contact details as well. Wear comfy clothes. If you're not an aficionado you don't need high-end cycling gear, just comfortable shorts or leggings. Don't wear loose trousers than might get caught in the wheels. 
OK, now you're ready to get out there, enjoy the sun, and discover beautiful places you never knew were around the corner!