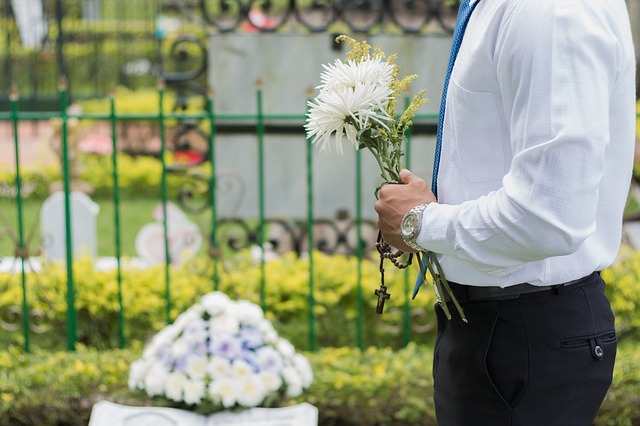 Unfortunately, everyone ages. And with the inevitable ageing comes the time to plan what will happen after you pass. It's not the nicest thought or thing to do, but it's one of those things that has to happen. You don't want your family to have to plan it all for it because you weren't prepared ahead of time. You want it to be as easy and straightforward for them as possible. 
Start Saving Early….
As well as organizing your funeral early, you should think about saving for it as soon as you can. You don't want your loved ones to have to foot the cost when the time comes. So putting a little away each month for it will be very helpful in the future. This can be done through a savings account that's specifically designated for that very reason.
Funeral Insurance
An alternative to putting some money in a savings account each month is investing in funeral insurance. Available from many funeral homes, it acts very similarly to house insurance. For this, you'll have to make monthly payments each month – which will then payout when you pass away. If you opt for funeral insurance, you'll have to sit down with a funeral director to discuss some more information about what you want your service to entail. 
It's important to know that due to inflation, sometimes your family will have to pay a small amount out of their own pocket for the funeral if your monthly payments don't cover it. But for the most part, the most expensive costs are covered with your insurance. If you move over the course of the insurance you can transfer this depending on where you're located.
So what will you need to organize for your funeral? Here are 5 essentials that you should organize ahead of time. Of course, this isn't a complete list. So it's important that you thoroughly research and seek advice if you're unsure. 
If you're planning on being buried, you will need to start looking at different headstones. There are so many different headstones to choose from, differing in price due to the materials they are made from and their size. Whether you opt for granite, marble or another type, you're bound to find one that matches your tastes.
Do you want to be buried or would you want to be cremated? This is a decision that's good to make quite a while ahead of time. Your preference could depend on your religion, personal preference or how much you have saved for the service. 
In terms of costs, cremations tend to be a lot cheaper, costing a few thousand dollars (this will, of course, depend on where you're located and exactly what you choose). Whereas a burial can set you back nearly $20,000 if you want a more extravagant service. 
Once you know the type of burial you want, you can start to look at the different packages and options available at your local funeral home and make a note of it in your paperwork so that you're family is aware of your decision.
Following on from the above, it's a good idea to also plan and design the ceremony. With the help of a funeral director, you'll be able to decide on a coffin (or urn), what flowers you'll have, catering, the venue, order of service, etc. If there isn't a package that suits you, you'll also be able to plan a bespoke ceremony – be careful with this option, however, as they tend to cost more. 
This might be a given, but it's still something that you should arrange early. Some people might want a simple service with a hearse whereas others want something a little fancier. The more extravagant, of course, as with the above will result in a higher bill. But if money isn't a concern, then you can make it as luxurious as you want.
As aforementioned, it's vital that you decide who will be in charge of your funeral as soon as possible. If you're getting on in age, then this decision is something that will start to be at the forefront of your mind. You don't want your family having to complete the paperwork when you've passed. So consider completing the paperwork sooner rather than later.
Without the legal documentation authorizing one of your loved ones to handle the arrangements, the responsibility will automatically be handed down to your legal spouse or to your child if you're not married. In fact, there is a particular hierarchy that it will pass down. Luckily, the paperwork is quite easy to fill out. 
As well as the paperwork for your funeral, you should also consider completing other legal documentation – such as your estate planning and who you will pass down an inheritance to. 
Common Questions Surrounding Planning Your Own Funeral
If you're still stuck as to how to plan your funeral, here are some common questions that people ask along with the answers:
Do you have to have a funeral director?
Many people think that you are legally required to have a funeral director to help plan a funeral. However, despite the fact that they can be very helpful with assisting you to make arrangements regarding your service, what coffin/urn you want, etc. in many states it's not actually required. 
If you're located in a state that permits home burials or funerals, you are able to handle the majority of the preparations yourself. If you still require assistance, however, you could ask the assistance of a funeral celebrant. Trained professionals, it's their responsibility to help you plan your 'dream' ceremony.
What if you don't have enough money for a funeral?
As mentioned above, funerals can be very expensive. And unfortunately, not everyone has enough money to pay for them. There are however certain ways to pay for it, even if you haven't initially laid money aside for it. This will depend, of course, on your financial circumstances and where you are located. But it's worth discovering the different options available beforehand. 
Do you have to have a funeral?
Most people think that you have to have a funeral. But that's not the case. For some, a memorial service is the preferred option. For others, any type of ceremony simply isn't on the cards. It's your individual preference as to whether you want a service in the first place.
Three Unique Alternatives To a Burial 
If you don't want to be buried and a simple cremation isn't your thing, then there are certain alternatives that might be more suitable for you. Unique ways to send you off, they are definitely more extraordinary than the more traditional options. 
A Space Burial 
If you love space and all things sci-fi related, then a space burial might be the perfect option for you. The cheaper alternative to options such as cryonics, it's definitely unique. With a space burial, your ashes are shot out into space after being transported by a rocket. However, because of the high costs associated with rocket travel, only 7 grams of your remains can actually be launched.
A company that specializes in this type of cremation is Celestis Memorial Spaceflights. They offer a few options – the first of which being a low-orbit journey with prices that start at $995. With this option, your remains will enjoy a 'flight' around space before returning to earth. Alternatively, your remains can orbit the earth before reentering the atmosphere (estimated at approximately $3,000). If you want a more 'extensive' experience however, their more costly options might be the choice for you. You can either be launched to the moon for $10,000 or into deep space for a cool $12,500. 
A 'Tree' Cremation
Over the last few years, this unique alternative to traditional burial has taken flight. Certain companies offer the service in which a portion of your remains can be put into tree soil. The tree will then be planted along with your cremation. Many opt for this choice as it means that they can 'live on' through the tree rather than simply being cremated and their ashes put into the ground of a local cemetery. 
Under the Sea
If you love all things sea-related, then why not opt to become an Eternal Reef. For this process, your remains along with some concrete is placed in areas where reefs need restoration. An extraordinary way of using your remains to benefit nature, it's perfect for those aquatic enthusiasts. 
Final Thoughts
So, there you go! Those are the 5 things that you need to organize ahead of your funeral, some common questions related to the topic and three alternatives to getting buried. Hopefully, you'll find all of the above information helpful – especially if you're starting to think about planning your own funeral. 
A process that's never easy or fun by any means, every little resource that you can find ahead of time could help ease the stress of the process and put you in a better position.