This post is sponsored by BabbleBoxx.com.
Both Ben and I have a love/hate relationship with summer. We love the weather and the feel like it's always the weekend. We hate the fact that Monday through Friday we are stuck in our respective offices, just waiting for Friday night to arrive. We realized that we needed a glimpse of fun mid-week and thought…why not make every Wednesday our "thing" our night of kicking back and relaxing with a great bottle of wine and a movie on the TV?
We have made Wine Wednesday very real
We prepare early, each week choosing a great bottle (or if friends are joining us – bottles) of wine, goodies to eat and we choose a movie, trying to make it a THEME night. This week it's been so hot we can feel the steam rising from our feet as they walk on the pavement (Miami in summer), and what better wine to counteract the stiffling heat than a beautiful Cavit Rosé?
Our PINK summer pairing
We've paired a chilled bottle of Cavit Rosé with some strawberry My/Mo Mochi (the perfect marriage of mochi and ice cream….absolutely GENIUS), and what better movie to enjoy but a throwback to when we were babies – Pretty in Pink…because who doesn't love the Brat Pack?
Tickled Pink
and chilling….with the Cavit Rosé fully chilled and the ice cold strawberry My/Mo Mochi ready to pop in our mouths and cool us down, our week is turning around, with just a quick stop at the grocery store and a flip through Netflix and Hulu to find our flick.
Have you tried My/Mo Mochi yet?
For those who are on the fence and never tried mochi, Ben knows (having grown up in a house that was macrobiotic for a time) that this chewy deliciousness is created from sweet rice dough, but what makes My/Mo Mochi so different than other Mochi products is the addition of a rich creamy REAL ice cream center, so that every bite explodes with both the chewy sweetness AND the creamy ice cream as the flavors explode on your palate with each bite. See…now you WANT to go out and try it…RIGHT?
But isn't rosé  too sweet?
We prefer a drier rosé which is why the Cavit Rosé was a great choice. It's crisp flavor with hints of our favorite fruits (like watermelon – and my favorite drinks ALL include watermelon) is bright enough to perk me up on a hot night.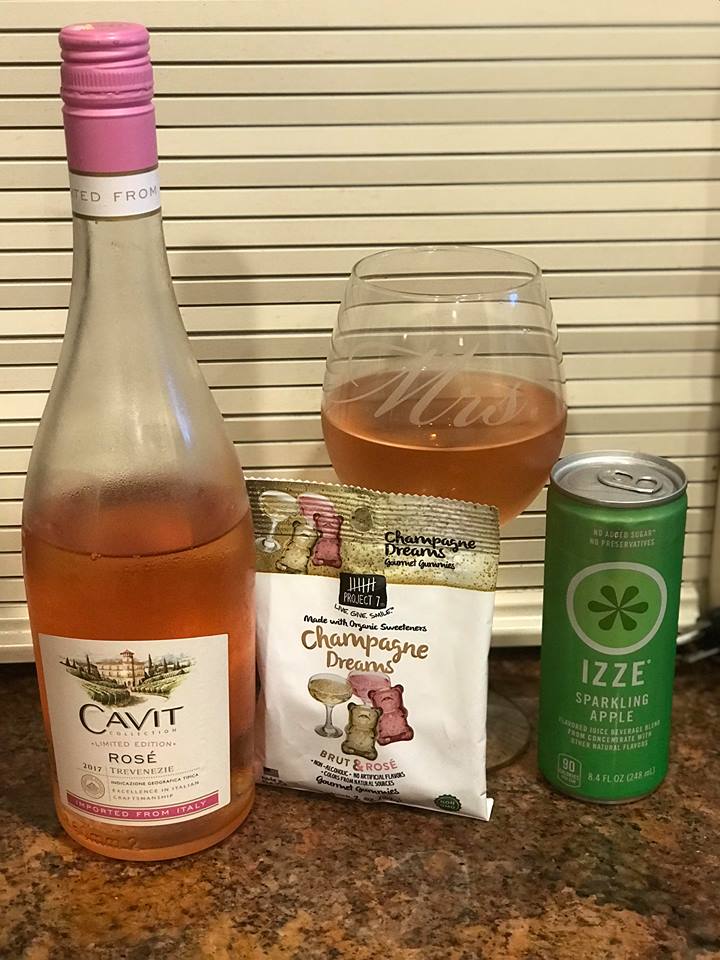 BTW – What ever happened to Molly Ringwald?

Learn more about where to pick up the wine we enjoyed in this post at:  Cavit Rosé 
Get $1.00 off your purchase of My/Mo Mochi here >>

$1.00 Off My/Mo Mochi