Clem the Dachshund Might go to the fat Farm…wait!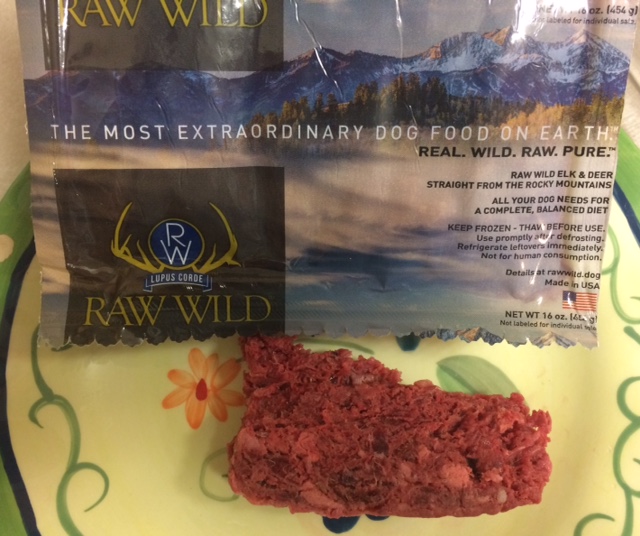 We discovered Raw Wild dog food …
and he's a slim trim 14 pounds again As loyal readers, you all know about my passionate love affair with Clem and dog nutrition.  Lately I have decided that there are many good, some great, dog foods out there as we consumers have demanded better nutrition, less transparency and more due diligence from dog food companies.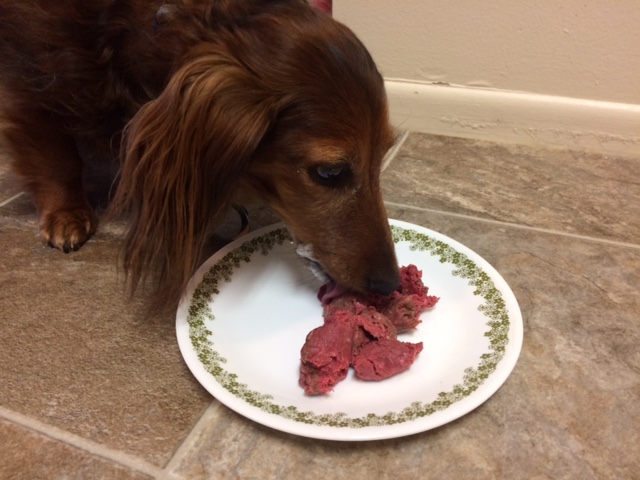 It is the hunting season here in Utah and hunters are licensed to kill only enough deer to keep the herds from starving in the winter.  I have often fed Clem raw dog food, especially wild venison and elk when I come across it, but it has gotten almost impossible to find game meats in a grind that includes bone and muscle (which dogs need for the calcium/phosphorus levels).   And when I do find raw food diets for dogs composed of hard to find raw game meat, it is not a complete diet and merely supplements Clem's nutrition.   COMPLETE diet for dogs INCLUDES vitamins, phosphorus/calcium in a specific formulation and the best of dog foods include chelated minerals (not necessary for AAFCO certification BUT a great inclusion for healthy dogs).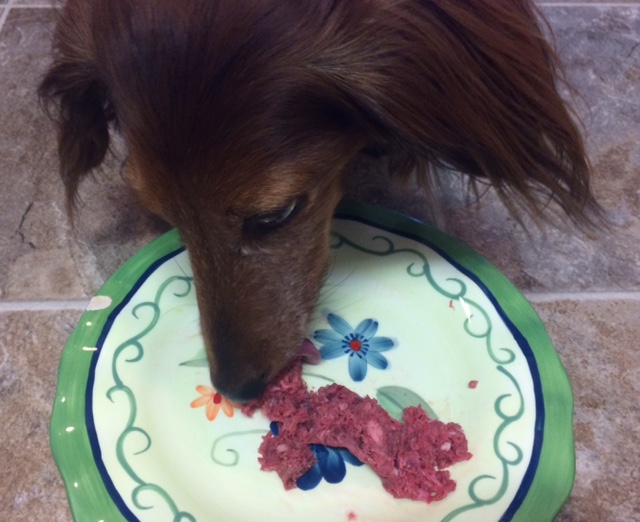 When I discovered a new complete raw diet, Raw Wild, that was local and shipped for free in certain states, I decided to order twelve (1) pound packages.  Raw Wild, composed of elk, venison, bone and complete canine supplements, came and Clem went ballistic.  He has always loved his raw diet for dogs and venison and elk are his all-time favorite raw food for dogs.  With all the attention that restaurants are now giving game meats, Raw Wild was a super find for me, and the only source I could find online with reasonable pricing, and/or free shipping.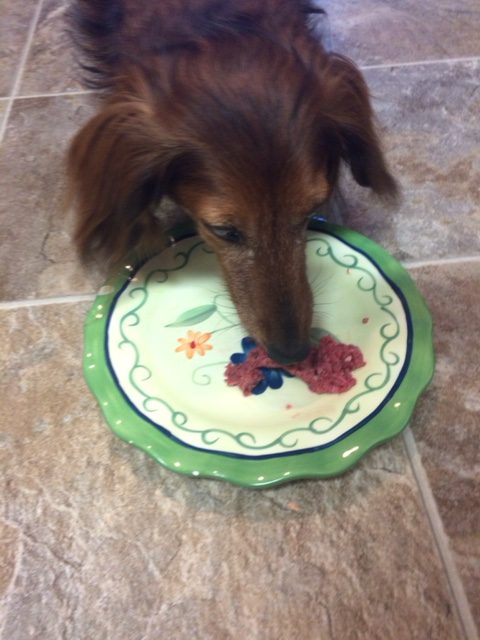 Why Raw Wild?
I think you all know how picky I am, and I don't usually review a product unless I have done my research and it is an item that I will use in my home or feed myself or my dog.  I have spent twenty years on dog nutrition and I always use the online forum, Dog Food Advisor, to check their recommendations about the new dog foods that are coming out every day that allow our dogs to maintain their health and that are a new and sometimes better way to feed my beloved dachshund.  I need to know what I am feeding, and that Clem is getting a superior diet.  And with all the recalls on dog food, I trust Dog Food Advisor  to help me find a variety of great raw dog foods for Clem, and Raw Wild received a 5-star rating from Dog Food Advisor – their highest rating.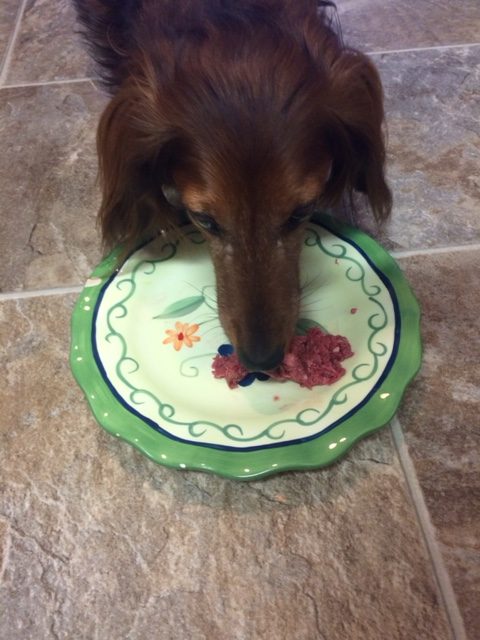 What Do I Love about this raw food for dogs?
The guarantee: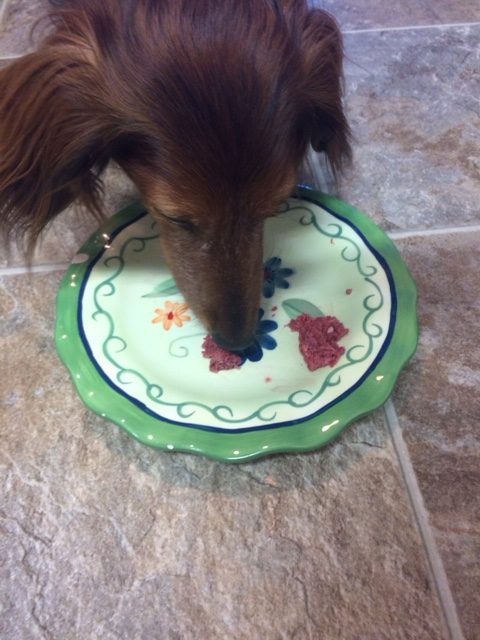 "The website states that if your dog won't eat it, they will!
If you are not 100% satisfied with RAW WILD Dog Food, let us know within 7 days of receipt, and we will give you the choice of the following:
Refund your payment in full, or
Replace your order with a brand-new shipment.
FREE ground shipping on all orders (zone 8 does not apply).  You can't get better than that"!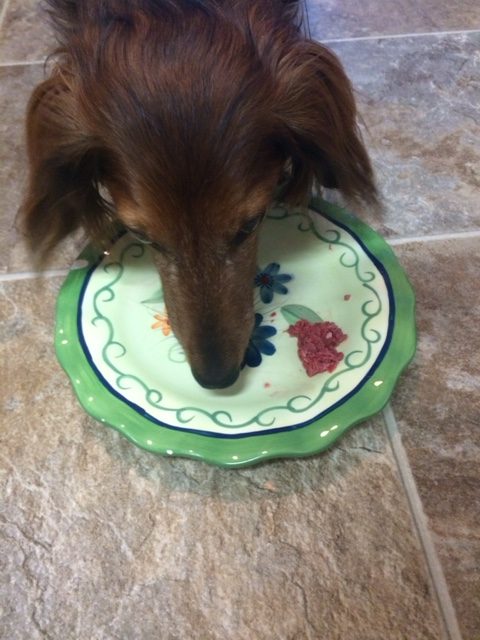 The ingredients (authorized by the AAFCO as a complete diet)
All Natural, Organic, Wild Game
Elk, deer, dicalcium phosphate, potassium chloride, choline chloride, salt, vitamin E supplement, vitamin A supplement, vitamin B12 supplement, d-calcium pantothenate, vitamin D3 supplement, niacin, riboflavin supplement, folic acid, thiamine mononitrate, biotin, pyridoxine hydrochloride, glucosamine hydrochloride, iron amino acid complex, zinc amino acid complex, chondroitin sulfate, copper amino acid complex, manganese amino acid complex, sodium selenite, calcium iodate.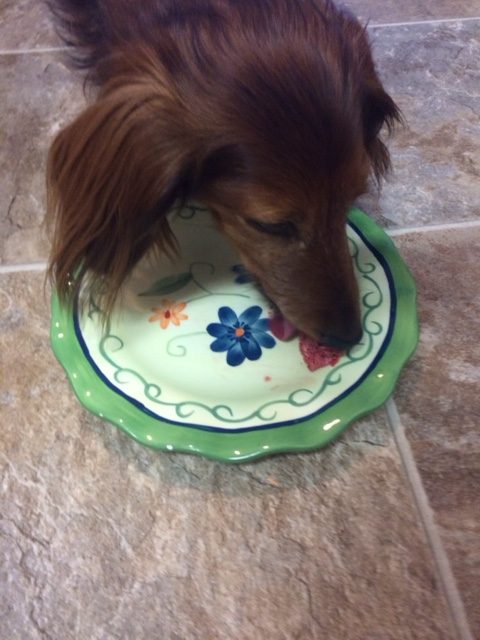 The composition (as follows):
Wild Elk and Deer – 99.4%
Premix – .06%
987% USA ingredients, .013% from Switzerland.  There are no sources for Vitamins A, D or E in the USA- the FDA prevents them from being manufactured in the USA, so anyone who says they are 100% made in the USA and have added these vitamins is lying.
Premix Ingredients:
Minerals: calcium, phosphorus, potassium, iron, zinc, copper, manganese, selenium, iodine.
Vitamins: Vitamins A, D, E, B12, Riboflavin, Pyridoxine, Pantothenic Acid, Niacin, Biotin, Folic Acid, Choline. The ratios in this proprietary premix have been calculated by an industry leading expert with over 30 years' experience in formulating pet foods.
Guaranteed Analysis
Crude Protein, minimum – 18.0%
Crude Fat, minimum – 10.0%
Crude Fiber, maximum – 0.45%
Moisture maximum – 70.0%
THIS is a RAW FOOD that is a COMPLETE diet for dogs.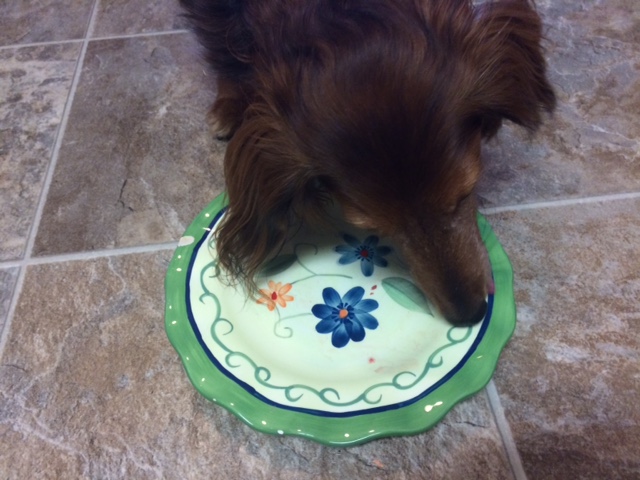 Trial Package for $8.25 per Pound
This is the package that I ordered, and the price and the meat were both unbeatable. The meat is red like a fresh steak and stayed fresh in the refrigerator for four days (one 1-pound package fed my 18-pound dog four days – I could have made it five).  AND he now weighs 14 pounds – raw fills him up and sustains a healthy weight for him.
The meat not only has no odor and looks delicious, but I could barely keep Clem from attacking the bowl. Sometimes the commercial raw dog food that I have bought is brown and has an odor that makes me feel unsafe. Raw Wild looks fresh and has no odor. 
I also like that the ground bone is one of the ingredients rather that suspect bone meal (we often do not know where the bone meal is sourced from in other raw foods. I prefer ground bone from the animal itself).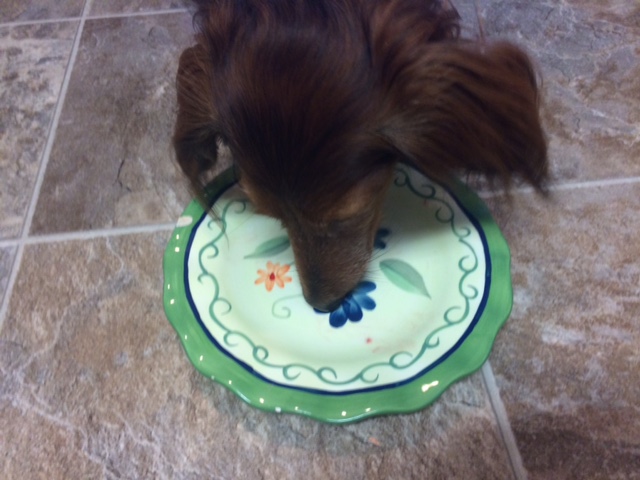 What I Have Seen:
Clem has hyperkeratosis on one side of his nose, a cracked skin that is painful and prevents him to fully smell on that side.  He has had it for many years and I treat it naturally but it never goes away.  I assumed it was from allergies; I don't really know.  On Raw Wild raw food for dogs it went away leaving only a small spot on the corner of his nose.  It has not come back since he has been eating Raw Wild (I am not a vet this is just my experience).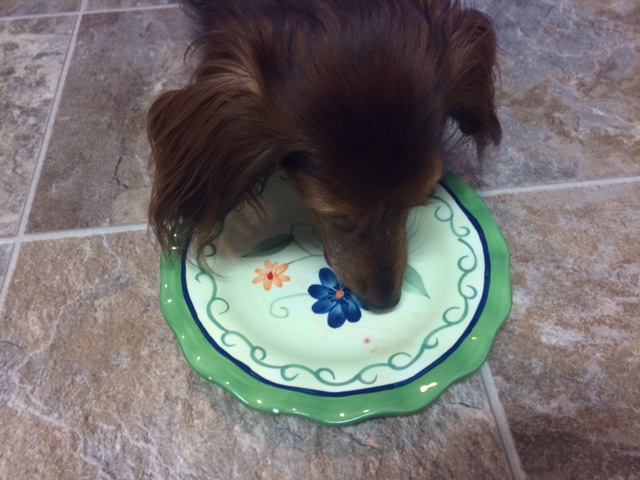 Energy level spike. Clem has been lethargic since he had both front legs redone surgically three years ago from torn tendons and instability of the shoulder.  Now I am taking him on one hour walks again.  Is this because of Raw Wild?  I don't know, I just know that he has more energy and I am grateful for that!
Losing Weight:  And best of all, Clem is starting to lose ounces – and POUNDS!  Maybe he is losing because of more activity or the fact that I feed less with Raw Wild, but I am ecstatic!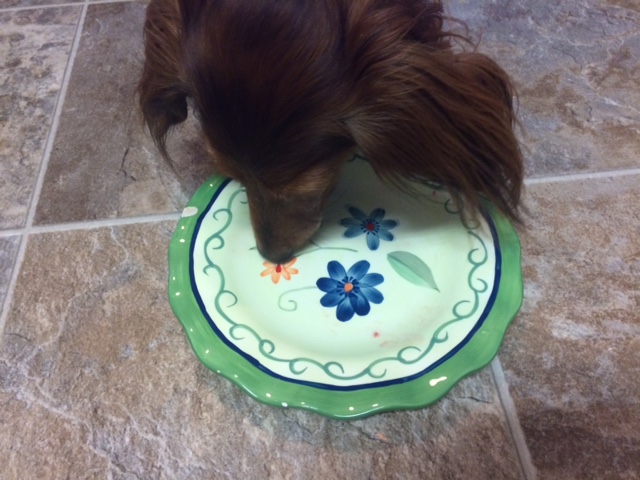 I highly suggest that you visit rawwild.com as their FAQ section is immense and answers so many questions.  When I had questions, I immediately emailed Raw Wild and Dave the owner answered and was attentive to all my needs.
Raw Wild may not be the least expensive way to feed your dog but I truly believe that feeding raw dog food recipes including organic elk and venison is helpful to our dogs as there are no imported ingredients, GMO or antibiotics hidden in the food.  And we know where it is sourced.  I believe that barf (bones and raw meat) diets are the best diets for some of our dogs. I also like a small family company.
Thank you Raw Wild for a great experience and a happy hound!