Disclosure: We received product to facilitate this post. All opinions are strictly our own.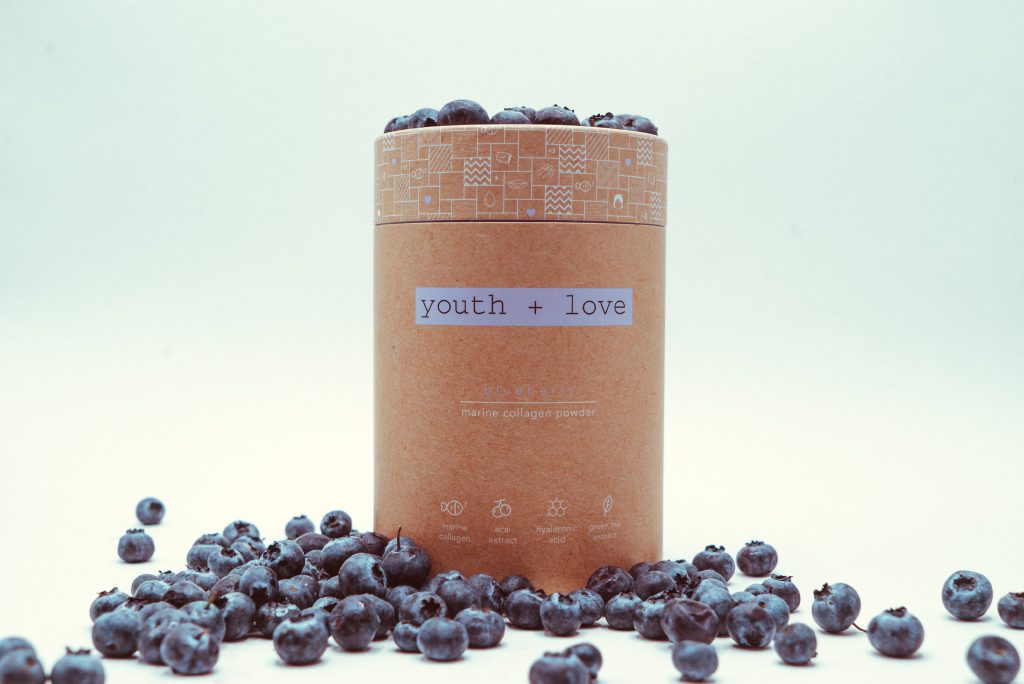 Yes, it is true! I am an aging Baby Boomer in a brand-new relationship with a man I care about.  I have never gave attention to my skin, nails and hair as they seem fine.  But I realize as I start reading up and informing myself on how to have more energy and be healthier that there are products out there that can help me look and feel my best!  Who would have thought?  When Youth + Love strawberry and blueberry collagen marine powder hit my desk, I was eager to try it.  AND IT WORKED.  I am a born skeptic, but as I added the powder, one tablespoon, into my morning smoothie, I was happy to see my nails (which I have picked at all my life) improve as well as my hair and desire to hit the road, Jack!
What is Collagen and what does it do for my health?
In my opinion, collagen peptides are essential for healthy skin, hair and nails, and while many cosmetic companies promote collagen cosmetics and creams, the truth is that collagen is an "inside job."  To contain the benefits of collagen peptides, one should ingest collagen in powder or other forms in a drink to benefit from the collagen.
Collagen peptides (derived from fish)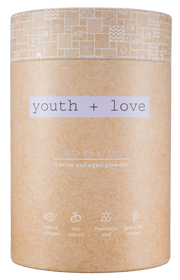 From the Youth + Love  website
The collagen molecule is notoriously large and has difficulty penetrating the dermis (skin) which is where it holds its value. Not to say cosmetic products that contain collagen do not work, but they don't add collagen into your skin. Marine collagen peptides which are broken down from protein to amino acid to allow for a micro or hydrolyzed molecule is the only way that your body can absorb the collagen. This is done through consumption only, allowing your body to synthesize the broken down amino acids into collagen proteins which you derive the benefit from".
Youth + Love  offers marine collagen powder in two flavors, strawberry and blueberry.  When I added a teaspoon or two into my morning smoothie, I felt like I was taking care of my Baby Boomer aging self, and hoping that my wrinkles, nails, hair and energy level would improve.  I have taken the powder every day for two weeks and it might be my imagination but I feel energized and my nails are growing in better.  I for one am a fan of powdered collagen.
Fast and Furious on the Go
Since my life is a very fast one, and I am constantly on the go, I want my morning smoothie to make a difference.  I not only add fruits and vegetables, but now I add a scoop of Youth + Love marine collagen – the flavor is delicious and I feel like my like is more manageable.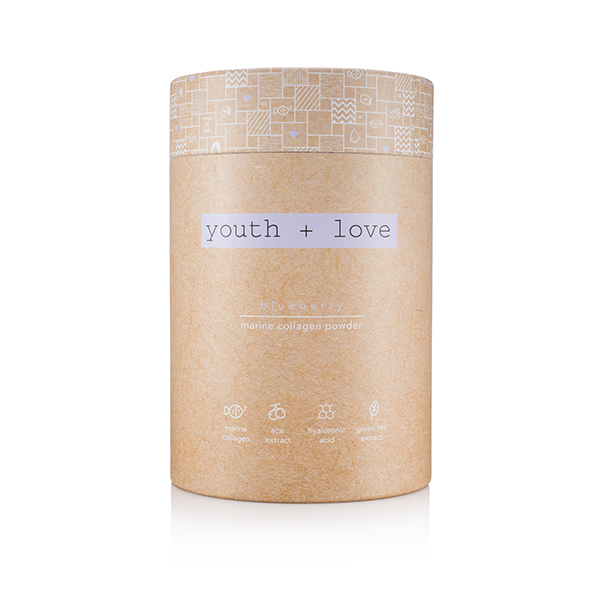 Price
I live on a strict budget, and I love that Youth + Love is so budget friendly and reasonable!
So, What Does Youth + Love have to offer?
From the Youth + Love website:
"Marine collagen peptides are sourced from the clean untouched waters of Norway to ensure a high-quality source of the nutrient. Aloe Vera extract and coffee bean extract are added for extra benefit. Furthermore, we top it off with strawberry fruit powder for a subtle sweet experience.
Benefits: Improves skin hydration, hair quality, nail strength, and joint support.
Bioavailability: Marine collagen comes in pure peptide form. Thus, allowing for best absorption amongst all collagen types.
Ease of use: Take a sachet or two on the go. Pour it inside your favorite drink, coffee, yogurt, or just plain water.
This Strawberry flavored marine collagen is created and perfected only for you. Naturally infused with revitalizing aloe Vera and coffee bean extract for increased hydration and repair; this is one for the books.
Contains 30 Sachets, 3g Per Sachet.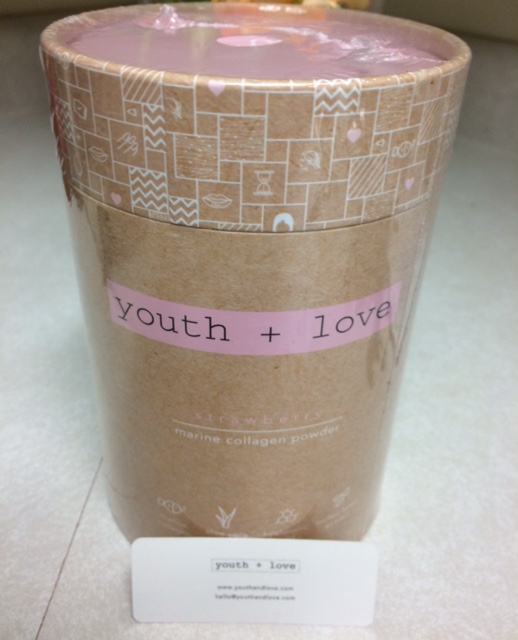 Pure hydrolyzed marine collagen powder containing the building blocks of skin, hair and nail health
Nourishing properties with tons of vitamins and minerals that keep your skin and hair strong and healthy
The body's natural lubricating agent for the skin, hair, eyes, and joints
Contains compounds known as chlorogenic acids which have antioxidant effects, help lower blood pressure, and promote weight loss.
Our skin is made up of 70% collagen the smooth plump appearance of young healthy skin is due to a healthy abundance of this protein.
Think of Youth + Love as the most important cosmetic product in your suite. Our marine collagen peptide is high quality 100% organic, hydrolyzed and derived from Deep Sea Norwegian cod. Providing you with only the best benefits for that lovely skin, hair and nails with high bioavailability allowing you to remain and achieve that youthful look. Plus+ when we add some awesome ingredients such as hyaluronic acid or green tea extract and top it off with dried fruit flavoring you get the perfect nutricosmetic. That's how we share our Youth + Love with you."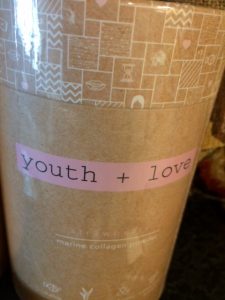 What is Collagen?
Collage (hydrolysate) is important to our health and wellbeing.  Collagen is a protein containing the amino acids proline, arginine and glycine.  Amino acids are utilized in the human body to make proteins to help the body grow, repair body tissue and break down food. Amino acids aid with muscle control, help to build muscle tissue and assist in keeping the body's nervous system working well.  Collagen is about 30% of our body's proteins, found in our tendons, ligaments and skeletal system (bones).  It also aids in making skin glow and be  healthy.
Aging
Aging depletes our collagen levels and those levels can start dipping at age 20.  Between 20 and 29, collagen depletes at about 1% annually.  And as a Baby Boomer, with much lowered collagen levels, the elasticity of our skin, and the gleam of our hair is sharply reduced.  We all want to shine and look healthy and collagen is essential for health.
I love this product – and it loves to be loved!