We received a copy of this book for review.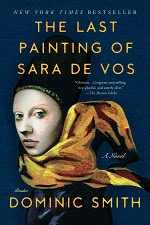 Sizzling Summer READS
If you are anything like me, there is nothing better in the summer but a paperback book, one that I have thrilled to read.  This summer, The Review Broads offers up a bonfire of books, ones that are hot, ones that are flaming and some that just simmer! Get out the cauldron readers and stoke up your reading genius:  here comes the first in our lineup!
The Last Painting of Sara de Vos
Dominic Smith
(Named a best book of the year by Kirkus Reviews, Amazon and San Francisco Chronicle)
As you my readers know, I never look at other reviews, I just crank on as my opinion gears up.  But when an author gets such great kudos as Smith does, I will record and applaud!
Within a span of three different and auspicious timelines, and delivering a plot so intricate that it labyrinths its three main characters toward mystery and suspense, The Last Painting of Sara de Vos reveals a novel about love and loss, the authenticity of life and art, and the layers both time and truth play in our lives.
In Amsterdam, 1631:  The Guild of St. Luke is the artist's guild of Amsterdam and one of the few women that have been admitted is a woman named Sara de Vos.  As women are only allowed to paint indoor subjects…still lives of fruit etc., Sara secretly rebels and paints a landscape, an utterly thrilling painting of a girl standing alone by a tree watching ice skaters below as the dusk settles around the edges of the painting.  It is painting that trills into the present and future as Sara's work finds its future and winds its way into the art world.
New York City, 1957: Sara de Vos, a famous woman painter from Amsterdam in the 1600s, has left only one painting in posterity and it is very sought after by collectors.  However, the painting has remained in the original owner's family, generation after generation, and now belongs to Marty de Groot, a distinguished Manhattan attorney.
A young art student becomes aware of the painting when she sees it in the hands of an art dealer and the crooked dealer talks her into forging a copy.  Ellie Shipley leaves her crime behind and goes on to be famous as a curator and historian in the world of art.
Sidney, 2000:  Ellie goes on to become a specialized curator and exhibitor and her field of pride and specialty is women painters of the Dutch Golden Age.  As she is getting ready for an exhibit she discovers that BOTH the forgery and Sara de Vos' original painting, At the Edge of a Wood, is being shipped to the exhibit.  And Ellie knows that her entire future is beginning to explode, one step at a time.  As she furiously fights for herself, the novel turns and with elegance and majesty directs us into our hearts as well as the heart in the middle of the plot.
Furiously wonderful and spontaneously engaging.