We received a product to facilitate our review. All opinions are our own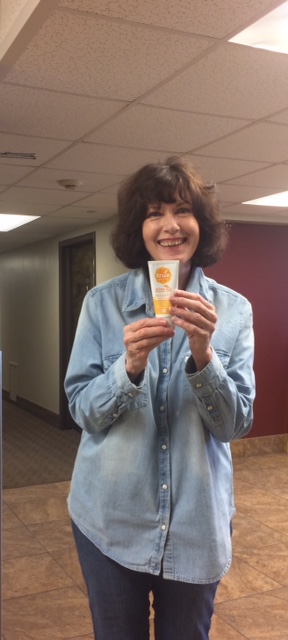 It's a secret.  And I'm letting you in on it.  My best face "ointment, moisturizer, anti-aging agent" is…SUNSCREEN.  I never leave the house without it.
When I was 26 I was married and harried with two small children and a tan that gleamed beautiful in the sun.  My husband and I were swimmers, golfers and sun worshippers and every chance I got I was at the pool with the kids.  And then, one day, I went to the doctor and the next day I was being operated on for a spot on my face directly under my eye.  Melanoma.
Thank goodness they caught it in time. And that was the very last time I have ever left the house without sunscreen.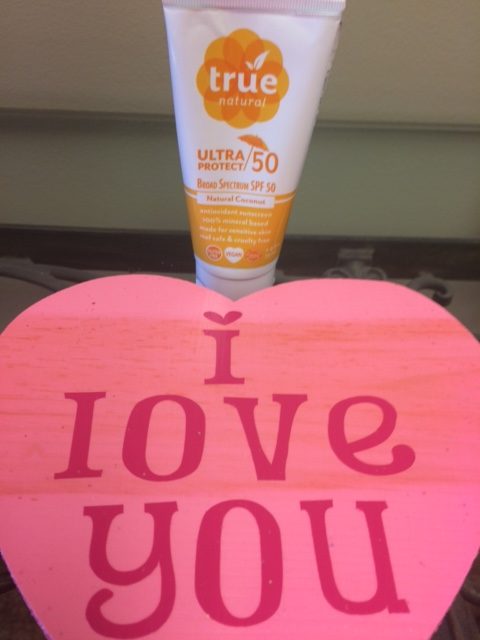 You all know that I love au naturel.  AND I'm a baby boomer, with those bags and wrinkles that seem to show up at our age and yes, hard to not resent the age spots too!  So I decided to do a search for all natural sun screen products to see if that would make a difference.  I always use 50+ and when I came across True Natural, I decided to review it.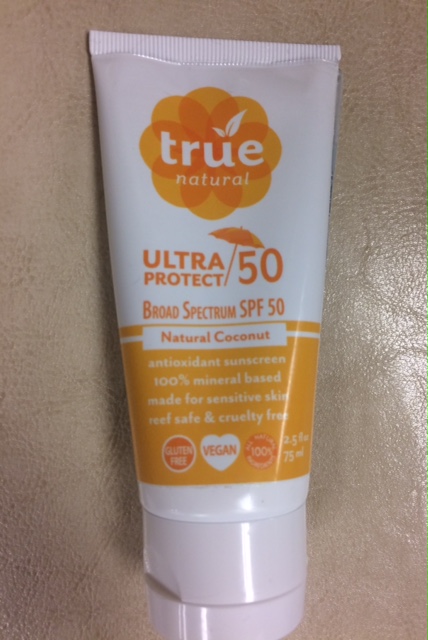 GENERAL TIPS:
Use your sunscreen liberally, like a bodysuit, not a bikini!  Use about an ounce per application.
Ears, shoulders, lips, tops of toes, back of neck, scalp ….don't forget!  These areas love sunscreen!
Apply, reapply and apply again.  At least every two hours.
Every climate holds its own sun reflectors; consider that the sun's rays bounce off of snow, water, sand and concrete.  It might be gloomy out but sunscreen needs to meet your face and hands every day!
Choose a biodegradable sunscreen with chemical free ingredients such as zinc oxide.  Why?  Did you know that non-natural sunscreens are killing our ocean's coral reefs? (Reference:  True Natural brochure and internet).
WHAT DOES TRUE NATURAL FEEL LIKE?
Due to the fact that True Natural contains all natural zinc oxide (that white paste that likes to cling to your skin) is feels a tad heavier than other non-natural sunscreens.  Since I use a 50 SPF, higher SPF when I can, this sunscreen leaves a light film on the skin.  However, I noticed that it did not cause my makeup to flake like other sunscreens I have used.  Also, when it comes to makeup, I don't mind a bit of flaking – I will NOT go out without sunscreen period and zinc oxide is an ingredient that I believe is safe for the environment – and my skin.
True Natural Ultra Protect Broad Spectrum SPF 50 Natural Coconut also contains a very slight scent of coconuts – one of my favorite scents.  So minimal that you might not even notice, but there all the same.  I loved this.
FYI:
True Natural also produces SPF 50 for Sensitive Skin with NO SCENT in the ingredient panel).  The True Natural SPF 30 Baby and Family, Unscented is Winner of the Delicious Living 2013 Beauty Awards: Best Natural Product.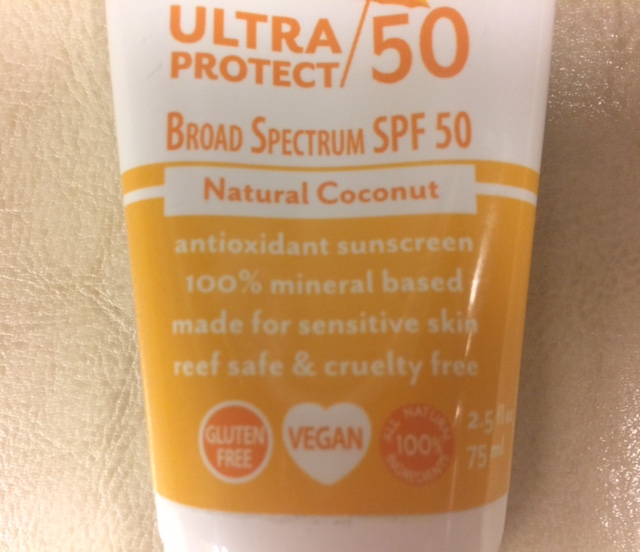 INGREDIENTS:
True Natural Ultra Protect Broad Spectrum SPF 50 Natural Coconut sunscreen contains:
Titanium dioxide (6.0%) and Zinc Oxide (22.5%)
And deionized water, shea butter, green tea extract, coconut oil, eucalyptus oil. Glycerin, sunflower seed oil, lecithin, jojoba oil and vitamin E tocopherol and xanthan gum.
MY OPINION:
I'm in True Natural.  I trust these natural and moisturizing as well as sun protecting ingredients and am concerned not only about skin cancer but age spots and my general health.  I always use a SUNSCREEN as an informed baby boomer and always apply it to my grandchildren's tender bodies whenever they go out into the sun.
Ratings are based on a 5-star scale 
Overall:  High 5 for True Natural