UGLY SNUGLIES
Lindon takes Rowdy Rabbit for a Snuggle
Okay cutest kid in the world, and an even cuter toy for the season – Rowdy Rabbit has this little girl – and this reviewer – all snuggggly wuggly!  Softer than soft, plusher than plush, Lindon adored this big rabbit that had a hidden surprise: a radio for those nights when parents cant sleep in bed with their 3 year olds for comfort and Monsters come out at night and stay hidden in closets and walls!
And Lindon wasn't the only one to covet this large adventurous rabbit – I adored it!  I wanted to keep the radio on, but once I had shown Lindon how to turn it on (one click on the plastic face on the rabbit's foot – she had it DOWN! With arrows to turn the volume on and off, she was off and running, and fell sound asleep on top of Rowdy Rabbit watching Zafara!
From the Ugly Snuglies Literature (I could not say it better):
Super fun, super soft, oversized stuffed animals that are so ugly, they're cute and prove YOU DON'T HAVE TO BE BEAUTIFUL TO BE LOVED!

The As Seen On TV UglySnuglies have long, super soft fur that makes them fun to snuggle. But another thing that makes them special is that every UglySnuglies has a hidden gift! Ugly Snuglies are far more than just ordinary stuffed animals; they are Pet's with a Personality!
Each UglySnuglies retails for $29.95 and their hidden gifts are geared to teach children a lesson: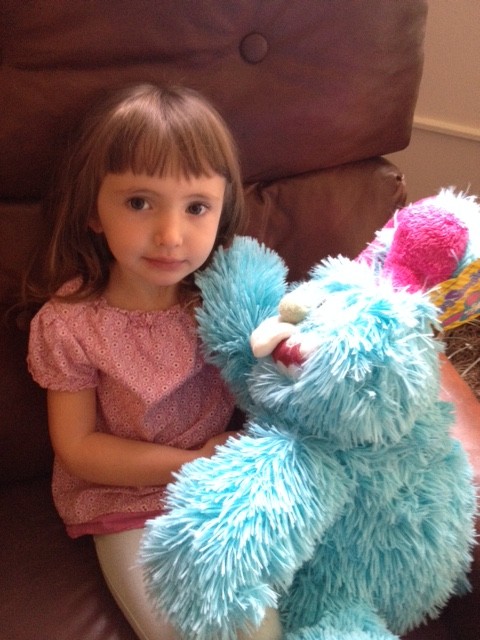 Pouty Pig – includes a bank inside to help kids learn to save their money
Krazy Kitty – includes a hidden light in his tail to help kids feel safe
Bizarre Bear – includes 5 secret zipper pockets to help kids clean up after themselves
Unusual Unicorn – includes an alarm clock to help kids learn the value of time
Rowdy Rabbit – includes a radio inside to help kids learn to relax
Porky Panda – includes a hidden blanket inside to keep kids warm
IF you are seeking that OFF THE GRID unusual toy for the holiday season, these tender hearted animals are ready to plush their way into your 3 to 8 year olds' hearts!  Absolutely adorables, absolutely well made, and absolutely MINE!  (Lindon wont give hers up – so I am going to their website   NOW! HURRY – they are offering 25% off for a limited time!
P.S. Lindon is NOT for sale!!!!!!
Ratings are based on a 5-star scale 
Overall: 5
Review by Broad "A" 
We received a product to facilitate our review. All opinions are our own
DETAILS